Feature F1 Unlocked
LIGHTS TO FLAG: Vitantonio Liuzzi on beating Michael Schumacher, Red Bull politics, and his new role in F1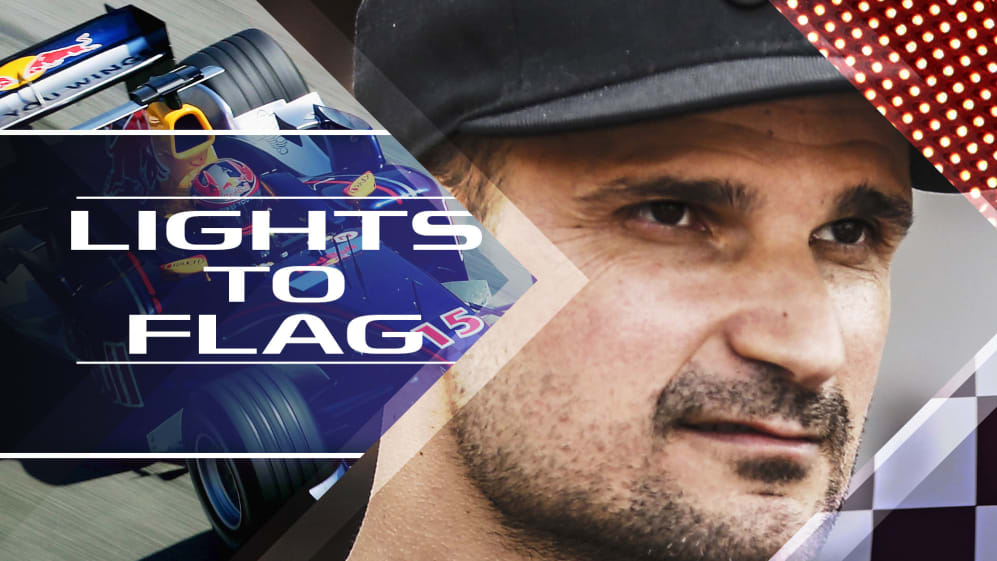 Vitantonio Liuzzi raced in 80 Grands Prix for the likes of Red Bull, Toro Rosso and Force India, and now enforces the rules as a steward with the FIA. The Italian enjoyed a sparkling junior career, even taking on Michael Schumacher, but never did get that victory, nor a podium, in F1. Here's his story...
Beating Schumacher at home
Growing up in the south of Italy, Liuzzi says he had "nothing related to motorsport" in his family. He wasn't even following Formula 1 when, at the age of 10, a school friend took him go-karting. That set everything in motion, ultimately led to sponsorships and the hope that he could turn karting into a fully fledged racing career.
LIGHTS TO FLAG: Coulthard on replacing Senna, dealing with Ron Dennis, and racing against Hakkinen
Wins came thick and fast as Liuzzi progressed through the ranks – but nothing could have prepared the 19-year-old for a trip to the small German town of Kerpen in 2001.
Michael Schumacher, having just been crowned four-time champion after a stunning season with Ferrari, announced that he would be competing in the Karting World Championship finals at his home circuit in Kerpen, drawing a capacity crowd of 5,000 people. And Liuzzi was in attendance.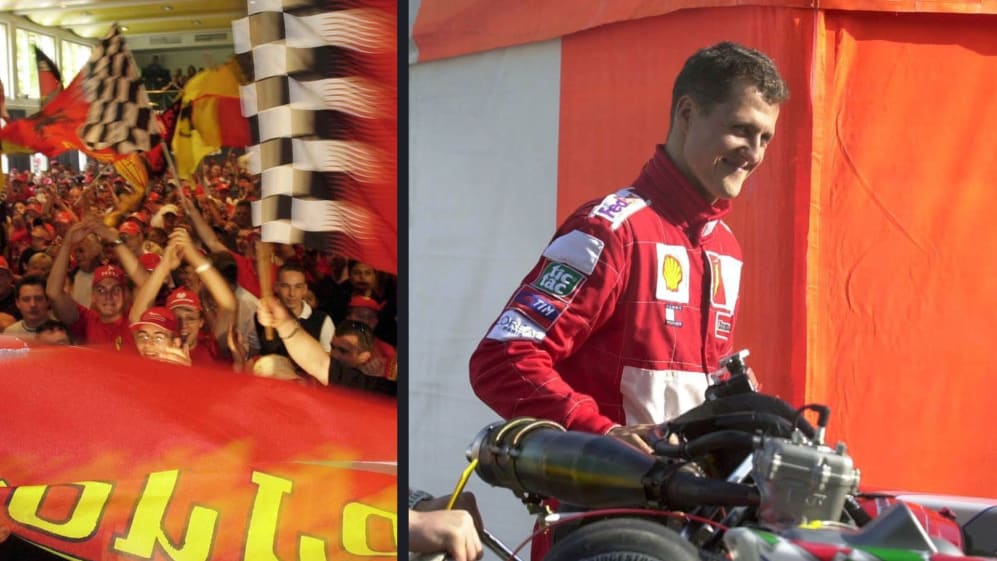 "I thought, 'No, I hate this'," he admits, "Because it was taking away all the media coverage, so all of the focus went on Michael Schumacher. Now I will never stop thanking him, because he made me the most famous world go-kart champion in the world.
"Everyone wrote that he was competing, but at the end of the article they wrote a little part that I won the karting championship.
PODCAST: Sabine Kehm on life in Michael Schumacher's inner circle
"I have to thank Michael for the publicity, and we forged a really great relationship – he respected me a lot – and he is a huge karting fan."
Barely 10 months after winning the championship, Liuzzi would get his first F1 test with Williams – Sir Frank Williams' son Jonathan having been in attendance at Kerpen – but the 19-year-old driver would need some more experience in the junior series before he could start thinking about a race seat in F1.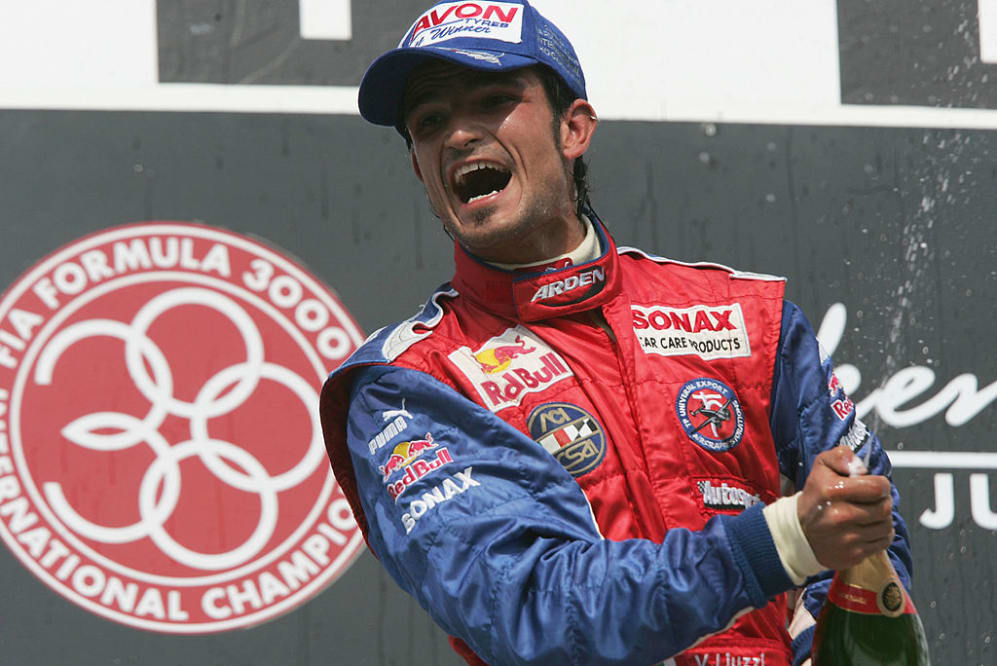 Mateschitz comes calling
Finishing fourth in his maiden F3000 Championship, Liuzzi was picked up by Red Bull and moved to the Christian Horner-founded Arden squad for 2004, where he won all but three of 10 races to take the title – with rivals like Robert Doornbos, Jose Maria Lopez and Patrick Friesacher in the field.
Sauber seemed to be Liuzzi's chance at F1 but just before the Italian was due to test with the team in September 2004, Jacques Villeneuve was announced as their driver for the following season – "a shame", says Liuzzi, who was then offered a lifeline.
Brand-new outfit Red Bull offered him a seat for 2005 instead, and Liuzzi says the company's co-founder Dietrich Mateschitz was "like a father" to him.
READ MORE: Remembering Dietrich Mateschitz, Red Bull and AlphaTauri's quiet patriarch
"I think he was one of the nicest people I ever met. He's a real person – when you are somebody like him, so big, with such a position, it's not easy to have a connection – but he was so real and so passionate about what he was doing, not only in Formula 1 but in taking care of every person in the company. Every time we were together, it was like he was a father to me.
"I really miss him. It's a big shame, and a big loss for the world of motorsport, and at the end of the day, he gave a big chance to drivers who are still in the paddock right now."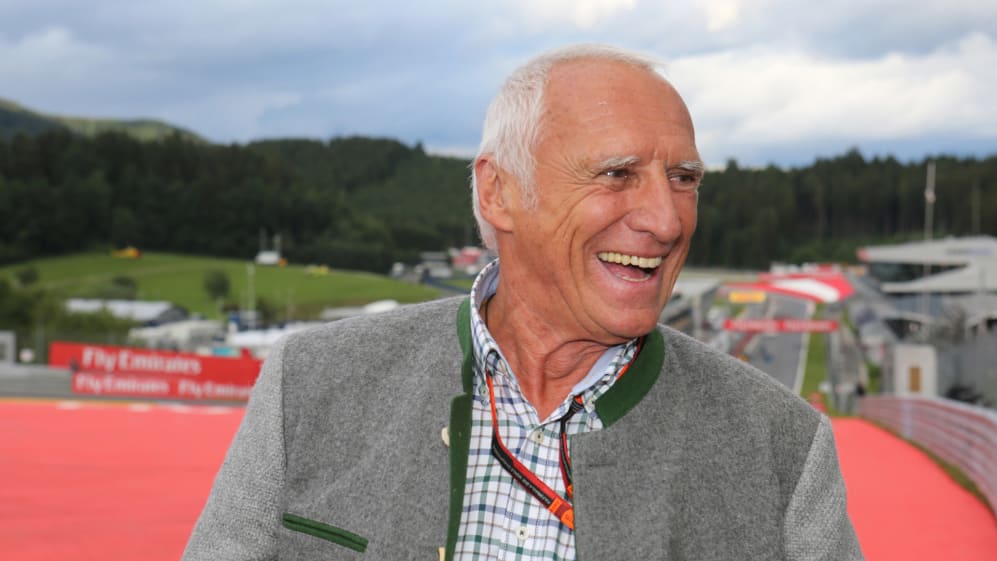 Politics at Toro Rosso
The 2005 season would see David Coulthard take the first seat at Red Bull with rookie Liuzzi and ex-Jaguar driver Christien Klien sharing the second seat – in a plan that was somewhat freeform, according to the Italian.
"The plan was to have four races for Klien, four for me, four for him… but after the first swap, we realised it was not good for him, nor for me. I decided to step out and Didi [Mateschitz] himself, he came to me and said, 'Don't worry, we are planning to buy another team, an Italian team, and I would like to make you as a first driver with a fully Italian brand. It will be called Toro Rosso'.
READ MORE: 'He helped to transform our sport' – F1 paddock pays tribute to Dietrich Mateschitz
"He [Mateschitz] told me: 'Don't worry, we really believe you can be our future, and we don't want to stop your growth, so just wait one more year and next year you're going to have a full car for a full season'."
Liuzzi says he felt "privileged" to drive for the team formerly known as Minardi, "But we didn't know the project at the time: to have Red Bull as the main team and Toro Rosso as the B-Team."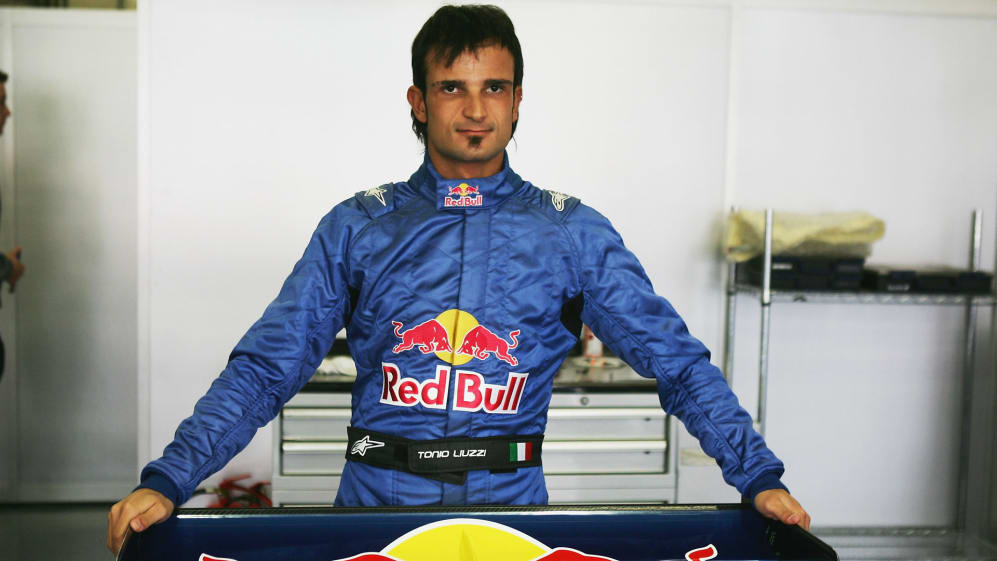 The Italian adds that his two seasons at Toro Rosso – 2006 and 2007 – were difficult for him off the track. After taking four points with the team, Liuzzi was left without a seat for 2008 with Sebastien Bourdais brought in as his replacement.
"At that period it was very difficult because Mateschitz had a lot of people around him trying to convince him of a different point of view. There was [Gerhard] Berger, [Niki] Lauda – not only them, but seven, eight people consulting Mateschitz, so it was not an easy period – there were a lot of politics in the team in 2006, 2007.
"Actually, I stepped out of Toro Rosso because of Berger. In 2007, for politics, he took me out of Red Bull. If not, I would have stayed there for a really long time. It was done in a bad way… It was really not a fair situation.
"It was a big shame," he adds.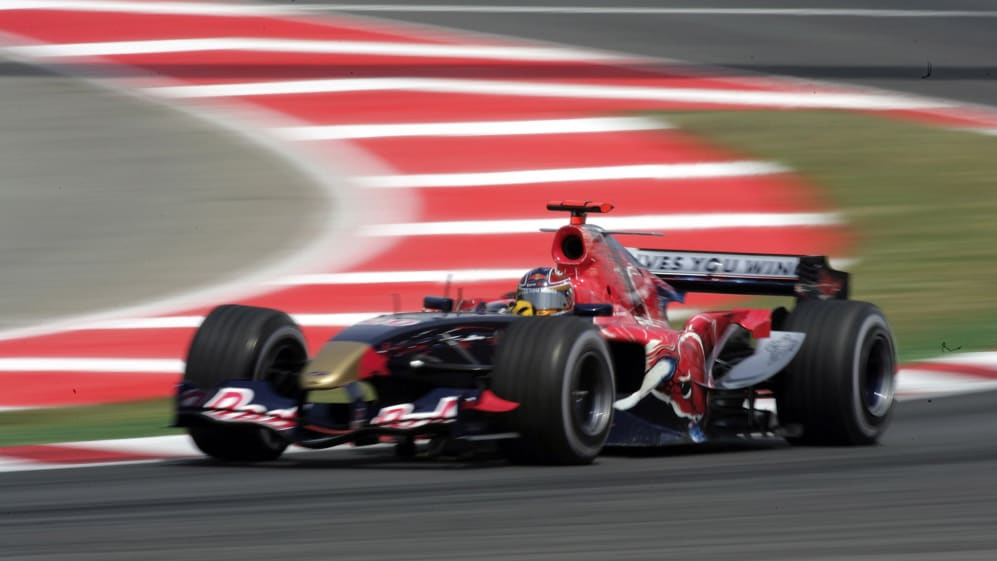 The comeback with Force India
Even though Red Bull offered Liuzzi a test driver seat for 2008, he explains in no uncertain terms that he was "too pissed off with how they handled the situation" to accept it.
Cameos in A1 Grand Prix and the Speedcar Series followed, but Liuzzi wanted to get back to F1, and a test driver role did end up being his return ticket in 2008 with Force India, whose then-Team Principal Colin Kolles was a backer of Liuzzi's junior career.
UNDERDOG TALES: When Senna took the F1 paddock by storm with Toleman and made Monaco's streets his own
Liuzzi stepped up to a race seat at the end of 2009 when Felipe Massa was injured at Ferrari, leading to Giancarlo Fisichella replacing the Brazilian, and leaving a seat free at Force India. Liuzzi qualified seventh at home but retired on race day. Nonetheless he was given the full-time race seat for 2010 alongside Adrian Sutil.
"In 2010, it was a nightmare of a season for me, because it was the year of the F-Duct, so – for whatever reason – I don't think it was done on purpose but whenever I used it, it wasn't working, so I had a lack of top speed compared to my team mate, for 13 to 16 races," he says.
Liuzzi was outscored 47-21 by Sutil and Mercedes-backed driver Paul di Resta was waiting in the wings to take his seat for 2011.
"Mercedes offered a discount in terms of the gearbox and power unit, and I understand how things work. We're used to it. It was important for a medium-small team to have money and support so I raised my hand; when you're against a many million-Euro offer, the talent cannot be enough.
"I was not winning races at that stage, Mr [Vijay] Mallya [team owner] was very supportive of me, but against 15 or 20 million, I can't remember the budget, I would have taken the offer too!"
For 2011, Liuzzi joined minnows Hispania Racing, who debuted their F111 only in second practice of the opening round of the season at Melbourne – where neither Liuzzi nor team mate Narain Karthikeyan managed to lap within the required 107% time of the pole-sitter.
F1 ICONS: Rally legend Sebastien Ogier on four-time F1 champ Sebastian Vettel
"It was pretty difficult to drive because the lack of downforce was huge and the car, at the beginning, was struggling quite a bit. But still, we were pushing hard," he says.
"If I'm not wrong, they were supporting the season with 80 million Euros, which is really nothing for a Formula 1 team. So it was really difficult to develop."
The season saw Hispania, renamed HRT midway through the campaign, score zero points, and for 2012 they would replace Liuzzi with Pedro de la Rosa.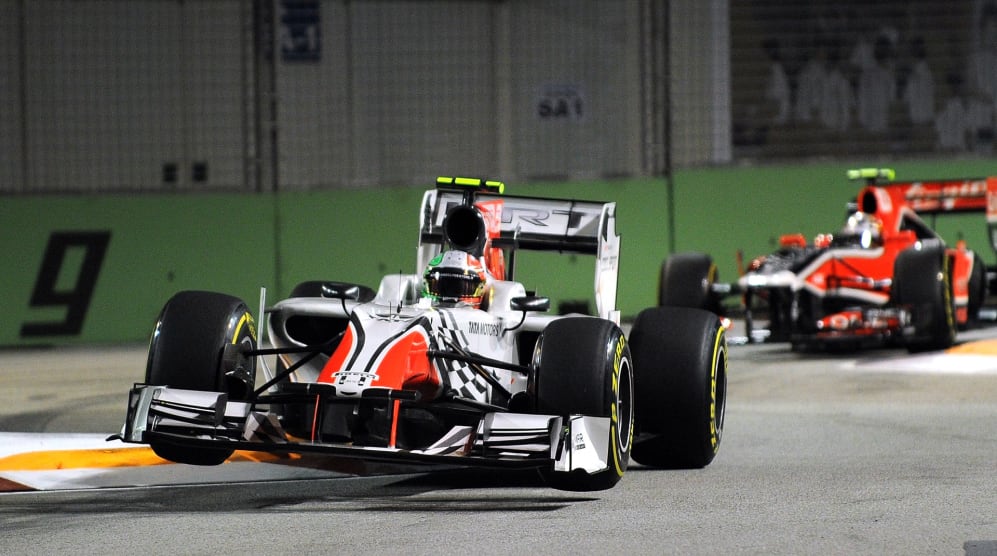 The right place at the wrong time
Liuzzi shrugs off the notion of regrets, but it seems that his F1 highlights were often flecked with disappointment. Perhaps most agonising was the fact that he missed out on a home podium in the 2009 Italian Grand Prix, his first race for Force India after a year out.
"We would've definitely finished on the podium because we had amazing speed. It was one of the two races of the year where Force India were really fast, and with fuel correction I would've qualified on the first row. In the race we were going for a podium, but the gearbox seized, broke down. that was my biggest regret.
"This kind of race might change your whole career – like when I was in Canada in 2007, running P5 for Toro Rosso, and the suspension broke on the final chicane… every time I was in a podium situation, the car didn't support me to the chequered flag."
He adds that his own personality might have worked against him in the cut-throat world of contract negotiations.
I thought that only on-track performance counted – but in this business, it's not the case
"Maybe I also regret that I should have been more political, because I've always been a straight-forward person, and I thought that only on-track performance counted – but in this business, it's not the case. You have to have marketing, politics, speed. It's a package – and I was not the full package, I think."
Liuzzi's love of motorsport didn't end with his tenure in F1, and the list of series he's entered is frankly huge. It includes the Superstars Series (touring cars), a few appearances for Lotus in the 2013 World Endurance Championship, and a trip to Japan for the 2014 Super GT and Super Formula series.
LIGHTS TO FLAG: How 1979 F1 champion Jody Scheckter 'hustled' his way to F1 and ended up farming
"I think maybe I was pissed off about this whole situation in F1 and I started doing many series that were maybe lower than the level I was coming from – Superstars was a real step down – but I wanted to do things that I was enjoying, things that I could switch off with.
"I got a serious package in Japan with Honda in Super GT, but I was in the right place in the wrong time – also in Formula 1 I was in the right place in the wrong time, many times. In Super GT it was the year where the engine changed from V8 to V6, and Honda did a terrible new engine. We were like two seconds off [the pace], but all the Honda cars were."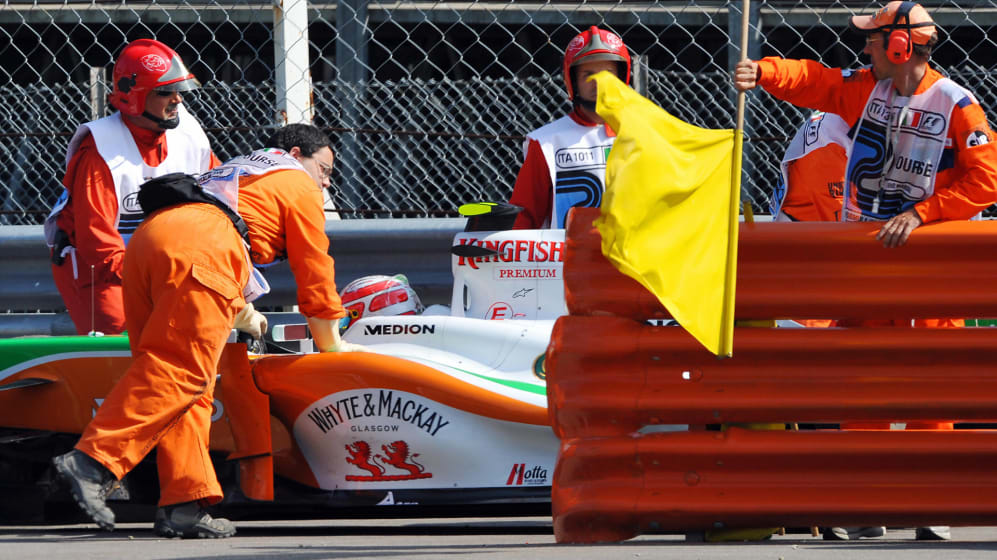 From racer to restaurateur
Whether or not Liuzzi thinks he was the 'full package' in F1, he seems to have embraced the world of entrepreneurship; he and his wife run five restaurants in Italy, including pizzeria Penelopina in Milan and Penelope a Casa in Milan.
"My wife runs everything," says Liuzzi with a smile, "And I do, let's say connections, marketing, and we have five restaurants now – four in Milan and one in Pescara."
But the devastating and wide-ranging impact of the global pandemic almost derailed his businesses.
F1 ICONS: Olympic legend Usain Bolt on Sir Lewis Hamilton
"It was really difficult, really difficult," he recalls. "We opened in Milan at the end of 2018 so after one year of work it was not easy, but I have to say, the position we took in the market was pretty good, we had a really strong first year, and we have been able to save in a clever way with the support of the country, with the way we helped the employees, and we became stronger straight after Covid.
"Luckily, things seems to be going really well, people love what we do, so we decided to grow and try new experiences, and we started in Italy because we have a young daughter – we don't want to put her in a washing machine, to make her travel around the world, until she grows up a little bit, but we want to expand in the future."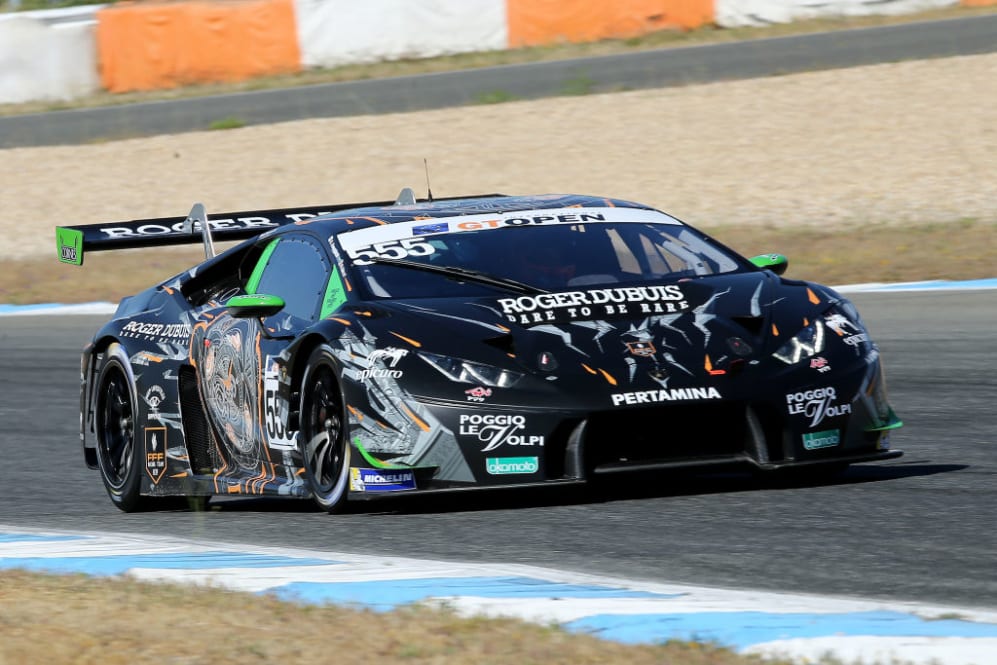 Switching to stewarding
Liuzzi hasn't completely stepped away from the wheel – although his last competitive appearance was in the 2017 GT Open series – and he's still firmly involved with racing, coaching drivers in GT series, go-kart, F3 and F4.
He's also an FIA Steward.
"Four years ago they asked me to be a steward for Formula E. It was not something I thought about doing but I thought about it and the sport needs a driver in a steward's role, to analyse situations from a driver's position."
He dived into the deep end with his first F1 Stewarding gig. His first race involved a heavy crash between Sebastian Vettel and Max Verstappen at the 2019 British Grand Prix (see the clip below).
"It was 2019, I think it was the race after Vettel and [Lewis] Hamilton had that controversy in Canada. I started in Silverstone. It was a really hard weekend, I had a lot of pressure in that weekend and there was a big crash between Vettel and Verstappen at the chicane, at Club, so it was quite an intense race as well – but I liked the position of a steward.
"I don't know if by luck or coincidence, everything worked well."
While it may be a rewarding pursuit, Liuzzi did have something to say about the abuse he and his colleagues face on a frequent basis – particularly on social media.
"I received really bad messages [in 2021], of course, when there was a big fight between Lewis and Max.
BEYOND THE GRID: Emanuele Pirro on his F1 battles, his 5 Le Mans wins, turning down Ferrari, and F1 stewarding
"At the end of the day we are the referee, like in soccer, and we are always getting blamed. It's just a shame that fans go over the line.
"I'm open to getting criticism, because, as I said, we are human beings – we are not perfect – but sometimes I think this has to be controlled in a stronger way, because it's not nice for people, whether you are a man or woman, this is happening a bit too often."
To read on, sign up to F1 Unlocked for free
You'll unlock this article and get access to:
Live leaderboard data
Epic experiences and rewards
Money-can't-buy competitions