'Max would have been ahead' says Hamilton, as title rival's qualifying crash hands him crucial Jeddah pole
Lewis Hamilton clinched his fifth pole position of the season in Saudi Arabia but admitted rival Max Verstappen was on for P1 on the grid before his final-corner accident. Furthermore, the Mercedes driver said he was "struggling" throughout Saturday's shootout.
On an unforgettable night at Jeddah, Hamilton swiped pole while team mate Valtteri Bottas backed up a Mercedes one-two in qualifying, as Verstappen crashed on his final flying lap – a lap which seemed set to demote Hamilton to second on the grid. Afterwards, the defending champion explained just how difficult he had found the session.
READ MORE: 'It's terrible' – Verstappen distraught after pole attempt ends in despair with final corner crash in Jeddah
"I generally just struggled through the whole of qualifying, through Q1, really struggled to get grip from the tyres, which was something that we haven't necessarily struggled with all weekend. But it was way, way worse in quali… I was off, you know? I was even behind Valtteri.
"But I can't tell you how much of a knife-edge it was [on]," Hamilton added. "I was struggling with the car, and so at the end, I think the first lap [in Q3], the first run was so-so. Again, I just struggled with a lot of snaps – I had that big snap in Turn 8 and then that last lap was just all-or-nothing. But still, not as quick as I would have hoped... but it was the best I could do."
The Mercedes driver added that the whole Jeddah circuit was lined by the 'Wall of Champions' – a moniker usually attributed to the final corner at Montreal, where the likes of Jacques Villeneuve, Michael Schumacher and Damon Hill have crashed in the past.
"It's where you do and don't attack and trying to find the right balance of just being on that knife-edge," he continued. "As you could see for Max, obviously, we're all on the edge. And there's the Wall of Champions everywhere here! So, a really complex track, and incredibly quick. It was enjoyable though. Intense, but enjoyable.
"I think this one was a bit more 'heart in your mouth' for all of us. And yes, we got that lap… which in the end was good enough, but if Max had finished his lap they would have been ahead. So, regardless, I'm happy, grateful, and yes, we just have to work as a team tomorrow from there."
READ MORE: Hamilton snatches pole as Verstappen crashes in thrilling Saudi Arabian GP qualifying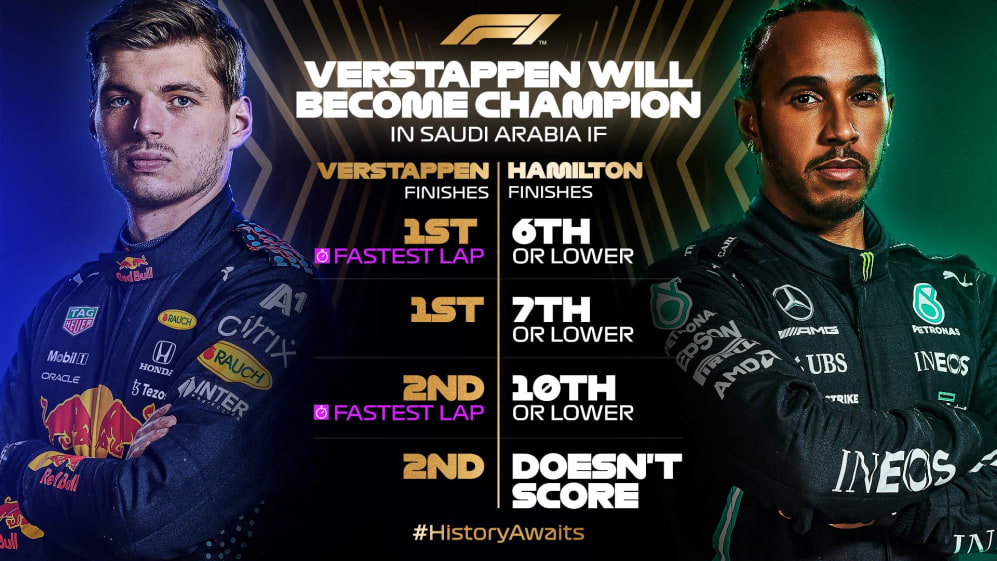 Staring down an eight-point deficit to Verstappen, who could clinch his first F1 title this weekend, Hamilton still has a job on his hands to win the Saudi Arabian Grand Prix from pole position, with Verstappen starting directly behind him on the grid.
READ MORE: Saudi Arabia qualifying facts & stats – Hamilton nabs consecutive poles for the first time this season
"We're here to win, that's where all the prep has been going towards," he asserted. "And I think no doubt [Red Bull will] be quick tomorrow in the race. So… collectively [we need to be] smart and working together as a team, which I think Valtteri and I, we all do exceptionally well.
"Yes. Also just enjoy it; it's a night race, it's a new track, lots of unknowns. But yes, we'll be pushing."