Mercedes clinch constructors' title for fifth successive year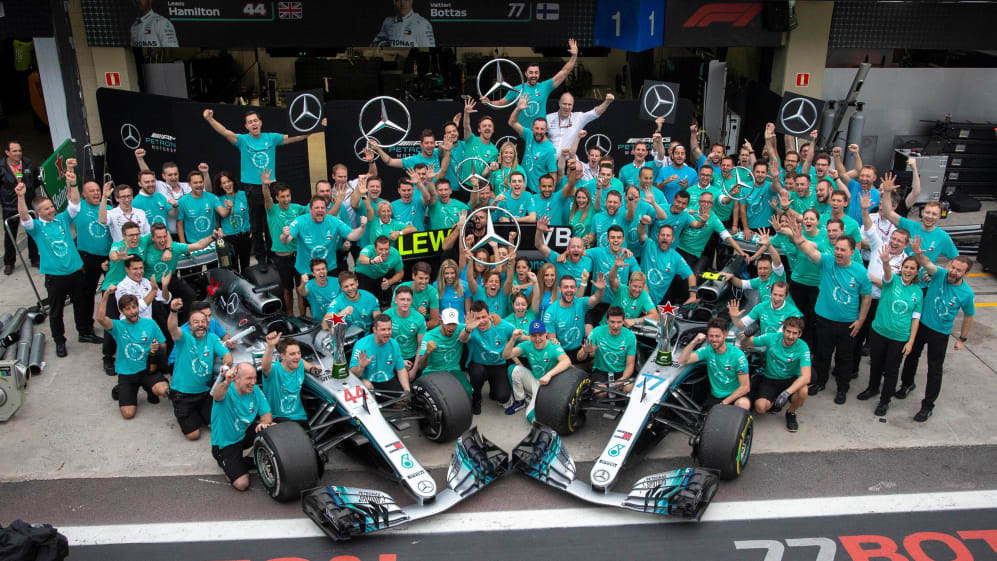 Two weeks ago in Mexico, Lewis Hamilton became only the third driver in history to win five F1 drivers' titles. And on Sunday the Briton added the cherry on top of the cake with his victory in Brazil confirming Mercedes as constructors' champions for the fifth straight year.
Standard setters ever since Formula 1 switched to its current turbo-hybrid regulations in 2014, winning every title on offer, Mercedes are just the second team in history to win a five titles in a row – and the Silver Arrows are now just one championship away from equalling Ferrari's record of six straight from 1999 to 2004.
"Honestly, these guys have worked so hard in the last six years," said Hamilton, gesturing to his crew in Parc Ferme after the race. "It's been an incredible journey with them. This is what everyone works for the whole year. Everyone wakes up, goes to work every day and tries to bring the best out of themselves - and it really pulls together as a unit.
"I've always said how much of an honour it is to drive for them. And today was like the best style we could do it."
Mercedes chief Toto Wolff said he could barely comprehend the team's achievement.
"We just wrote championship history - but winning the fifth double world championship feels so surreal," he said. "Who would have thought this would be possible when we embarked on this mission eight years ago? If anyone had mentioned this record back then, we would have told them they are crazy. And yet, here we are today, having just equalled the Ferrari record from the Schumacher years."
According to James Allison, who joined the Silver Arrows as Technical Director for the 2017 season, Mercedes' achievement means more in the light of such tough opposition from Ferrari.
We just wrote championship history - but winning the fifth double world championship feels so surreal
"What was difficult about it was that the opposition were so quick. You come to the races not knowing if you're going to win. Not having any idea whether they're going to smash you. This season, our competiveness ebbed and flowed all the way through the year. We thought we got them punched down so many times only for them to bounce back up and give us a tough time. And it's still happening now.
"(Mercedes have) an amazing, amazing group of people built up over many years. I've only joined in in the last bit of it but the skill and dedication, in a sport that is famously complicated, to get that many things lined up, all those ducks lined up in a row, not just once, not twice, but season after season after season – it's just incredible."
With their fifth title, Mercedes move clear of Red Bull into sole possession of fourth place in the all-time list of constructors' championship titles. Ferrari remain clear in the lead, with 16 to Williams' nine and McLaren's eight, but if the Silver Arrows can stretch their dominance into 2019, the Scuderia might find themselves sharing their record of six in a row…