Mercedes position switch a 'no-brainer' - Vettel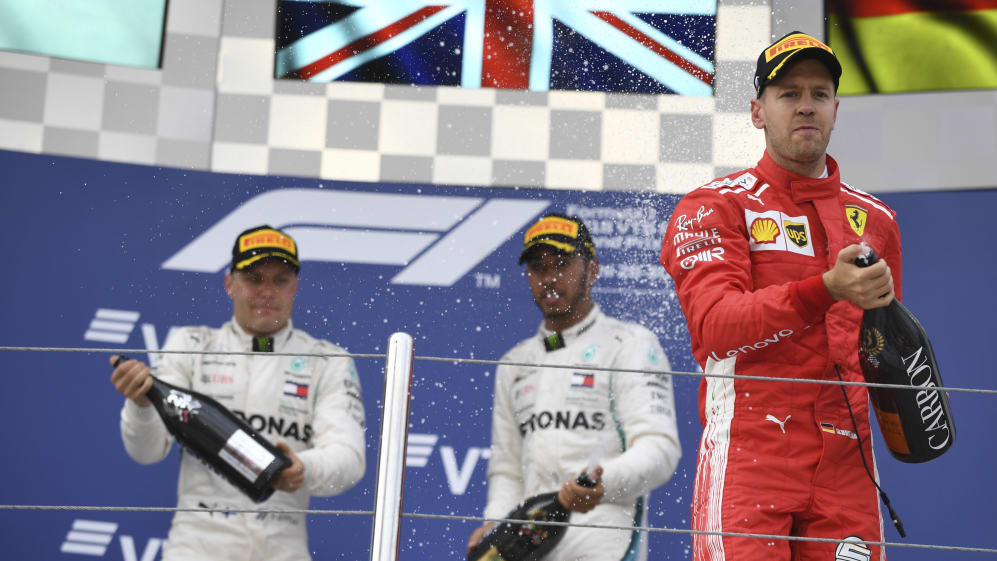 Neither Lewis Hamilton, Valtteri Bottas or Toto Wolff professed themselves happy with the team orders situation that saw Bottas cede the lead (and ultimately victory) to Hamilton in the Russian Grand Prix. But the man who took the full brunt of that decision - Sebastian Vettel - has described the call as 'a no-brainer'.
The race-defining moment occurred at the halfway stage of Sunday's race when Bottas, who'd captured pole on Saturday and was looking for a second successive Russian GP victory, was asked to let his team mate past to protect Hamilton from Vettel.
Bottas selflessly obliged, allowing Hamilton to claim his eighth win of the season and extend his championship lead over Vettel to 50 points.
Hamilton and Bottas were understandably grilled by the media about the Silver Arrows' strategy in the post-race press conference, but Vettel defended his rivals' actions, saying he understood why they did what they did.
"I think in the position they were in it was a no-brainer what they did today so maybe not all the questions are justified," said Vettel. "For us, obviously we tried our maximum. I think there was a slim chance to finish ahead of Lewis.
"I went through the racing bit this afternoon, so we have to be third and settle with that for today. I still believe in our chances; yes, obviously it's not getting bigger, as I said, if you finish behind but who knows, it takes one DNF and then all of a sudden things look different – ideally two! – which I'm not wishing on Lewis.
"But you never know what happens, so we need to stay on top of our game which maybe we haven't been completely this weekend: make sure that from where we are now we focus on winning the last races.
"I go race by race. Obviously I'm clever enough – I wasn't a genius in maths – but I was clever enough to pay attention to make it up myself but it's not getting easier if we lose points. Well done to both of them, they played very well together as a team."
Vettel explains mid-race battle with Hamilton
Sunday's race saw 2018's title protagonists go at it hammer and tongs on track once more. The confrontation occurred when Hamilton found himself suddenly behind Vettel after the first pit stops, with Ferrari opting for a tyre change one lap earlier than Mercedes and undercutting the Briton.
Intent on quickly reclaiming his position, Hamilton almost ran into the back of Vettel heading down to Turn 2 on lap 16 as the Ferrari driver closed the door in no uncertain terms - an incident investigated by the stewards, but ultimately taken no further despite Hamilton's insitence the German had moved twice.
"Obviously I had a compromised run out of the second corner, defending my position," Vettel said in his defence. "Then it was very difficult to see where he was.
"I couldn't see him for a very very long time and then just saw his tyres and I knew that he was then somewhere there and I didn't want to be a complete arse by pushing him into the dirt and potentially into the wall so I wasn't quite sure where he was and then at some point I had to give in.
Hamilton eventually made a move stick into Turn 4.
"I thought I could maybe get it back out of Turn 4 but I had to give him the entrance otherwise, you know, at some stage it just becomes silly," added Vettel.
"Obviously I wasn't happy when I lost the position but I think we did what we could today. We tried to push very hard, obviously and made the undercut but unfortunately lost the position. After that it was very very difficult.
"I thought I was a bit faster than Valtteri at certain stages in the race but not enough to get close and at the end of the race I had a lapped car which lost (me) 1.5s and then the gap was too big so there was not much point for two laps, I can't close three seconds in two laps, not if you are within the same tenth so that was that."
Vettel leaves the Russian Grand Prix on 256 points - the same total he scored in the entire 2010 season when he won his maiden championship with Red Bull. The chances of him adding another crown this year, however, are looking less likely by the race...