Interview
Mercedes the clear Sochi favourites - Sebastian Vettel Q&A
Neither Sebastian Vettel nor Ferrari have ever taken victory in Russia. Could that change this weekend? Having won two of the season's three opening Grands Prix, Vettel is certainly not ruling it out, but admits Mercedes start stronger on paper. Ahead of the Sochi weekend, the four-time champion talks about racing 'on a roll', about his team mate Kimi Raikkonen's form, and about his new 'Egyptian' dance celebration…
Q: Sebastian, after the Bahrain race you said that the car felt fantastic. Can you explain a little more?
Sebastian Vettel: Well, the general situation is that you always have a bit of a fight with your car: either with the front suspension or the rear suspension - simply being in a situation where the car doesn't do exactly what you want the longer the race lasts. But none of that was the case in Bahrain. Actually it was even getting better and better in the course of the race and in my last stint I was able to control the gap. I was aware that Lewis (Hamilton) would come closer, but the whole time I felt that there was still enough in the car to fend him off.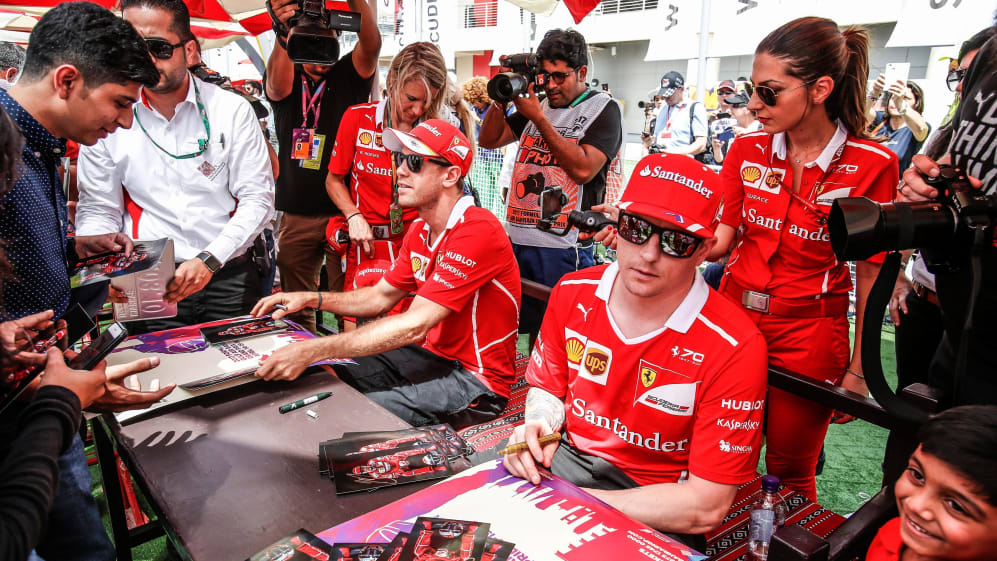 I don't think there is any doubt in the paddock that he is one of the most talented drivers F1 has
Q: There is the term 'runner's flow' in athletics. Is there also something like that in F1 racing?
SV: We all know that when you're on a roll you're on a roll. Then one positive thing leads to another. Last year we have moved closer together as a team - and that basis helps us now immensely. Now we can concentrate more on details as the overall picture is in place.
Q: How much will you try to distance yourself from Daniil Kvyat this weekend after your 'disagreement' here last year?
SV: That is water under the bridge!
Q: But your communication with your engineers after the incident spoke volumes…
SV: … and had many 'bleeps'! (Laughs) In that situation one year ago my arousal was understandable, but as I just said: water under the bridge!
Q: There is much talk about Kimi not delivering enough. How do you see that?
SV: I think Kimi hasn't had the races he would have deserved. When you look at the last race the start cost him a lot - otherwise I am sure he could have been on the podium. In contrast to outsiders, I see exactly what happens - that things didn't go in his direction so far - but I don't think that there is any doubt in the paddock that he is one of the most talented drivers that F1 has.
Q: Looking ahead to the race on Sunday, will we see another chapter of red versus silver?
SV: That would be nice for us. On paper Mercedes is the clear favourite, as the Sochi track is a circuit made for Mercedes - so the closer we can get the better. So let's see. There is a lot of work to do tomorrow to bring the car into a grid position that will help us. I like this track, so that is a good start for a day with a huge workload.
Q: You have won two out of the last three races. Could you even be on a roll here?
SV: Two out of three - that sounds pretty good! But let's not get greedy. I am so happy with where we are - especially the pace that we've shown in all three races that was a match with Mercedes - and that on two Sundays we've had the upper hand.
Q: The Vettel 'finger' was your famous gesture on the podium after winning a race. Now you seem to have switched to a dance act…
SV: Well, it came very spontaneously in Australia - and since Bahrain was equally good, I decided to go for it again. But it was purely the song 'Walk like an Egyptian' that I had heard on the Australian weekend - that 'inspired' me.