Technical
Mercedes: Analysing the world champions' new aero package for Test 2
Mercedes weren't wasting any time as the second and final F1 pre-season test of 2019 got underway at Barcelona on Tuesday morning, unleashing a series of updates to their W10 challenger.
The most noticeable change to the latest Silver Arrow was a revised nose and front wing.
Although the wing itself still adheres to a philosophy of full depth across its span (in contrast to the Ferrari and Alfa Romeo), the endplate has been redesigned and realigned.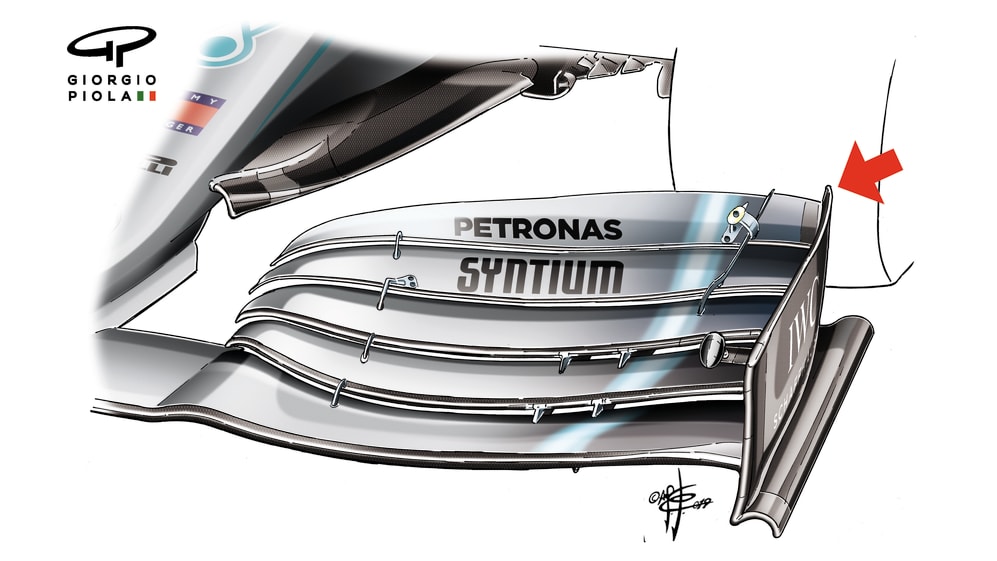 Whereas the endplate's edge previously turned slightly inboard (as shown in Giorgio Piola's illustration above) in order to hook up with the flow of the top elements to generate a vortex that aided in out-washing the airflow around the tyre (an important factor overall in aero performance), now the endplate itself is aligned outboard.
To help with the vortex generation that turns the flow around the tyre (rather than crashing into it), the top corner of the endplate has been cut away.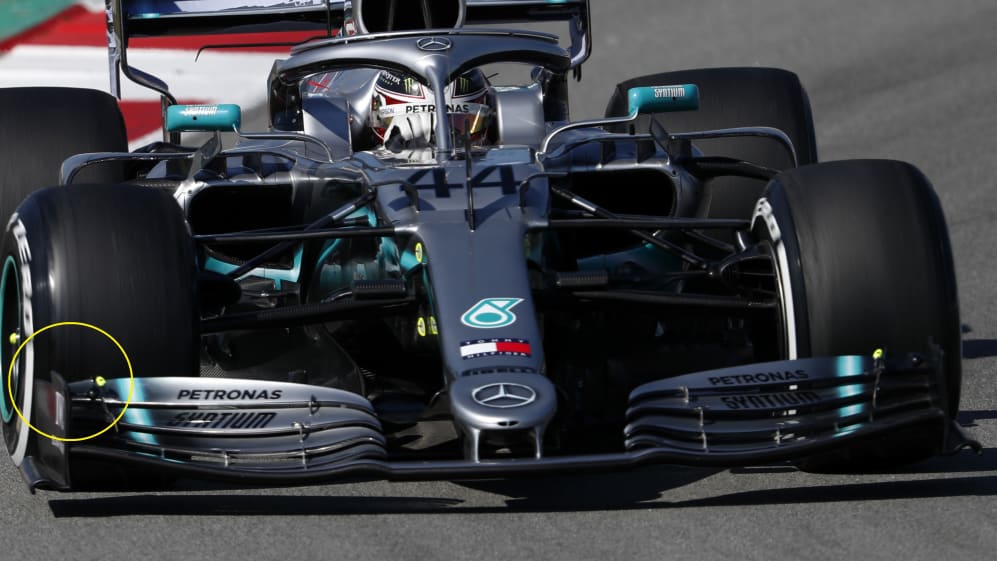 The nose section has been tapered in tighter, just up from its tip, where the big 'cape' guide vane beneath the nose is joined. This will have increased the feed of air to the vane, helping to further accelerate it on its way to the underfloor, another factor which is crucial for generating more downforce.
There are accompanying changes to the floor slots. The more downforce the floor generates, the greater the strength of the vortices at the outer edges of the floor need to be in order to seal the floor and maintain the negative pressure that effectively pulls the car down to the track. The underfloor vortices that serve as sealing skirts are created by these slots.
Mercedes played their cards close to their chest in Test 1, with limited running that suggested they were pushing the W10's performance envelope. Even so, with data suggesting an early Ferrari advantage and Valtteri Bottas saying the new car's balance was on a knife-edge, they'll be hoping these new developments bring them a welcome performance boost.