Feature F1 Unlocked
MONDAY MORNING DEBRIEF: Exactly how did Verstappen negate a brake problem to rise from P6 and take the win?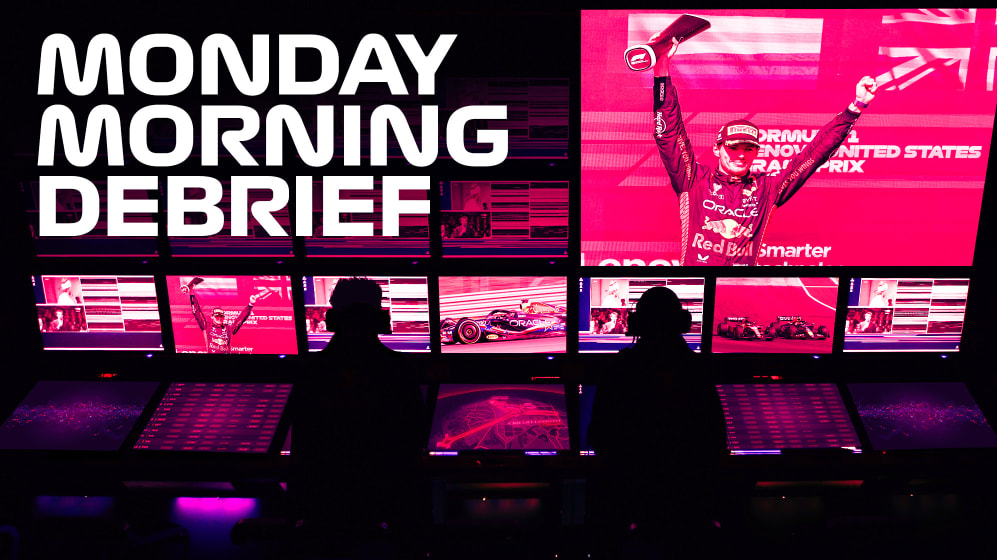 Everyone was assuming that Max Verstappen would win the United States Grand Prix despite starting only P6. The lap he'd had deleted for track limits in qualifying would have been pole, after all. And he'd totally blitzed Saturday's Sprint event from pole, pulling out 9s on Lewis Hamilton's upgraded Mercedes in just 19 laps.
But Verstappen himself wasn't so sure, and knew he had a very tough job ahead of him. To get past five cars while keeping the delicate tyres in shape on a track which induces super-high rear temperatures would be a challenge. Furthermore, around the Circuit of The Americas the RB19 wasn't as quick as usual.
The track's bumps required a higher ride height, which struck at the heart of the Red Bull's advantage. He was going to have to drive this race very prudently. Worse than that, he discovered from Lap 1 a brake feel problem, which compromised his performance.
READ MORE: Verstappen 'very proud' to score 'incredible' 50th F1 win despite brake issues in United States GP
Here's how he went from sixth to first:
START: From the outside of row three he out-accelerated the fifth-fastest qualifier, George Russell's Mercedes.
Going side-by-side with Lewis Hamilton through Turn 1 on the outside of the Mercedes, Hamilton ran wide to avoid contact with Carlos Sainz, and Verstappen was out over the kerb, rejoining still fifth.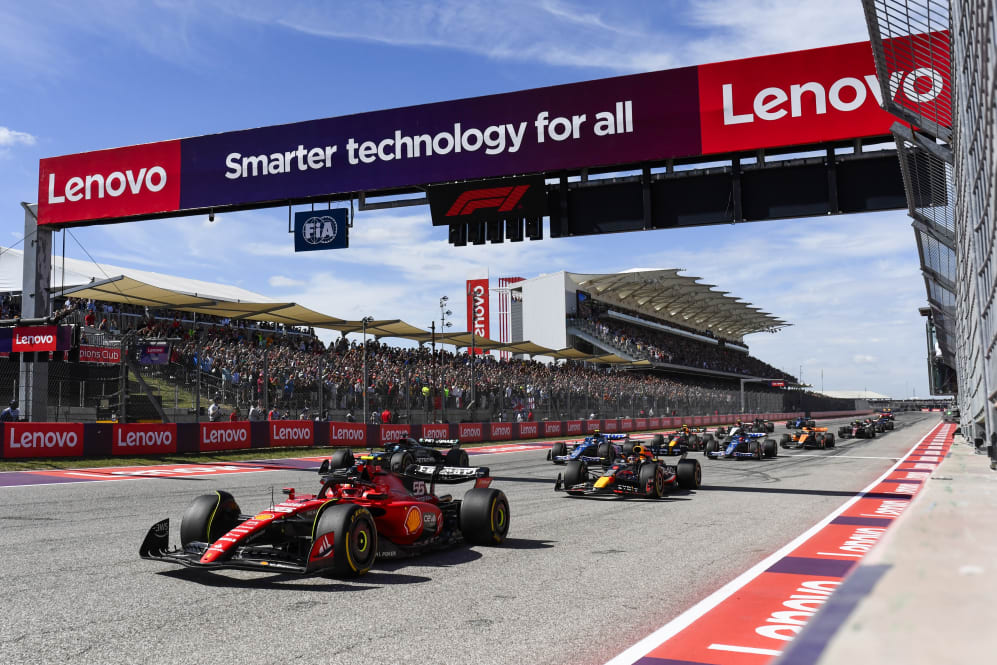 But he immediately felt the brake pedal was not right. "I was struggling a lot with the brakes and around here, there are quite a few braking points and I couldn't really have the same feeling as yesterday. You don't want to destroy the tyres but I was struggling a lot on the braking. So it took quite a while to find at least a bit of a middle way.
"Because I was struggling with the brakes I couldn't really be that nice on them, and the tyres under braking, and just being very inconsistent. And that basically carried on for the rest of the race where, compared to yesterday, that was quite a big factor because I never really had a lot of confidence to be consistent under braking.
"It was there from Lap 1 and that was the only thing that we changed from yesterday. That made it very difficult. I couldn't get on top of it. It's very rare that I have it in F1 – but today it did come up, and just made it a bit more difficult.
READ MORE: Norris hails McLaren progress after fourth straight podium but concedes they did not have 'enough' to win United States GP
"I just couldn't feel the brakes. I very easily locked the fronts and I tried to adjust it and I was locking the rears. And this is something very weird, because normally, I never really have issues with braking. So this is just something that we need to understand, why that was today. Because, you know, when you have locking fronts or rears, you're killing also your tyres.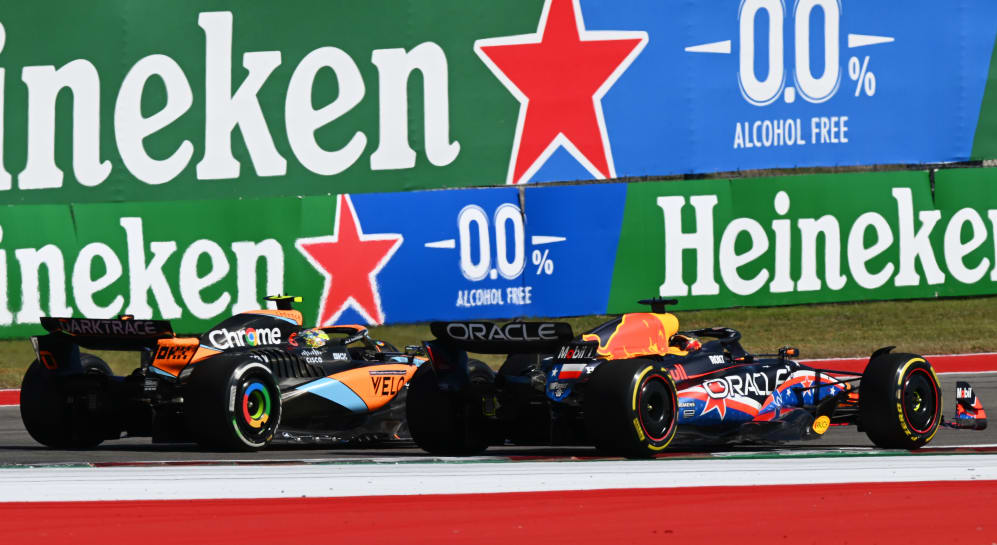 "So that definitely didn't help today, compared to yesterday, because I think yesterday, the feeling I had with the car was really amazing. And today, it was not that great."
Lap 5: Once Hamilton passed Sainz on the third lap, Verstappen engaged the Ferrari in battle, forcing Sainz to use up his battery to defend until he no longer had battery charge and so lost DRS from Hamilton. As they headed down the back straight, Sainz was helpless, without DRS or full battery deployment. His terminal speed of 304km/h at the end of the straight was no match for Verstappen's DRS-assisted 325km/h and the Red Bull went through into Turn 12 in fourth place.
Lap 7: Verstappen's race engineer Gianpiero Lambiase asked Verstappen for a 'front wing update'. This is asking if he would like the angle of the front wing flap changed when he makes his first pit stop later on. Verstappen replied: "Two clicks more". This suggests he is feeling some unwanted understeer in the car.
READ MORE: Leclerc left ruing 'wrong' strategy prediction after slipping from first to sixth in United States GP
Lap 11: Charles Leclerc's Ferrari proved tougher to pass than Sainz's and Verstappen was stuck behind him for five laps. He gets by on Lap 11, again at the end of the back straight. Leclerc refused to surrender, hanging on around the outside and trying to get back ahead into Turn 13, but Verstappen covers him off. He's now 2.8s behind Hamilton and 7s behind race leader Lando Norris in third. "It's hard to know when to go," he said afterwards. "Because you don't want to take too much from the tyres. Attacking the other car uses up the tyres. But sitting behind them can also damage the tyres. So you have to sort of balance it out."
Lap 16: Verstappen came in for his first pit stop when 4.6s behind Hamilton. This was not an undercut attempt, as 4.6s is too far distant to make the undercut work. It was simply a reflection of the fact that his initial set of medium tyres were beginning to suffer. He was fitted with another set of C3 mediums, which were a much faster tyre here than the C2 hards.
Having two sets of mediums available for the three stints of the planned two-stop race was important. Because of the Sprint format, the weekend really required careful thought about which tyres to use in first practice on Friday. Correctly forecasting the medium would be the better race tyre, Red Bull used a set of hards in Friday practice.
HIGHLIGHTS: Relive the action from the United States GP as Verstappen clinches win ahead of Hamilton
McLaren, on the other hand, had been concerned about possible graining on the medium and so had retained two sets of hards for Norris. This turned out to be the wrong choice.
Mercedes at this point left Hamilton out, intending to try for a one-stop in the mistaken belief that Verstappen had not showed his full pace simply because he was nursing his tyres and that if they ran the same strategy as Verstappen they'd be beaten. They didn't know about Verstappen's brake problem at this stage.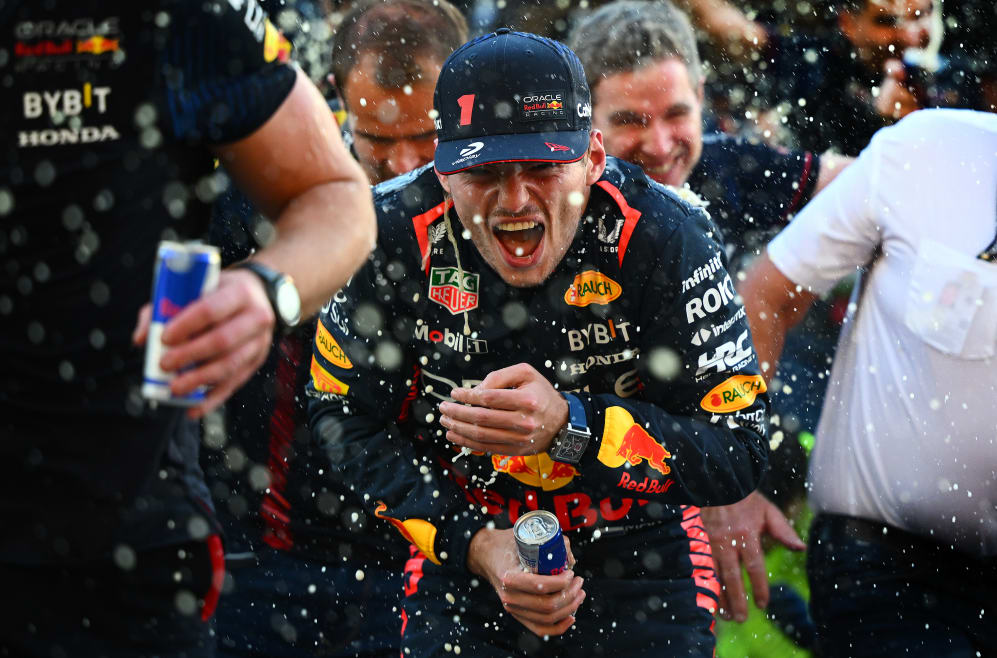 Four laps after Verstappen's stop, Hamilton's tyres were finished and the team bailed out of the one-stop plan three laps short of the intended Lap 23 window. Those slow laps on old tyres as Verstappen was on new rubber lost Hamilton around 11s to his rival and jumped Verstappen ahead into second.
At this point Norris on his new hard tyres remains in the lead around 2.7s ahead, but Verstappen on his mediums is lapping 0.2-0.3s faster.
Lap 28: The McLaren's bogey corner is Turn 11, the hairpin onto the back straight. Norris had already locked up into there a few laps earlier. This time his exit is considerably slower than Verstappen's, who uses DRS to help make a beautifully judged pass on the McLaren into Turn 12. Like Leclerc, Norris hangs on around the outside but Verstappen is cleanly ahead into Turn 13 and up into first place.
FACTS AND STATS: Verstappen joins exclusive 50-wins club as Norris closes on Heidfeld record
It's only a few laps after this has been accomplished that the rest of the world gets to hear about Verstappen's brake problem, as he relates his complaints to Lambiase.
Later there is a routine second stop to switch to a set of hard tyres. Hamilton stops three laps later and switches to new mediums and uses these to catch Verstappen at around 0.5s per lap. But he started too far behind to be able to catch and pass the Red Bull in the remaining laps. Verstappen's 50th career victory was secured.
To read on, sign up to F1 Unlocked for free
You'll unlock this article and get access to:
Live leaderboard data
Epic experiences and rewards
Money-can't-buy competitions