Feature F1 Unlocked
MONDAY MORNING DEBRIEF: How Norris pulled off Silverstone podium despite 'pretty terrible' McLaren limitation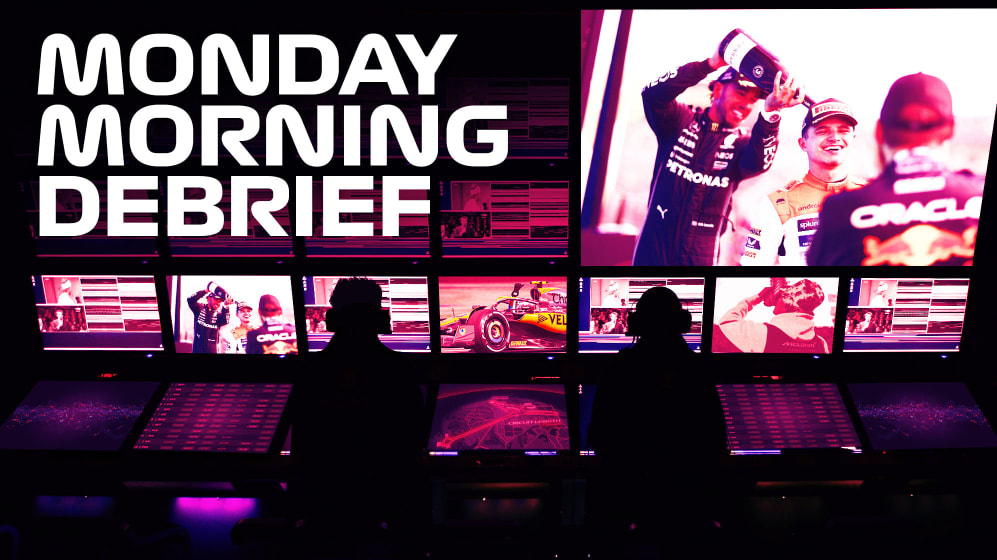 Max Verstappen's steamrollering of the 2023 season continues, but his poor start off the grid made for a memorable first few laps as Lando Norris led the race while the other McLaren of Oscar Piastri snapped at the Red Bull's heels like a terrier puppy.
For Verstappen, it was relatively routine work to remain patient as his tyres came fully up to temperature, then to apply the pressure to Norris in a way which forced the McLaren driver to use up his battery store, wait for DRS – the Drag Reduction System in the rear wing – to be enabled, and then to cruise by on the Wellington Straight.
READ MORE: Norris praises 'amazing job' from McLaren after recent updates net Silverstone podium
That was Verstappen's race properly under way and, after getting his tyre temperatures back under control (briefly giving Norris false hope), he checked out, cantering to his eighth win from 10 this season.
But the McLarens remained the best of the rest, quite convincingly. Only the late Safety Car cost Piastri his third place to Lewis Hamilton, and Norris was able to fend off the soft-tyred Merc on the restart despite being on hard tyres for a well-earned second place.
What is behind this dramatic improvement? There are two parts to it: the car's recent upgrade and the circumstances of Silverstone. Combined, they gave a powerful boost.
FACTS AND STATS: Red Bull match McLaren's all-time record of 11 straight wins
After Norris and Piastri had qualified second and third, team boss Andrea Stella was measured in his confidence that the bodywork upgrade (introduced on Norris's car in Austria and on Piastri's here) with its heavily re-profiled sidepods and totally new floor was at least partly responsible for the upturn in form. "Definitely our Austria race pace was better," said Stella, "and I think that the upgrades were absolutely fundamental in terms of this improvement.
"But we have to be cautious because we are quite subject to the conditions. If we want to get less dependent on conditions, we just have to keep improving the car. Red Bull has such a margin that I'm sure they have similar kinds of issues but it's within their margin so doesn't hurt them."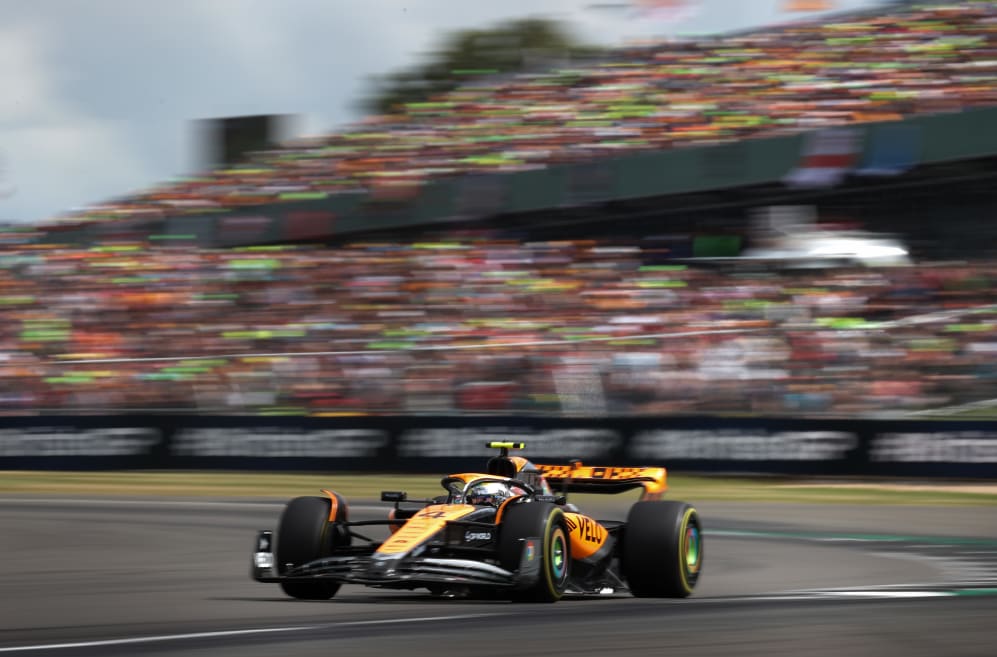 Which conditions were they? Silverstone's layout, just like the Red Bull Ring's last week, is very well suited to the McLaren's pace through high-speed sections and its emphasis on aero efficiency. This was so even before the upgrade. There was also the way the McLaren uses its tyres. It switches them on more effectively than any other car, but that same trait has cost it pace and positions in races where pace was dictated by the heat degradation of the tyres.
READ MORE: Hamilton and Russell taken aback by McLaren after front-running pace 'comes from nowhere'
Lando Norris was thrilled to have qualified on the Silverstone front row but was even more cautious in his optimism for the race than Stella. "We've definitely added load to the car, but I'd say we've only 30% improved our weakness in the slow corners. But it's definitely better.
"In Austria we were extremely good in qualifying and backed it up in the race. I'm not normally confident going into Sunday but [now] I have some reasons to believe. Probably not enough to race [Verstappen] but enough to put up a fight with the others."
Turned out, he could do more than put up a fight. But it was on a day when the cool conditions combined with the track's layout to allow pretty much everyone to push hard on the tyres throughout – and Norris's second place was earned fully on merit.
His updated take on the car after that remained searingly honest, though. "These tracks have allowed us to look after the tyres well. We're very, very competitive in high-speed [corners]. We're almost on par with what Red Bull could achieve in some places and actually, I would say towards the medium-speed like Turn 15 here, Stowe, I would say we're close to being the best car on the grid.
READ MORE: Verstappen hails 'incredible' 11th consecutive win for Red Bull as he joins elite club alongside Schumacher and Ascari
"Super, super high-speed like Turn 9 [Copse], maybe not quite so much but that was in qualifying and then when we come to the race we definitely maintain our performance when others seem to take a bit of a hit. And in doing so we can actually look after the tyres pretty well, especially when there's no thermal limitation within the tyre like today.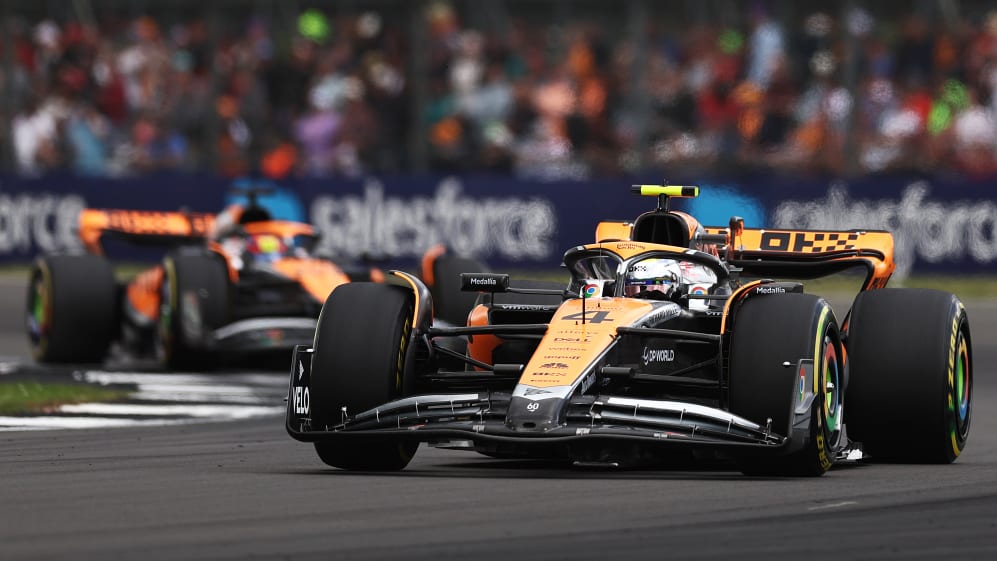 "But we do have a poor car – and I say poor, I would say pretty terrible – in the slow-speed corners, extremely difficult to drive. I feel we're getting excited and I accept that, but we're going to go to a couple of tracks coming up where I'm sure people are going to be saying, 'What have you done now? How has it got so bad all of a sudden?!'
DRIVER OF THE DAY: Sensational Norris gets your Silverstone vote
"So, we've improved a lot of things: tyre degradation, there's always little things you try and do with tyre cooling and blah, blah, blah, but nothing big from that side. It's just this track's allowed us to look after the tyres nicely, keep them in a good condition. Simple as that. So a lot of it is track-specific.
"I don't want to get too excited. Good things have come from the upgrade but there's still plenty of things where we are miles away from, say, competing in certain places with a Mercedes, and as a whole package competing even with a Red Bull. So a lot more work to be done from both of those areas."
That's the exact attitude of focused realism which can ensure that the team remains on course in their recovery.
To read on, sign up to F1 Unlocked for free
You'll unlock this article and get access to:
Live leaderboard data
Epic experiences and rewards
Money-can't-buy competitions