Feature
The Hamilton-Verstappen crash changed the face of the Italian GP – but would Ricciardo have won regardless?
Lewis Hamilton's Monza day ended in the gravel trap with Max Verstappen's Red Bull perched upon him as McLaren delivered a stunning 1-2, Daniel Ricciardo from Lando Norris.
Hamilton had just exited the pits from his tyre stop when the collision with Verstappen – who was just completing his out lap from a disastrously slow stop – came. It was only because Verstappen had suffered his pit stop delay that Mercedes chose to bring Hamilton in. The delay tightening the right-front wheelnut on the Red Bull had made him catchable if Hamilton pitted immediately, on Lap 25.
Mercedes had not planned on stopping him anything like as early as this, having chosen to start on hard tyres knowing that all those around him would begin on mediums. As McLaren initiated the pit stops with Ricciardo on Lap 22, the plan for Hamilton – who'd spent the first stint in fourth place, stuck behind Norris just as Verstappen had been stuck behind Ricciardo a few seconds ahead – had been to run for another 16-17 laps.
READ MORE: 'We still have a lot of work to do' – Brown and Seidl insist McLaren mustn't get carried away after Monza 1-2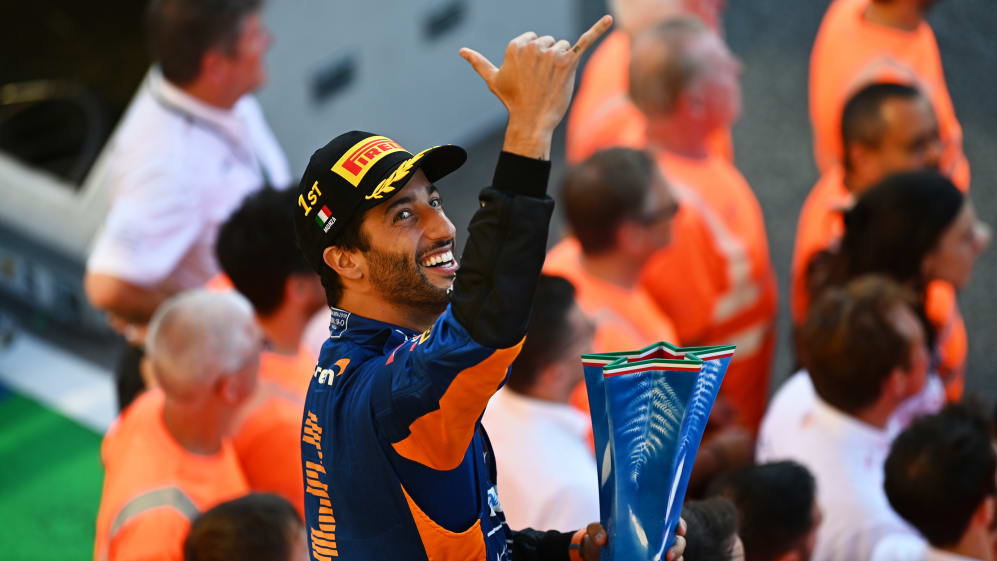 As Ricciardo, Verstappen and Norris all pitted ahead of him, he'd have been running in the lead, giving his tyres an easy time to stretch out the stint as far as possible. After then pitting he'd have been on a set of new mediums as the other three were on much older hards and so would have had a considerable grip advantage.
How might that have panned out for him if the fateful Red Bull pit stop had not tempted Mercedes to bring him in early?
The Mercedes was the fastest car around a lap of Monza by a handy margin, as was demonstrated in Friday qualifying when Valtteri Bottas and Hamilton locked out the front row, around 0.4s faster than Verstappen and Norris.
READ MORE: 'Tactical foul' or 'racing incident'? Wolff and Horner have their say on the Verstappen-Hamilton clash
The Red Bull was just too draggy for the Monza layout even with the skinniest of rear wings and the team had feared being outqualified by McLaren. Verstappen's Friday lap was just a few hundredths of a second faster than those of Norris and Ricciardo, although the Red Bull's race pace was significantly better than the McLaren's in the following day's Sprint. The qualifying closeness between them came from the McLaren's much more powerful DRS effect, not as relevant in the race.
The hard tyre was initially around 0.5s slower than the medium. So we can map out an approximate estimation of how a long-running Hamilton might have fared.
Red Bull brought Verstappen in as a response to McLaren pitting Ricciardo from the lead. This was quite a gamble from McLaren because he had not yet cleared a pit stop worth of gap over the sixth place Ferrari of Carlos Sainz, which the team was reckoning Ricciardo would be able to pass immediately on his new-tyred out lap. That turned out to be a correct assumption.
But Red Bull figured it was not a certainty and that Ricciardo might therefore be vulnerable on his out lap as Verstappen was instructed to give it everything on his responding in lap.
READ MORE: Verstappen handed three-place grid drop for Sochi after crash with Hamilton at Monza
But when Verstappen tried to do that, he found he had very little tyre grip left. Twenty-odd laps in Ricciardo's DRS range had taken all the life from the tyres. Verstappen's in lap was around 1s slower than Ricciardo's had been. Given that McLaren's stop had also been good, there was no way Verstappen would have been able to overcut past the McLaren. His pit stop delay allowed Norris to overcut him instead.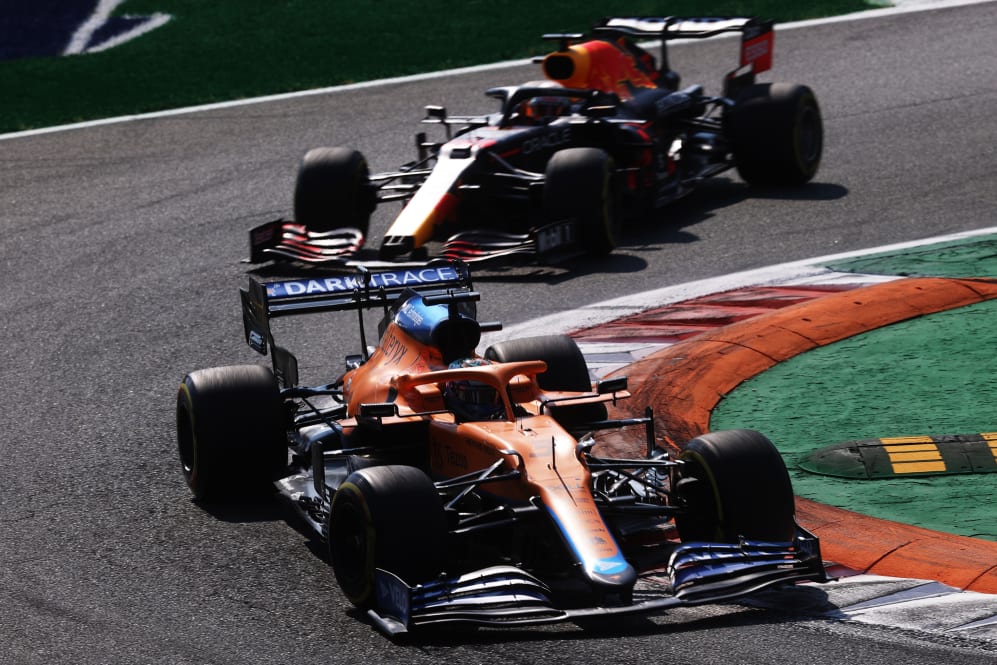 Had Hamilton stayed out rather than been tempted to take advantage of Verstappen's delay, he'd have been on hard tyres potentially with plenty of life still in them.
He had been taking care to stay off the serrated kerbs as that induces a lot of heat into the tyres and the hard compound was very durable. They would have been 24 laps old as he assumed the lead.
With a degradation rate of around 0.05s per lap it would have made them potentially around 1.2s slower than the fresh hards on Ricciardo's car, who would have been running second on the road, initially around 17s behind (he'd been 6s in front, the stop loses around 23s).
READ MORE: Hamilton says Verstappen 'obviously knew he wasn't going to make the corner' after Monza crash
But the Mercedes itself was potentially around 0.4s faster than the McLaren. So let's say Hamilton's pace as he led would have been around 0.8s slower than Ricciardo's behind, with another 13 laps of stint to go. On those numbers Ricciardo would have gained around 10s on him, reducing Hamilton's lead to around 7s by the time he pitted.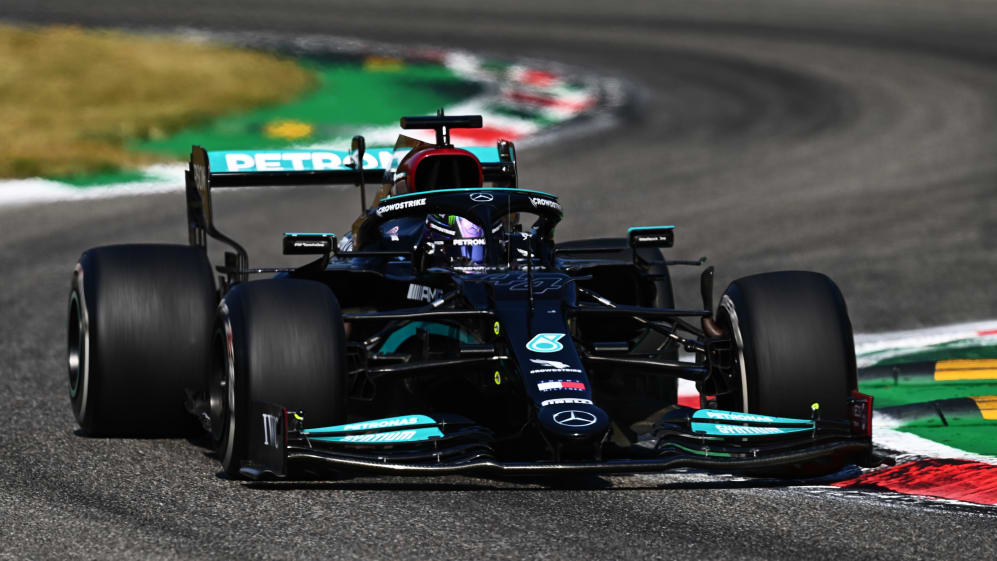 He'd have rejoined fourth, with Ricciardo and Norris likely holding off Verstappen, given that all the evidence of the weekend showed a Red Bull couldn't pass a McLaren on equal tyres once it was behind it because of the McLaren's straightline speed advantage.
Hamilton would have rejoined around 16s adrift of the lead, but on his new medium tyres, he could have been up to 1.6s faster than the three cars ahead (0.5s from the compound, 0.65s from the tyre age difference and 0.4s from the car). There would have been 14 laps remaining. Fourteen laps x 1.6s = 22.4s.
On those numbers he'd have caught them with four laps to go. Could he, in those remaining laps, have made the passes? The reality is that his tyres would have been past their best by the time he caught them. He may have got one shot at a passing attempt – on third-place Verstappen in the closing laps…
RACE HIGHLIGHTS: Watch all the action from a dramatic Italian Grand Prix at Monza