Feature F1 Unlocked
MR MONACO: How Graham Hill mastered the streets of Monte Carlo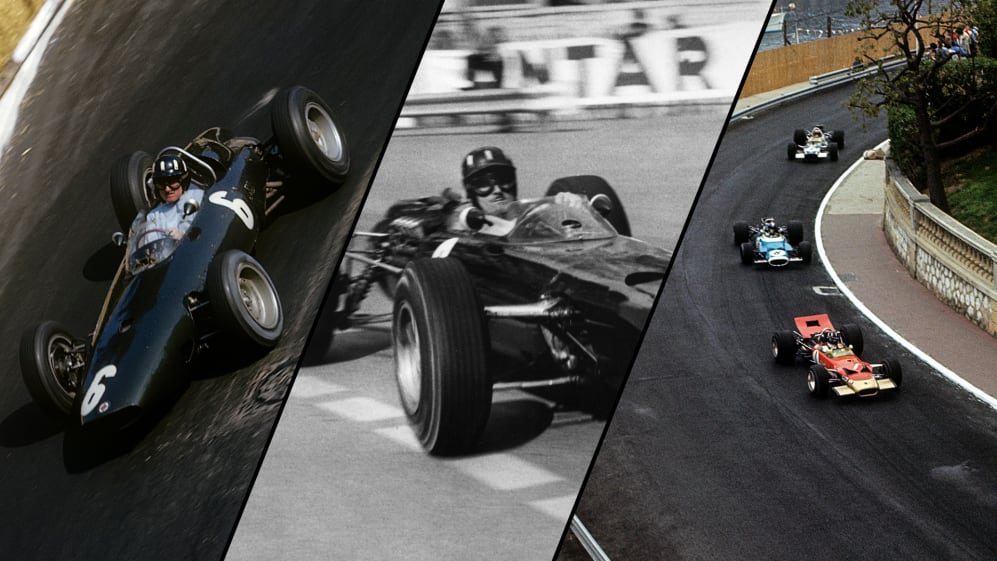 This week marks 60 years since Graham Hill took the first of his five victories in Monaco across a trophy-filled F1 career. To mark the occasion, we look back at that sequence of wins during the 1960s and how he earned the title of 'Mr Monaco' alongside his two world titles…
1963 – Hill's breakthrough Monaco win
Hill had been on course to chalk up a maiden Monaco Grand Prix victory in 1962, hauling his BRM past Cooper rival Bruce McLaren early on and leading most of the then 100-lap encounter until an engine failure inside the final 10 tours – handing back the advantage, and victory, to the New Zealander.
One year later, Hill had another shot at glory, going wheel-to-wheel with the pole-sitting Lotus of Jim Clark in a thrilling battle over the first third of the race. Trading places on several occasions, with the other BRM of Richie Ginther also getting involved, there was initially nothing to separate the leaders as they pounded around Monte Carlo's twisty, challenging streets.
Clark then stretched the Lotus' legs to put some breathing space between his car and Hill's, with the skirmish appearing to be settled in his favour as the race entered its second half. That was until a gearbox failure stopped him in his tracks and opened the door for Hill, who duly reclaimed a lead he would not relinquish.
Crossing the line almost five seconds clear of Ginther, with McLaren and John Surtees around 10 seconds further back, reigning world champion Hill could now add the 'King of Monaco' title to his growing collection – bagging a new average speed record for the race to boot.
1964 – Doubling up in the Principality
It was a similar story on F1's next visit to Monaco early in the 1964 season, with Clark grabbing pole position and putting in another impressive display, only for further technical problems – this time suspension and engine-related – to scupper his efforts again.
While Clark surged into a commanding lead as the race began, keeping up the pace even when his rear anti-roll bar worked its way loose, Hill scrapped with Jack Brabham and Dan Gurney for the 'best of the rest' spot. But when Brabham lost power and Clark came into the pits for a temporary suspension fix, Gurney and Hill found themselves holding the top two positions.
From there, Gurney, Hill and a recovering Clark ran nose to tail in a squabble for the lead, with Hill – having applied pressure for some time – eventually making a move on Gurney just after the halfway mark. Any hopes Gurney had of fighting back were ended by a gearbox failure, before Clark battled engine woes of his own.
That left a clear path to the finish for Hill, whose pace was relentless in free air, underlined by the fact that he put at least a lap on the rest of the field. Ginther followed him home to make it a BRM one-two, with Peter Arundell's Lotus three tours adrift.
1965 – Making it a hat-trick of triumphs
After his technical troubles in 1963 and 1964, Clark was missing from the list of Monaco Grand Prix finishers for another reason at the 1965 event, as he headed Stateside to take on – and win – the Indianapolis 500. That meant one main contender was out of the way, presenting Hill with a golden opportunity…
The weekend started perfectly for the BRM incumbent, who stormed to his first of two Monaco pole positions by comfortably outpacing Brabham and new team mate Jackie Stewart during qualifying, before holding his lead at the start and controlling the opening exchanges.
However, drama would strike both BRM drivers around a third of the way into the race – Hill taking to an escape road as he approached the slow-moving Bob Anderson out of the tunnel (which forced him to push his car back onto the track), and Stewart going for a spin shortly afterwards. That meant Stewart and Hill were fourth and fifth respectively when they resumed.
Fired up, Hill embarked on a comeback drive that was initially aided by leader Brabham's retirement amid engine trouble and younger team mate Stewart moving aside. Then came an intense fight with Ferrari pair John Surtees and Lorenzo Bandini, which Hill brilliantly won before charging more than a minute into the distance.
1968 – Hitting play after a brief pause
After three Monaco wins on the bounce, which put him well on his way to earning the 'Mr Monaco' nickname, Hill's run came to an end when he finished a lapped third during his final season with BRM in 1966, and then a lapped second on his return to (the briefly BRM-powered) Lotus in 1967.
Lotus were mourning the recent deaths of Clark and Mike Spence when they arrived in Monaco for the 1968 edition of the Grand Prix, while Ferrari were absent and did not officially state why, though their aforementioned driver Bandini had also lost his life following a crash in the previous year's race.
Nonetheless, Lotus pressed ahead with the introduction of their new 49B, which Hill piloted to a truly dominant pole position as the race weekend developed – a lap time more than half a second quicker than nearest rivals Johnny Servoz-Gavin and Jo Siffert.
Hill lost out to Servoz-Gavin at the start, but he regained the lead when the Matra driver suffered a driveshaft failure and crashed. Thereafter, Hill could not be stopped, despite the best efforts of his BRM replacement, Richard Attwood, who finished a couple of seconds back. Only three other cars made the finish in a race of attrition, all several laps down.
1969 – Hill brings his tally to five
Having finished runner-up in the 1963, '64 and '65 championships, an elusive second world title evaded Hill until 1968, when his return to Lotus bore fruit. Little did he know at the time that 1969, and more specifically that year's Monaco Grand Prix, would bring his 14th and last F1 win.
Former team mate Stewart (now of Matra) and Ferrari's Chris Amon led the way early on, but technical issues for both handed P1 to Hill, who romped clear to take a comfortable victory over Brabham's Piers Courage and the Rob Walker-run Lotus of Siffert – marking the first triumph for a driver wearing a full-face helmet in the process.
Hill raced into his 40s and made five more Grand Prix outings in Monaco, along with a final, failed attempt to qualify for his own eponymous team in 1975, the year he would tragically lose his life in an aircraft crash while travelling back to the UK from a test session at Paul Ricard.
Hill's record of Monaco wins would stand until the early-1990s, when Ayrton Senna equalled it in 1992 and went one better the following year. But the legendary British racer holds second in the all-time list – alongside Michael Schumacher – to this day, having claimed 35% of his Grand Prix victories on some of the most famous streets in motor racing…
To find out more about Graham Hill's life and career, head to our dedicated Hall of Fame profile, which covers his upbringing, route to F1 and interests outside of the sport.
To read on, sign up to F1 Unlocked for free
You'll unlock this article and get access to:
Live leaderboard data
Epic experiences and rewards
Money-can't-buy competitions