'We were half a car's length away from winning' – Emotional Russell calls final lap Singapore crash 'heartbreaking'
A final lap mistake from George Russell in the 2023 Singapore Grand Prix saw his chances of victory go up in smoke after he clipped the wall while hunting down the race leaders and speared into the barriers – with a visibly emotional Russell describing the crash as "heartbreaking" after the race.
Running a strong P2 after jumping Charles Leclerc in the first round of pit stops, Russell and Mercedes team mate Lewis Hamilton had then rolled the dice and bolted on a fresh set of mediums with 18 laps to go at Marina Bay, before charging after race leader Carlos Sainz, the McLaren of Lando Norris and the second Ferrari of Leclerc.
READ MORE: Sainz holds off Norris and fast-charging Mercedes pair to take sensational Singapore Grand Prix victory
With Leclerc dispatched, the final lap saw Sainz, Norris, Russell and Hamilton separated by just metres, all four with a chance of claiming the win. But as the pack charged down to Turn 10, Norris appeared to clip the outside wall with his right-rear tyre, only for Russell to hit it even harder, sending the Briton into the barriers, as Sainz held on to win from Norris and Hamilton.
Speaking after the race, Russell said: "I'm lost for words to be honest. I think we were half a car's length away from winning the race, had we been able to overtake Lando when I had that one opportunity.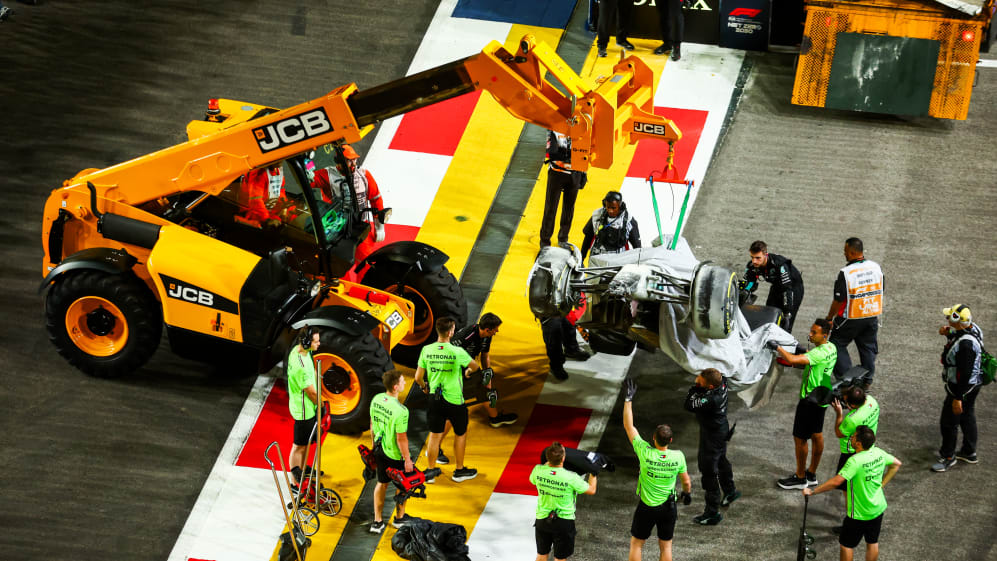 "And then that last lap, I don't know what the hell happened there. Whether it was a lack of concentration, maybe frustration knowing that that was our opportunity gone, a mistake of one or two centimetres has just put such a shadow over the whole weekend – one which would have been an amazing weekend.
"The team did an amazing job, the car was great, the strategy was bang on, we were aggressive, we were bold and it was exciting, it was really exciting out there and it's heartbreaking to be standing here with no points. It definitely sums up the season I've been having this year."
AS IT HAPPENED: Follow all the action from the 2023 Singapore Grand Prix
Asked if he felt his and Mercedes' 'high risk, high reward' strategy had been worth it in hindsight, Russell replied: "Yeah, it was definitely worth it. I was willing to lose a position or two if that gave us half a chance of winning the race. We knew if we were on the same strategy as Carlos, we weren't going to be able to overtake on track.
"But we were bold, I was managing my tyres as we were closing that gap, because I knew I needed my tyres in the best state possible for those last five laps. It would have been challenging: I had Lewis behind, who was definitely pushing harder than I was… it's just such a shame.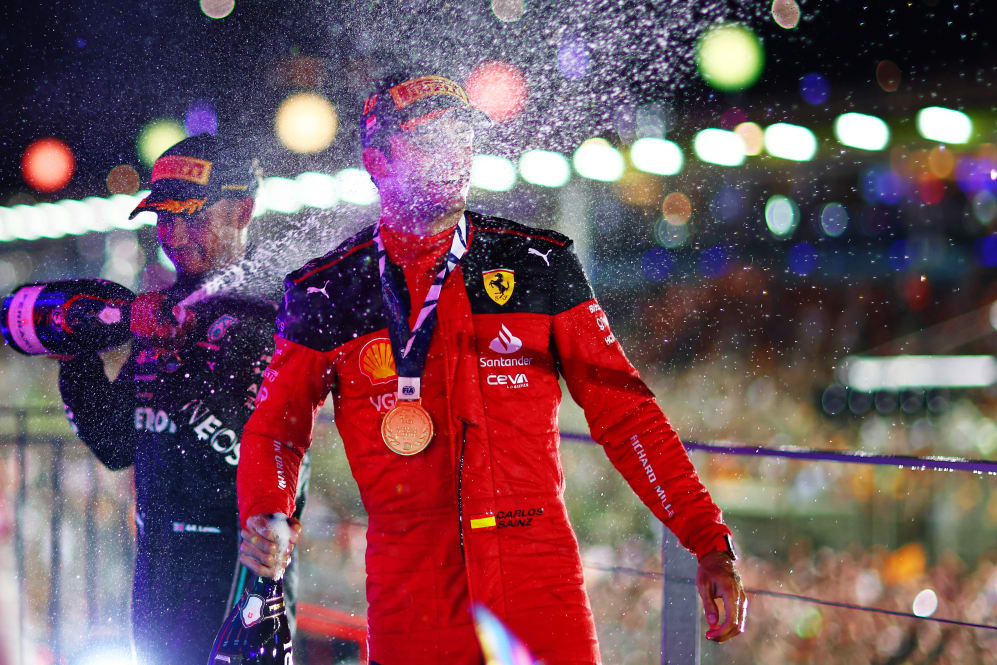 "Just one or two centimetres' mistake and the whole weekend was gone. So massively sorry to the whole team. They deserved more, we all deserved more. But I'm not going to let it cloud my weekend."
Hamilton was left to come home in the final podium position. But the most successful qualifier in the sport's history earmarked Saturdays as a weakness for him currently as he reflected on his 2023 Singapore Grand Prix experience.
DRIVER OF THE DAY: Sainz gets your vote after scintillating Singapore win
"I think ultimately just not that great a weekend," said Hamilton. "I just made it really difficult for myself with a poor performance yesterday. But exciting at the end for us as a team. I knew that I wouldn't be able to get George because you need a big delta to overtake, but I thought we might be able to get a one-two but unfortunately we didn't do it.
"Qualifying is a big weakness for me, and making lots of changes to the car. We did a big change yesterday and then it was learning a whole new car again, so it wasn't particularly enjoyable to drive – but it was good today. So there's definitely pros with the things we changed, it's just getting on top of that and figuring out how to maximise qualifying. Once I get my qualifying sorted, we'll be good."