Video
MUST-SEE: Verstappen and Grosjean trade insults after blocking incident in FP2
There was one very unhappy racing driver behind the wheel of the #33 Red Bull in Free Practice 2 for the British Grand Prix, with Max Verstappen left furious after being blocked on his hot lap by the Haas of Romain Grosjean.
Verstappen was entering the super-fast sweeps of the iconic Maggots-Becketts complex as he attempted a qualifying simulation run in FP2, when he happened upon the slow-moving Haas of Grosjean on the racing line. Verstappen was forced to get off the throttle, before pulling alongside the Haas and gesticulating angrily.
"Blind mother******," screamed Verstappen into his radio, while Grosjean sarcastically told his own race engineer: "Of course I did it on purpose. So childish."
READ MORE: Albon says RB16 feeling 'more balanced'... despite heavy FP2-ending crash at Silverstone
Yet despite the on-track fracas leaving Verstappen P14 at the end of FP2, having headed Free Practice 1, the Dutchman was happy overall with how his day had gone.
"It was not a bad day for us," said Verstappen at the end of Friday. "I just got blocked so I had to stop [my hot lap], but at the end it doesn't matter.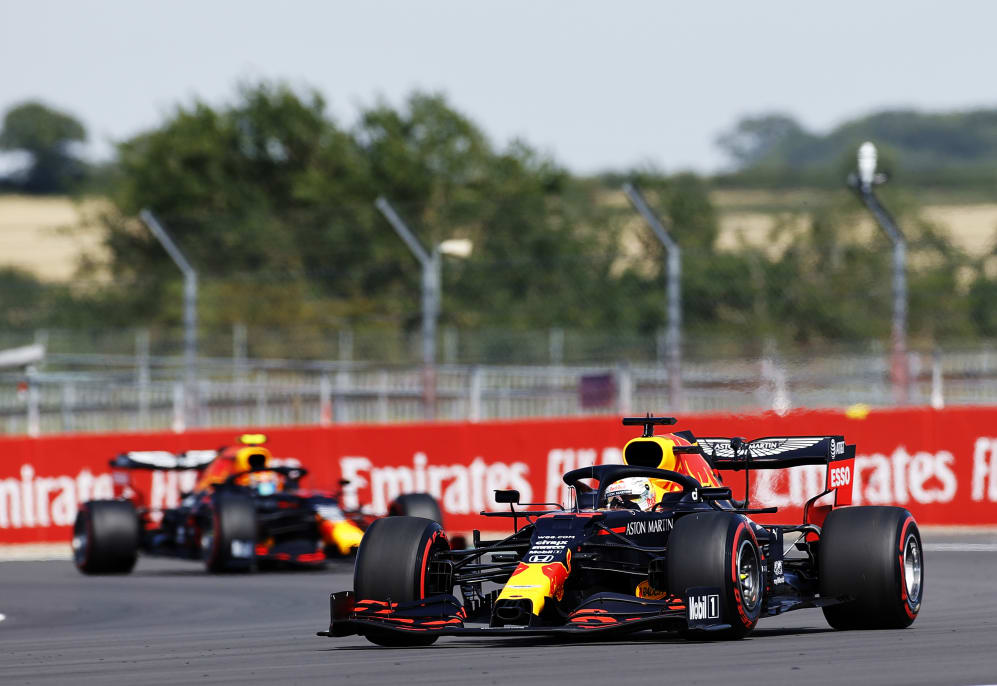 "I think the car's working a bit better, so happy with that," he added. "I think of course there's things you can improve so we'll work on that, but I think also in the long runs, it was looking quite decent.
"We keep trying parts on the car as well, we keep bringing new bits, and it seems like they are working, so happy with that. It looked better and it also felt better… so overall, a positive day."
READ MORE: Stroll fastest for Racing Point in FP2 at Silverstone as Albon crash brings out the red flags
And despite Verstappen's team mate Alex Albon losing the back end of his own RB16 and crashing heavily into the barriers in FP2, the Thai driver echoed Verstappen's thoughts after ending FP2 in second place, telling the media on Friday evening: "The car feels good… it feels more balanced… Obviously I say that – I still hit the wall! But otherwise there are a lot of positives to take from today."