Video
MUST SEE: Watch as Sargeant crashes out in qualifying at Suzuka with Q1 red-flagged
Logan Sargeant's qualifying hopes in Japan ended early after the rookie driver crashed into the barrier on the final corner in Q1, bringing an end to his Saturday afternoon and a halt in proceedings with the red flags being waved.
With all 20 cars out on track looking to overcome the first hurdle of qualifying, Sargeant's unfortunate crash into the barrier at turn 18 sent all the drivers back into the pit lane.
READ MORE: 'I know what I need to do' – Sargeant discusses his chances of retaining Williams seat for 2024
The American was on his first flying lap in Q1 and was about to cross the line to set his time, but he suffered a slight snap on the entry to the corner. And as he tried to correct it, he dipped a wheel onto the grass which sent him into the barrier.
It was an unfortunate end to Sargeant's day, but he was able to walk away from the incident without any issues, as he jumped out of the heavily damaged FW45 and made his way back to the pit lane.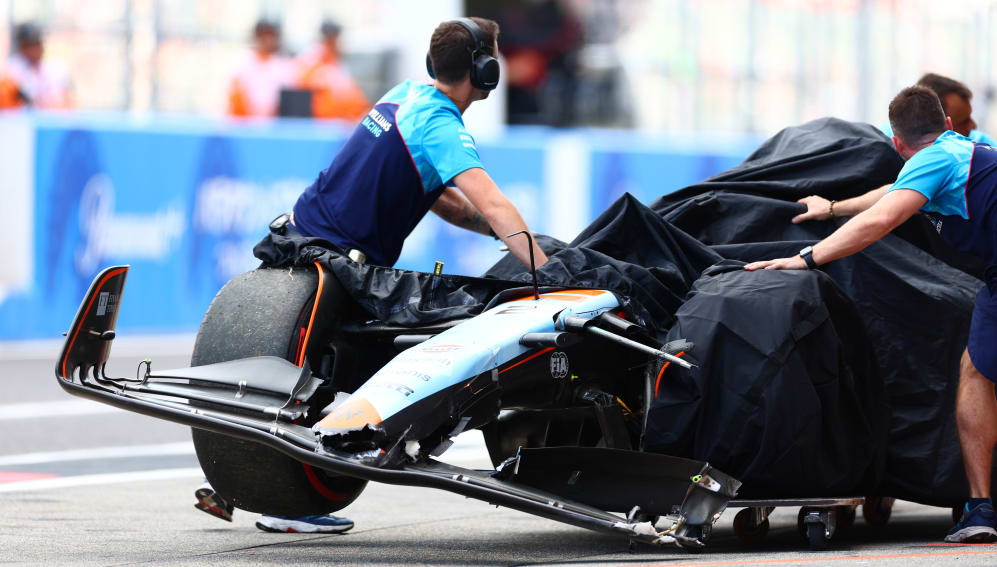 "It's been a good day until the incident," Sargeant said afterwards. "It was going well, and we had the car in a good window. I've just been struggling with rear overheating in the last sector.
"I lost the rear on exit; maybe a bit too aggressive on power with the tailwind as well. The grass creeps up on you quickly as it's coming back towards you. Unfortunately, once I touched the grass there was nothing I could do.
"I know the team have a big job on their hands to repair my car for tomorrow and I really appreciate all their hard work and effort."
READ MORE: Verstappen and Red Bull return to form as they charge to pole ahead of the McLarens at Suzuka
"Heartbreaking for Logan, just on the grass and that's game over," said Williams Team Principal James Vowles immediately after the crash. "Logan built up to this weekend and had some good pace, just can't get it all together.
"For a number of races Logan has been on an old aerodynamic package. We've had attrition. We have enough to deal with the accident today. Overnight we'll have plenty to rebuild the car."
Sargeant will start the race at the stewards' discretion having not set a time in qualifying, while his team mate Alex Albon starts 13th.