Norris and Stroll escape penalty over Turn 2 collision
McLaren's Lando Norris and Racing Point's Lance Stroll were the sole retirements in Sunday's Spanish Grand Prix after making contact on Lap 46 and bringing out the Safety Car. Stewards investigated the clash after the race – and decided neither driver was "wholly or predominantly to blame".
Norris was battling Stroll for 14th place when he tried to pass the Canadian, first on the outside of Turn 1 and then the inside of Turn 2 immediately after. As Stroll maintained his racing line for Turn 2, Norris's front-right wheel made contact with his rival's left-rear, pitching the Racing Point into the tyre barriers and leaving the McLaren with terminal damage.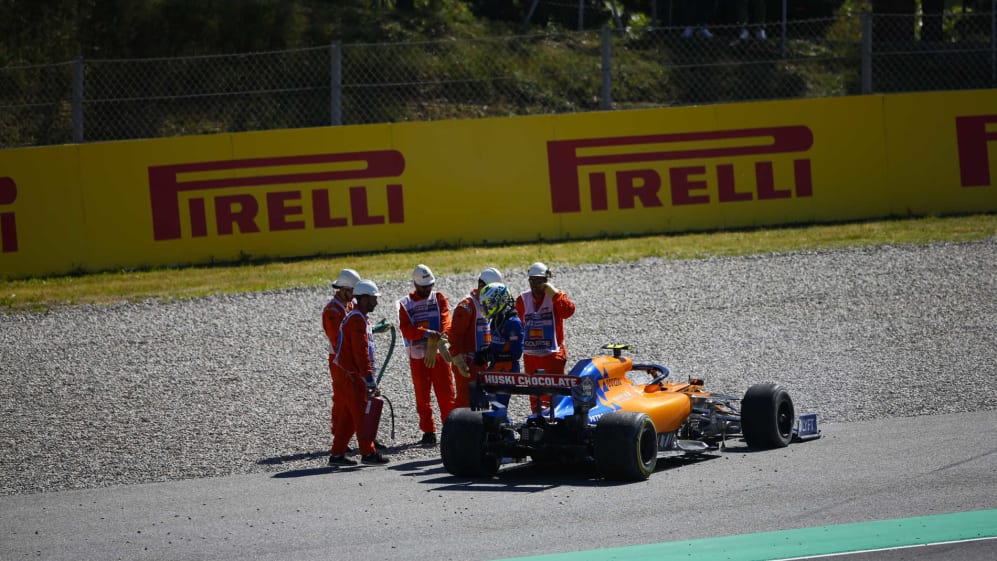 After reviewing video evidence and talking to both drivers, stewards deemed Norris had not completed an overtake in Turn 1, because he was not completely alongside Stroll and that he "could have backed out of the attempted overtake into Turn 2".
However, they also noted that Stroll "might have been more aware of the possibility that [Norris] could be on his inside" and hence decided to impose no penalty on either driver for what was effectively a racing incident.
"I braked on the inside while he was on the outside and then I had to turn in to make the left hand corner," said Stroll. "Unfortunately there is not enough space for two cars and there was not much I could do. I felt contact on my rear and I was sent into the gravel."
"I was on the inside and I don't know if he just didn't see me as he turned in, but there was contact and it put me out of the race," was Norris's simple summation, the Briton having immediately apologised over team radio after the accident for his failure to finish.