Norris explains 'scary' start in Austin as he battled with Ricciardo and Ferrari pair on Lap 1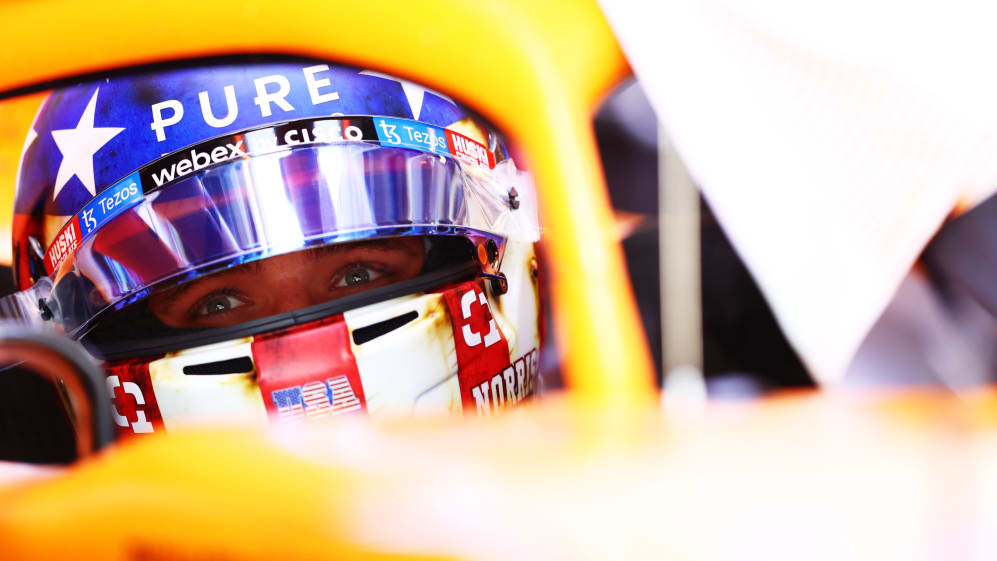 Lando Norris got his frights in well before Halloween as the McLaren driver said he was "so scared" at the beginning of the United States Grand Prix while battling his team mate Daniel Ricciardo and Ferrari's Carlos Sainz.
Down the long back straight towards the sharp Turn 12, there was a pack of midfielders threatening to get caught in a melee: Norris, Sainz, and Ricciardo – with Charles Leclerc leading them. And it was Norris who made a break for it in an attempt to jump up to P5 on the opening lap.
READ MORE: 6 Winners and 5 Losers from the US Grand Prix – Who had the crowd on their feet in Austin?
"I was so scared," said Norris. "Because, the thing is, it's such a wide track, I know it was three-abreast, I knew Daniel was on the outside, so I had to be careful. But then I couldn't brake too late because I knew Charles was just ahead and … I was going to T-bone him if I went in any harder.
"It was a little bit sketchy; I obviously didn't pull the move off, so a bit of a shame," he added.
Norris ended up finishing eighth from seventh on the grid as he lost out to Valtteri Bottas – the Mercedes driver having started P9 thanks to grid penalties – and the Briton explained that he could not have done much more on the day.
"A long race, tough one, not a lot we could do really, following," he said. "At times I thought we had better pace, but I think altogether, considering Charles was 25, 20 seconds ahead or something ahead of Daniel, it shows that they [Ferrari] were again the quicker car today. Disappointing, and we couldn't do anything more but it's the way it is sometimes.
"I also think there were some areas I could've done better, including defending on some moves. The start was pretty exciting but we just weren't able to stay ahead of the Ferraris in front."
READ MORE: 2021 United States Grand Prix – best race start onboards
Mexico, where Norris started on the fourth row in 2019 and ended up retiring with a loose wheel – while his then-team mate Sainz finished 13th – hasn't been a happy hunting ground so far but with McLaren only 3.5 points ahead of Ferrari, the Briton is hoping for more in his second Grand Prix at Mexico City.
"So, not a great day today, but we'll pick ourselves up and look forward to Mexico. I just want to get back in the car already and keep working hard to make some progress in our championship battle," he concluded.