Norris keen to avoid 'controversy' of getting mixed up in Hamilton-Verstappen fight after qualifying P3 in Abu Dhabi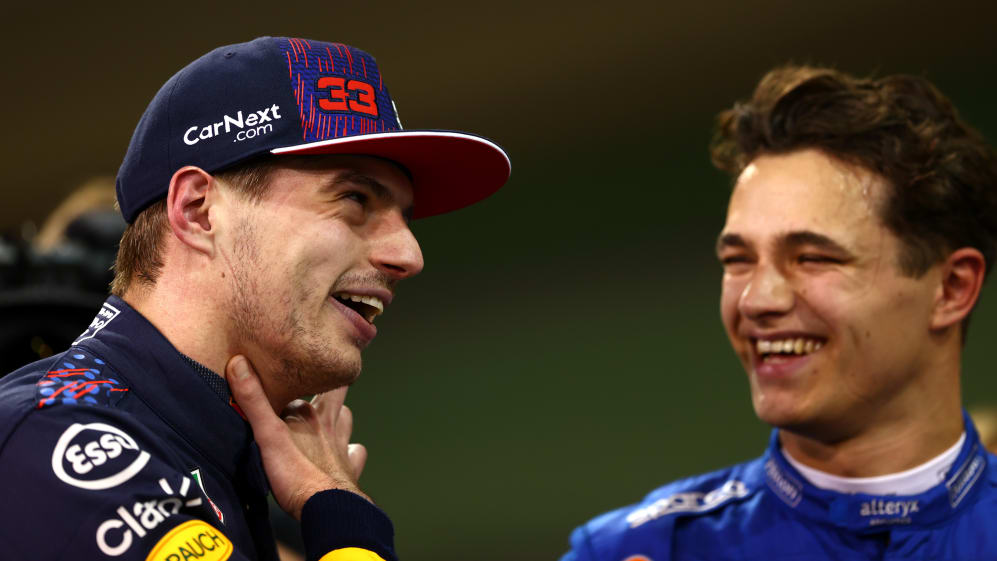 Lando Norris said he has a "prime" view of the crucial showdown between front-row rivals Lewis Hamilton and Max Verstappen in Abu Dhabi after clinching P3 on the grid for McLaren. But the Briton remained wary of the Ferrari threat behind.
Norris qualified a sensational third, eight-tenths off polesitter Verstappen, in an exciting qualifying session that saw him outpace Red Bull's Sergio Perez (fourth), Ferrari's Carlos Sainz (P5), Mercedes' Valtteri Bottas (P6) and Charles Leclerc in P7 for Ferrari.
With P3 in the drivers' and constructors' standings on the line this weekend, Norris has the opportunity to claw back the four-point deficit he has in the former behind Charles Leclerc – but also a brilliant view of the start that will see Verstappen and Hamilton go head-to-head for championship supremacy.
READ MORE: Verstappen snatches pole from Hamilton in thrilling Abu Dhabi Grand Prix qualifying
"I'm in the best seat for tomorrow so I'm very excited to see everything unfold, see what goes on. I think it's like a genuine pleasure to be in this position, to see everything that's been going on this season between Max and Lewis and to watch the battles, to watch the racing because I have a lot of respect for them," he said.
"So yes, I'm very happy to be P3, not only because it's a good position to start, but because it gives me a prime position for the view tomorrow."
But the McLaren driver admitted he carries a sense of trepidation starting behind the championship protagonists on Sunday: "Yes, I'm a bit nervous, because I kind of want to stay where I am and just watch everything unfold over the first few laps or even the whole race, but I also don't want to get involved too much because it could cause a lot of controversy.
"I don't know whether to go for the move, not to go for the move – you tell me!" he said to interviewer David Coulthard. "But if I have a chance I'll go for it."
READ MORE: 'It's 1-0 Red Bull' admit Mercedes, as Hamilton says he couldn't answer Verstappen pole lap in Abu Dhabi
As for the battle against Leclerc and Sainz, he added: "I was only five-hundredths ahead of Carlos – so it's not like we're miles quicker and we're going to be comfortable tomorrow. But definitely just to edge them out was a good thing for myself and a good thing for the team."
Team mate Daniel Ricciardo qualified 10th for McLaren, and was disappointed not to be further up the grid, as he offered a choice phrase for how he felt on Saturday night at Yas Marina Circuit.
"It's always nice being in Q3, but then if you're 10th in Q3, it feels kind of crappy," said Ricciardo. "So it was aright; I mean I say it was alright, it wasn't really that good… So we'll try and figure it out and yes, we've got tomorrow, so hopefully a little more competitive over a long run."
READ MORE: Verstappen denies Perez tow only reason he took pole in Abu Dhabi as he looks ahead to crucial title showdown
The Australian continued by saying he would unleash some "anger" on Sunday.
"Especially after a not-so-good quali, you always look forward to the race and take a little bit of anger out on Sunday. I've got 50-something laps to do it, and it's the last one of the year, so we'll see… what happens.
"I would love to be further up there today but that's it. Not the first time this year I would have loved to have finished a little more on a high. But yes, as I said, tomorrow [I] could turn it around," concluded Ricciardo.