Ocon and Alonso pleased with 'good step in performance' from Alpine's Singapore upgrades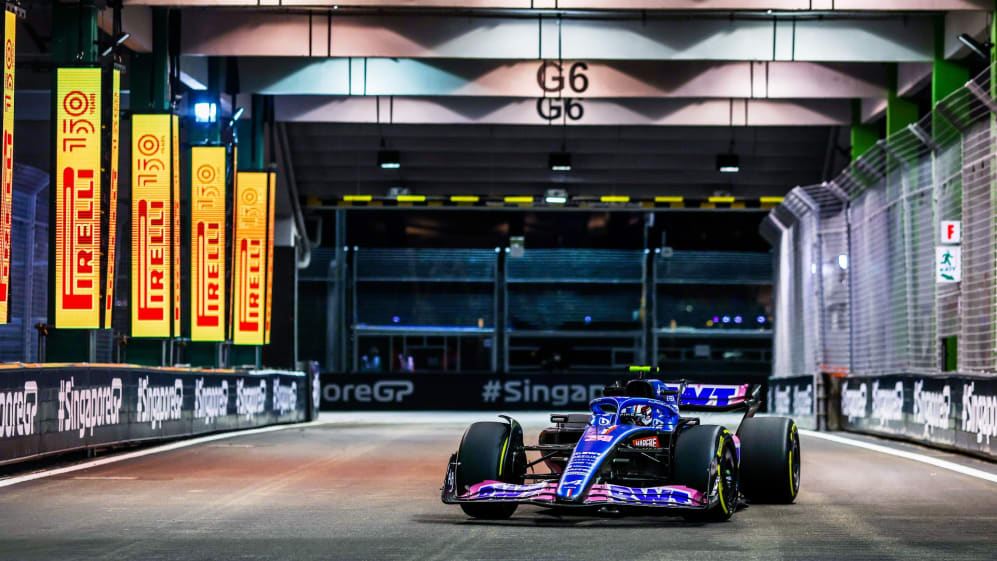 Esteban Ocon and Fernando Alonso enjoyed a promising first day of running for Alpine, who brought upgrades to their A522 for the 2022 Singapore Grand Prix...
Ocon was seventh in the first practice session and sixth in FP2 and the French driver was particularly pleased with the performance of Alpine's updates – focused around the floor of the car – on Friday.
READ MORE: Norris says McLaren are a 'long, long way off' Alpine after opening Singapore practice
"It's been a good day; [it's] good to tackle the challenge of Singapore," said Ocon. "The car has been performing well, we've been trying to understand now our updates, trying to make them work as best as we can. That's still obviously ongoing and so far, it's been going in the right direction.
"The car felt quite healthy today and I was glad straight away that I had confidence since the beginning of the morning. So, it's been pretty good. Obviously qualifying is mega important – it's hard to pass – but the race is so long that it is also quite important. We are going to need to think about getting the right strategy. That's still for Sunday but let's have a good day tomorrow also."
When asked about their performance in the more representative evening conditions, Ocon said: "I think we look competitive in long run and short runs, well in the top 10.
"I think from FP1 to [FP2] we also made a good step in terms of performance compared to the top cars in front. It's still early days, qualifying is only tomorrow but I am pretty pleased about today."
READ MORE: Hamilton says there's 'definitely more time' for Mercedes to find after compromised FP2 session
Team mate Fernando Alonso was 10th in FP1 but eighth in the second practice session and although the Spaniard was confident, he revealed Alpine's programme was hampered by an issue earlier in the day.
"It felt good. It's always nice to come here. It's a very challenging circuit in the night and it was nice to drive," said Alonso. "We had a small issue in FP1, so we lost a little bit of track time and we tried to recover some laps in FP2. We're still a little bit running behind schedule on our car, but I think we are confident for tomorrow.
"The car looks quick. We still need to fix a little bit of fine tune on the set-up. There are couple of corners that are quite bumpy, Turn 5, Turn 7. So, trying to get that little bit more confidence on braking will be the main priority overnight, but all in all I think we are happy today.
READ MORE: Verstappen explains why Red Bull's pace was 'unrepresentative' in Singapore Friday practice
When asked if Alpine are the fourth fastest team this weekend, with an 18-point advantage over McLaren in the standings, Alonso replied: "Hopefully. Obviously, it is difficult to predict things here because things change very quickly on Saturday when the moment of truth comes but I think we should be in a good position to be both cars in Q3.
"That's the aim, but we know that we have to execute Saturday and especially Sunday with no mistakes."