Ocon handed three-place grid penalty for red-flag offence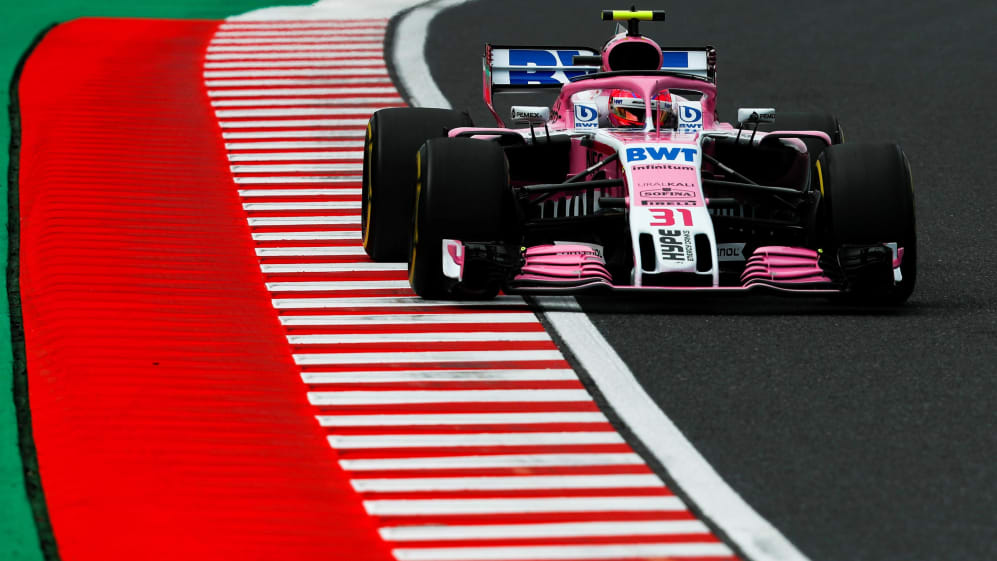 Esteban Ocon's form in Japan had looked promising heading into qualifying, with the Frenchman having secured a hat-trick of P7s in Suzuka practice. But at the end of FP3, it was revealed that he would be investigated by stewards for failing to slow for the red flags – and the Force India driver has subsequently been handed a three-place grid penalty…
Nico Hulkenberg's big shunt into the barriers brought a premature end to Free Practice 3, and following the session, it was alleged that Ocon breached the red-flag rules, with the driver summoned by the stewards to discuss the incident.
And, having investigated the incident after Japanese qualifying, it has been ruled that he 'did not slow sufficiently' during the red flag period, resulting in him dropping from P8 to P11 on the grid for Sunday's race. He was also been handed two penalty points on his licence.
A statement released by the stewards in Japan explained that driver had been confused by Force India's system for managing pace under such situations, which led to him speeding for three mini-sectors of the lap.
"The driver informed the Stewards, and the telemetry showed, that he had slowed down for the red flags. However, after Turn 4, he heard some beeps on his radio that suggested that he was too slow and sped up briefly to regularize his speed.
"In doing so, he briefly exceeded the delta by a maximum of -1.68 over three mini sectors. As a result, he had failed to maintain the speed delta required under the regulations resulting in an infringement."
WATCH: Hulkenberg brings out red flags in FP3
"He acknowledged the infringement and attributed it to the confusion caused by the beeps and the system currently being used by the team in such situations. In the end, given the importance of observance of the speed restrictions while red flags are being shown and recognising the limited extent of the breach, we decided to impose the above penalty."
Ocon's penalty will come as a blow to Force India as they continue their quest to hunt down McLaren for P6 in the constructors' standings. Overtaking is tricky at Suzuka, but the Frenchman believes there was more performance to get out of his challenger.
"Eighth place (in qualifying) is okay, but I'm not satisfied because we didn't maximise our potential today," he said. "Our approach to Q3 meant we fuelled up for a few laps because we felt the track would dry up and keep improving.
"In reality the track was already quite dry right from the start of Q3 and that's when the track was at its best, but we were heavy on fuel. Then, by the time we started our second run, the rain was getting heavier.
"Well done to the others who judged it better than us – that's what can happen in those wet sessions. So I think we had the potential for more and I know we can be strong in the race. Let's see what we can do tomorrow."