Opinion
OPINION: Why Mercedes used team orders – and why they were right to do so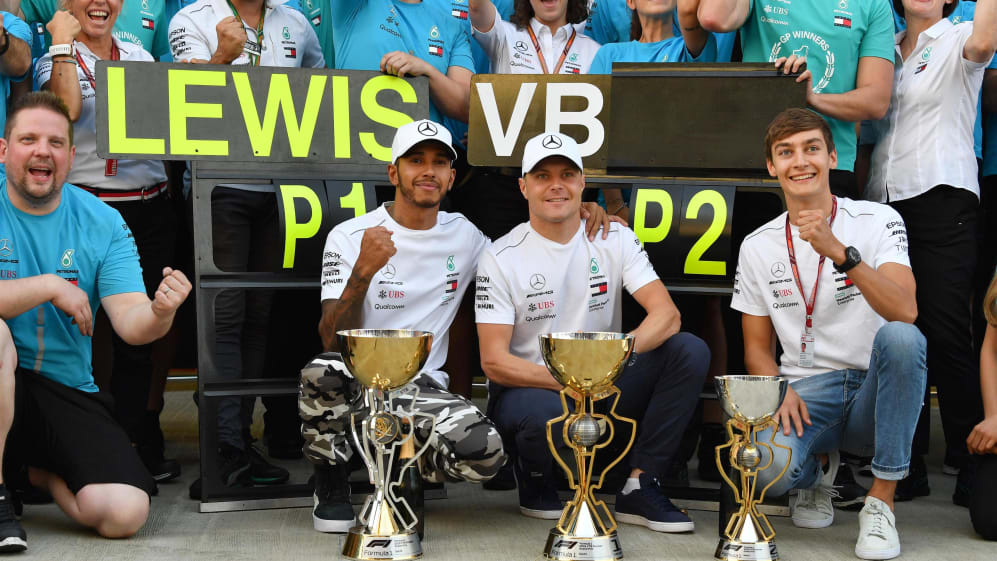 In the social media age, instant reaction is the order of the day, and in the immediate aftermath of the Russian Grand Prix the combined feeds of Formula 1, Mercedes, Lewis Hamilton and Valtteri Bottas were hit hard by an outraged section of fans. It's little wonder Toto Wolff and James Vowles don't have accounts...
First thing's first. It's vital to decipher why Mercedes were forced down a road they admitted they didn't want to go down. Because, make no mistake, this was not the way anybody saw this race going down.
The situation had its root in Saturday afternoon. Bottas hadn't headed Hamilton at any point ahead of qualifying. And yet come Q3 it was the Finn, who so adores the Sochi track, that took the advantage. So hard did Hamilton have to push to beat the lap that he overcooked it. All smiles. All laughs. Valtteri had simply done a better job.
Come the race, history had shown that there was every chance a driver on the second row of the grid could, with a good start and a decent slipstream, be leading into Turn 2. Bottas had done just that in 2017. And so the two Mercedes drivers were mindful not only of making it around the first corners without incident, but also of maintaining that 1-2 formation. They held off the advances of Vettel, but Bottas kept his elbows out to ensure that he kept the lead from his team mate around Turn 2.
And so 1-2-3 on the grid settled down as 1-2-3 on the track. Bottas was putting in a masterful drive, never looking troubled or challenged. It was an easy afternoon for Mercedes. A 1-2 in the pocket.
But there was one small problem. The pace advantage Mercedes believed they held over Ferrari showed itself to be nowhere near as great in race conditions as it had appeared throughout practice, be that due to tyre performance on the day or simply managing pace to draw out their first stints for as long as possible on the ultrasoft tyre.
With 12 laps gone, Mercedes decided they had enough of a gap to the field behind to pit their leader. But having done so, they then proceeded down a path which created the necessity for the situation that unfolded later in the race.
Toto Wolff would later admit that when Bottas pitted, the conventional wisdom would have been to pit Hamilton on the very next lap, so as to ensure that their 1-2 on track was maintained. But if they did that, Vettel would likely stay out. If they didn't pit Hamilton, then Vettel would almost certainly pit on the next lap, so could they be clever? Could they get Bottas to back Vettel up, allowing Hamilton to stop, take the lead of the race, and romp home for the victory? He started discussing it with Vowles, the team's strategist, which ironically caused the team to miss their moment to pit the Brit, as Wolff admitted post-race.
Even that notion may stick in the craw for some. After all, this was Valtteri's race, was it not? He'd taken pole position and led the opening 12 laps. Why should the team start fabricating a win for him?
Well, very simply, because they're trying to win him the world championship. When Kimi Raikkonen asked his engineer Jock Clear to just give him a simple order in Germany to let Vettel through rather than confusing him with talk of tyre strategies, nobody batted an eyelid. Because Kimi wasn't fighting for the title. At that point, his race and his desires fell into the shadows of the driver with the chance to bring home the title. The same, naturally, is true at Mercedes.
This isn't the same scenario as when Hamilton and Rosberg were fighting for the championship. This isn't team mate versus team mate. It's Hamilton versus Vettel, Mercedes versus Ferrari, team versus team
This isn't the same scenario as when Hamilton and Nico Rosberg were fighting for the championship. This isn't team mate versus team mate. It's Hamilton versus Vettel, Mercedes versus Ferrari, team versus team. And Bottas is part of that Mercedes team.
This should come as absolutely no shock. What did come as a shock was just how quickly the soft tyre was coming into its own. With Bottas and Vettel on track and on the more durable rubber, Mercedes suddenly realised Hamilton would lose too much time staying out and so they brought him in, a lap after they'd originally intended to. With Vettel's tyres up to temperature faster than anyone expected, Hamilton duly came out third, his surprise evident in the radio transmission.
Vettel defended against the Mercedes but after two hard laps of pushing, Hamilton made his way pass and so the established order was maintained. But now there were two further complications. The first was the Red Bull of Max Verstappen, who was leading the race on the durable soft tyre and setting pretty decent lap times. If Bottas got too close he could chew through the tyres that were due to last him for the remainder of the race and jeopardise his chances of the win.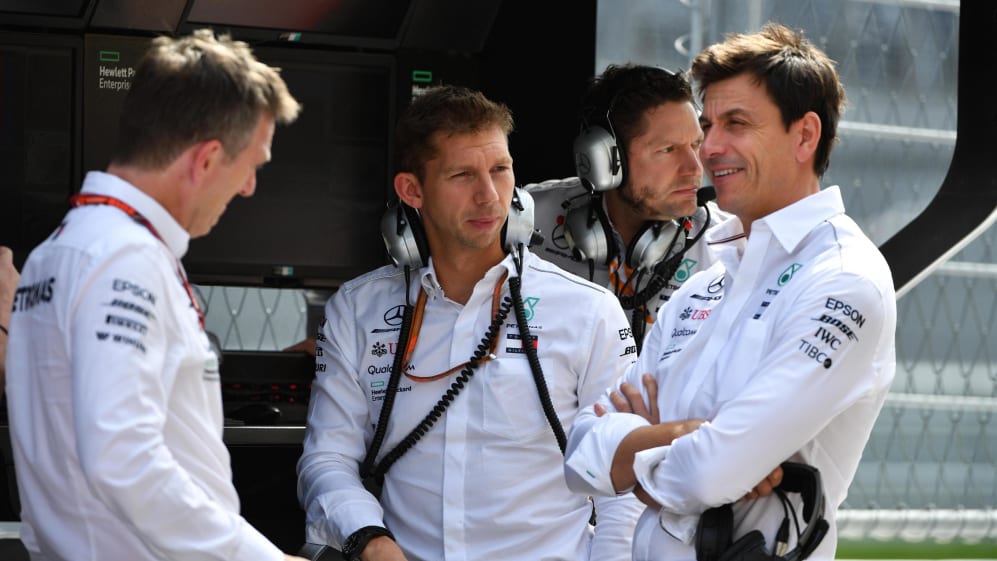 But with Bottas in relative cruise mode, Hamilton was coming under pressure from Vettel behind. And worse, Hamilton had created a small blister on his rear left in his haste to push and get past the Ferrari after his stop.
And so the combination of all these factors, even going back to Saturday's qualifying, was to create the situation that Mercedes then found itself within. When asked about it after the race, the drivers confessed that the situation had not arisen in the morning's strategy meeting. Many of us were incredulous to the notion that the possibility that the drivers who started the race 1-2-3 should find themselves 1-2-3 in the race had not been discussed. Of course, it had. But not within those particular parameters.
At that point, the only strategic play they had left was to switch positions. Let Lewis lead, let Valtteri defend against Vettel, and let it all play out. If it was chess, they'd sacrificed their Queen to protect their King.
There is nothing strange or new about this in Formula 1. It happens in almost every race and has done for years. As Wolff himself put it, he'd rather be the bad guy on Sunday, than look like an idiot at the end of the year when their lead driver loses the title by a few points.
So if this is nothing new and if it all makes perfect sense, then why the furore? To a certain degree, perhaps Mercedes and Toto Wolff have placed this difficulty upon themselves. When their strategy in Monza this year was labelled "team orders" as it was believed the team had used Bottas to intentionally slow the Ferrari of Kimi Raikkonen sufficiently to allow Hamilton a chance to attack for the lead, Wolff dismissed the suggestion.
"I don't really like team orders, they are not cool, not good for the sport or for either driver," he stated, in words which will no doubt come back to haunt him this week.
Even telling Bottas before the race that there was the potential for him to be used as a buffer should the need arise might have alleviated some of the bad feeling felt by many fans post-race. After all, if the situation had been highlighted and the concept agreed upon in advance, then the look of shock and dejection could have been avoided.
And ultimately, that, at least to this author, seems to be the biggest issue here. The reaction of everyone involved has been one of such apparent shock and self-loathing as to make it seem as though something underhand has transpired, as though some great rule has been broken. Some great code of motorsport morality shattered on the rocks of racing ruthlessness.
And it's utter codswallop.
Team orders might not be cool to some, but they've been common practice since the earliest running of the sport. Luigi Fagioli and Juan Manuel Fangio shared the win at France in 1951 when Alfa instructed the former to let his team mate take over his car mid-race. Mercedes would tell Fangio in 1955 to let his team mate Stirling Moss win the British Grand Prix. Peter Collins gave Fangio his Ferrari in the 1956 Italian Grand Prix after Luigi Musso refused to. In 1979 Williams ordered Clay Regazzoni not to fight his team-leader Alan Jones for the lead of the German Grand Prix, despite the fact that Regazzoni was fighting for the championship and Jones was not!
At the 1988 San Marino Grand Prix, Alain Prost and Ayrton Senna's acrimonious relationship was sparked by the breaking of a team-order policy at McLaren that whoever won the first corner battle would be allowed to win the race unchallenged. Jordan's first F1 win came after Damon Hill pleaded with the team to call off an attack from his team-mate Ralf Schumacher at the 1998 Belgian Grand Prix. Ferrari ordered Rubens Barrichello to allow Michael Schumacher to win the 2002 Austrian Grand Prix.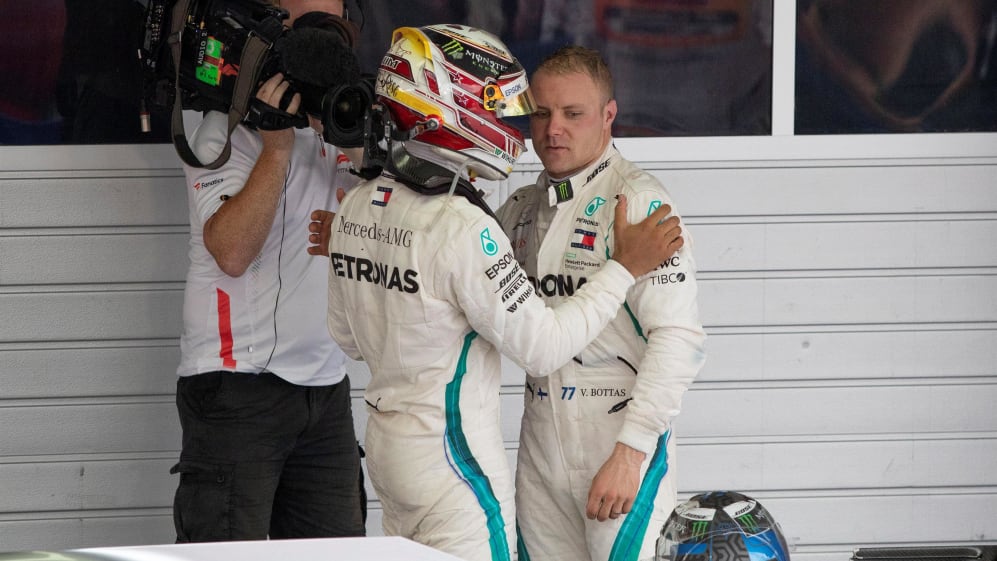 These are just a few, very famous examples of something that goes on, not always for the win, but at every team, at every level, nigh on every weekend.
Team orders are part of Formula 1. Ban them, as they were between 2003 and 2011, and teams just find new ways of getting around the problem. Fernando is faster than you. Multi 21. The list goes on. They have always and will always be present in one form or another.
It is a small but critical detail. And one often forgotten by those of us that express shock and disappointment or feign surprise at its use.
Perhaps we all just need to be honest and a little bit realistic. A little more like Sebastian Vettel who saw his chances of the world championship diminish yet further on Sunday and who thus, out of almost everyone else on earth, lost out the most in Sochi.
"In their defence, I think in the position they are it's a no-brainer. Well done to both of them, they played together as a team very well."