Overcoming McLaren 'completely doable', says Abiteboul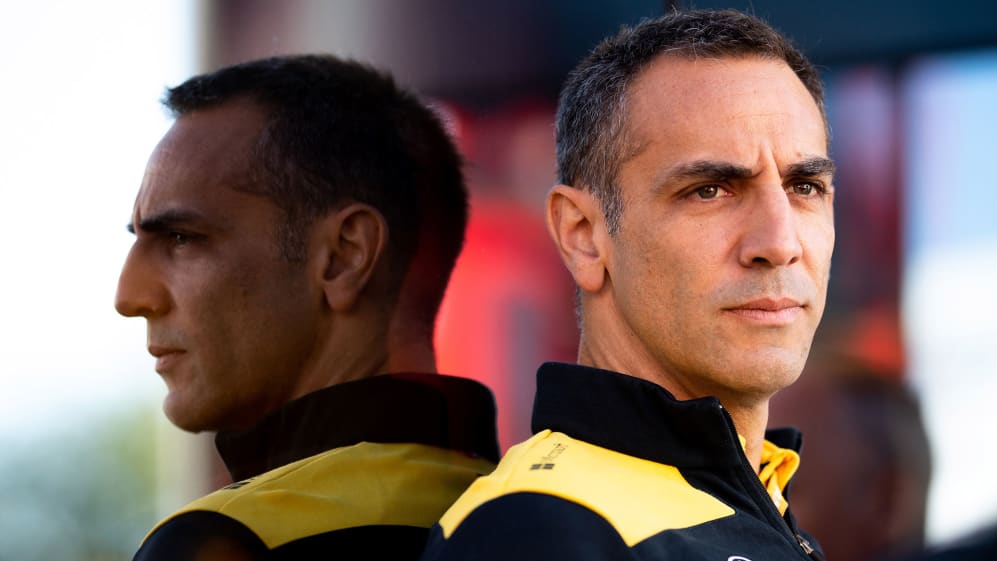 Renault Team Principal Cyril Abiteboul has thrown down the gauntlet with seven races of the 2019 Formula 1 season remaining. Having done the maths, he says that a fourth-place finish in the constructors' standings is absolutely possible.
The tables have turned this year, Renault lying fifth in the table after 14 races and McLaren fourth; last year they were fourth in the standings at this point with McLaren sixth.
The French-British team have been mired in a fluctuating midfield battle all season, with Toro Rosso and Racing Point turning up the heat below them and McLaren leading the fight.
But after scoring their strongest result of the season in Monza - with Daniel Ricciardo fourth and Nico Hulkenberg fifth - Abiteboul is now confident things are trending in the right direction.
"It's been bumpy this year," said Abiteboul as he considered Renault's season so far. "There have been a number of occasions where we could have had a decent result with some points and helping for the championship, and that has not happened for many different reasons and sometimes for our own cause, sometimes external factors. [In Italy] nothing has gone against us, against the result.
"[It was] a deserved result," he said.
The battle for fourth has swing back and forth this season, with McLaren having shown renewed pace with five-consecutive points-scoring races from France to Hungary. Renault responded with engine upgrades and a low-downforce package for the fast-paced Spa and Monza circuits, and clawed back 25 points on their rivals.
"I think it's really fair to say the job done on the engine side is very clear, said Abiteboul. "We were competitive in Montreal, in Spa, in Monza, which means the demonstration is clear.
"The weaknesses of the car are still here – that's why I'm not overjoyed because I know there still will be tough times ahead of us in the season but this is just a demonstration of the strengths, which have been clearly exposed [in Italy]."
2019
Constructors' standings before Singapore
POSITION
POINTS

4

McLaren

83

5

Renault

65

6

Toro Rosso

51

7

Racing Point

46
McLaren boss Andreas Seidl has said that his team won't compromise next season in a bid to win the race for P4, but Abiteboul's target is clear.
"Firstly, you don't renegotiate the targets simply because they are looking harder, so [Saturday in Monza] the target was still P4 and today the target remains P4," he said. "I think we are 18 points away from [McLaren], seven races to go, three points average more than them, it's completely doable.
"I think there will be a number of tracks where they will be quicker than us, that's a fact, and there will be a number tracks where we will be quicker than them, so we just need to be capable of doing what we have not done so far, and when we are quicker, scoring more points – except for [in Italy] where we've done it and that's good.
"But again, the target is not just McLaren, the target is to improve everywhere and against everyone, because ultimately, P5 and P4 is good, but it's not where we want to stop," came his conclusion.
Singapore is up next, a circuit on which Renault took victory at the maiden Grand Prix in 2008 through Fernando Alonso. McLaren's Lewis Hamilton won the following year. Of course, things are very much different now…