Report
Perez holds off Leclerc to win rollercoaster 2022 Singapore Grand Prix as Verstappen settles for 7th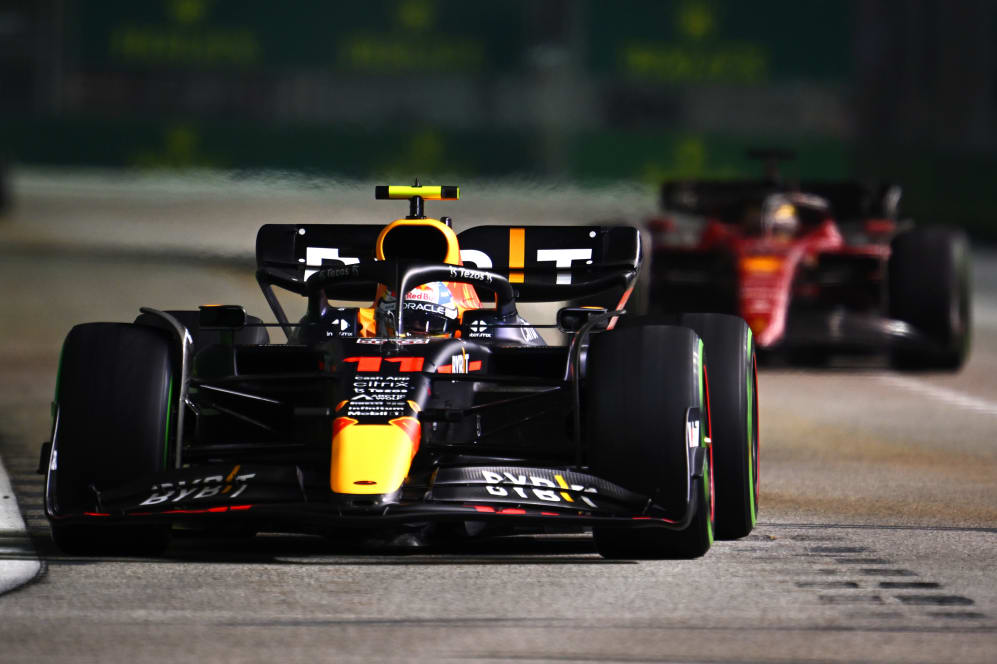 Sergio Perez held off Charles Leclerc for his first-ever win on the streets of Singapore, while Carlos Sainz completed the podium and Max Verstappen finished seventh in an action-packed Singapore Grand Prix. Perez retained his victory despite receiving a five-second post-race penalty for a Safety Car infringement.
Heavy rain forced a delay of over an hour, with the formation lap beginning at 2105 local time, and although the rain had ceased, the surface was still slippery for the start of the race, when pole-sitter Leclerc lost the lead to Perez into Turn 1 and Sainz easily pried P3 off Hamilton, who went wide into Turn 1.
Verstappen lost five places to fall to P12 at the start but he made three up by Lap 9 when the first Safety Car was deployed for Nicholas Latifi and Zhou Guanyu's collision. Fernando Alonso's stoppage brought out a Virtual Safety Car on Lap 20, with George Russell then becoming the first driver to switch from intermediates to mediums.
Russell's improving pace triggered drivers to begin swapping for slick tyres on Lap 35, but on the following tour Yuki Tsunoda went straight on into the barriers at Turn 10 to bring out the second Safety Car, before which most of the drivers had stopped for slicks. Crucially, the McLaren drivers hadn't; Lando Norris came in for a new set of mediums and Daniel Ricciardo opted for slicks as they emerged fourth and sixth for the restart.
The race restarted on Lap 39 for Perez to continue leading. Verstappen meanwhile suffered a heavy lock-up in an attempt pass Leclerc, and was briefly bumped to last place, before George Russell and Mick Schumacher picked up punctures after making brief contact into Turn 1.
With the two-hour mark approaching, this race would be finished by the timer and Perez had 26 minutes to hold off a fast-charging Leclerc, when DRS was enabled on the 43rd lap. What followed was a stunning chase for victory, Perez unerring in defence as he held off the Monegasque driver by over seven seconds at the chequered flag.
FORMULA 1 SINGAPORE AIRLINES SINGAPORE GRAND PRIX 2022
Singapore
2022
Race results
POSITION
TIME
POINTS

1

Sergio

Perez PER

Red Bull Racing

2:02:20.238

25

2

Charles

Leclerc LEC

Ferrari

+2.595s

18

3

Carlos

Sainz SAI

Ferrari

+10.305s

15

4

Lando

Norris NOR

McLaren

+21.133s

12

5

Daniel

Ricciardo RIC

McLaren

+53.282s

10
Perez would receive a five-second post-race penalty for straying too far behind the Safety Car, but the Mexican retained his win.
Sainz completed the podium for Ferrari having passed Hamilton at the start, while Norris and Ricciardo beneffited from their late Safety Car stops and finished a respective P4 and P5.
Lance Stroll and Sebastian Vettel capitalised on errors from Hamilton and Verstappen to finish sixth and eighth, respectively, in a massive result for Aston Martin.
Hamilton, who had previously gone straight on into the barriers on Lap 33, locked up in an attempt to pass Vettel in the final two minutes of the race and dropped to ninth. That gave Verstappen P8, despite the Dutchman having locked up heavily in the final Safety Car restart. The Red Bull driver then pried P7 off Vettel with a pass on the very last lap of the race.
Behind Hamilton, Pierre Gasly rounded out the top 10 for AlphaTauri with Valtteri Bottas (11th) unable to take the final point despite taking softs for the final Safety Car restart.
Kevin Magnussen, who had to pit with damage from a Lap 1 collision in avoidance of Verstappen, ended up 12th, with Schumacher finishing up 13th after picking up that aforementioned puncture in defence from Russell.
Russell rounded out the standings in 14th for Mercedes having started in the pit lane, the Briton pitting four times and posting the fastest lap of the race.
There were six retirements from the race, with Zhou and Latifi colliding early on before Alonso stopped with an engine issue on Lap 20.
Albon crashed and retired in the pits on Lap 26, before Esteban Ocon's engine gave up to make it a double retirement for Alpine, and Tsunoda crashed out to bring out the final Safety Car.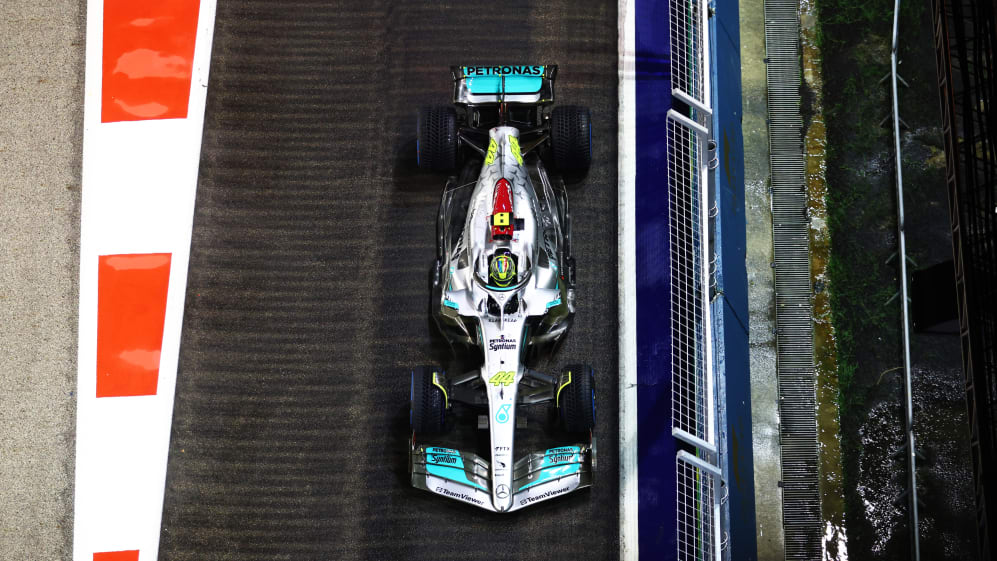 AS IT HAPPENED
The gang of grey clouds circling over Marina Bay signalled the obvious, and soon after they unleashed a torrent of monsoonal showers, the long-awaited 2022 Singapore Grand Prix would be delayed by just over an hour with formation laps to begin at 2105 local time.
Qualifying, a scintillating wet-dry shootout on Saturday, felt so far away: Max Verstappen settled for P8 on the grid after aborting his Q3 laps; Charles Leclerc took pole ahead of Sergio Perez; Lewis Hamilton qualified third ahead of Carlos Sainz; and George Russell would start from the pit lane after taking new power unit parts under parc ferme conditions
While the rain had stopped for the laps to the grid, conditions were still challenging; Verstappen had locked up and gone beyond the confines of Turn 7. The surface still slick, drivers lined up on intermediate tyres, the cross-over point to slicks to be crucial in the hunt for victory at Marina Bay.
"Number 350, let's make it a special one," said P5 starter Fernando Alonso as the field lined up for 61 gruelling laps. At 2109 local time, the first Singapore Grand Prix since 2019 was under way.
Perez got the best start, jumping Leclerc for the lead while Hamilton went wide avoiding Sainz and falling to fourth behind the Spaniard at Turn 1, spray and sparks galore. As for Verstappen, anti-stall saw him fall to 12th, and Alfa Romeo's Zhou Guanyu also lost four places to P18 at the start.
The championship leader regained places off Kevin Magnussen and Stroll for P10 by the start of Lap 2, and soon eased past Yuki Tsunoda for P9.
Chasing Sainz for P3, Hamilton – hinting that he wanted used rather than fresh inters for the start – lamented over the radio: "I told you about these tyres, in the future you need to listen to me. No grip."
As the ticker passed Lap 5, Leclerc was stalking Perez for the lead, with Hamilton slowly falling out of range of Sainz. Verstappen, meanwhile, was a pit stop's distance behind his team mate as he chased Sebastian Vettel for P8.
Lap 8 saw Latifi and Zhou scrap for P18, the Williams driver cutting off the Alfa Romeo on the entry to Turn 5 and forcing Zhou into the wall. Exasperated at another DNF, Zhou came to a stop at the exit of the corner and Latifi limped back to the pits to retire his car.
Russell and Valtteri Bottas had also come together in the fight for P15, the former Mercedes driver doing his best to avoid his replacement, who had made an opportunistic lunge and skated into the runoff at Turn 7 without any considerable damage.
Nobody bar Magnussen, who picked up front wing endplate damage in avoidance of Verstappen on Lap 1, took the chance to pit – but the Haas driver had unfortunately taken his stop just before the caution was deployed.
The Safety Car, which had bunched up the field – much to the relief of the likes of chasers Verstappen, Hamilton, Sainz and Leclerc – was brought back in at the end of Lap 10 with Perez leading the Ferraris and Hamilton away, as Verstappen pried P8 off Vettel almost immediately.
Gasly was the next target for Verstappen, the Red Bull driver up into seventh with a pass down the inside at Turn 13. Alonso would perhaps prove a tougher obstacle, and that proved to be the case with the Alpine driver keeping the Red Bull behind all the way past Lap 20.
The race had turned eerily calm at this point, with Perez leading Leclerc by two seconds, Sainz 10 seconds off the pace and Hamilton another 1.5s off the Ferrari driver. Verstappen was still stalking Alonso.
As for the surface, conditions were still too slippery for slicks – and drivers were being warned to keep their intermediates in good condition for as long as possible.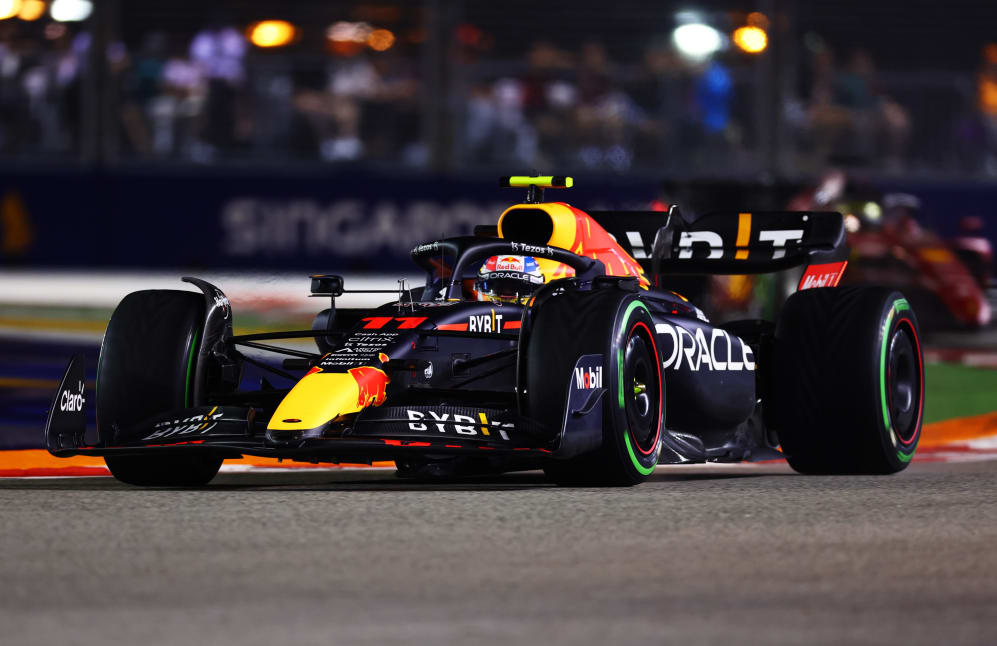 Albon pitted for slicks and a new nose following his contact with the walls, but was soon given the signal to stop. The Thai driver's weekend was over – but that DNF did little to detract from the fact that he had made an incredible return to competition, just weeks after enduring respiratory failure as he underwent appendicitis surgery.
The resulting VSC was soon retracted, only for the remaining Alpine of Esteban Ocon to come to a stop with a smoking engine at Turn 13. Another VSC on Lap 28, then, and Ferrari's pit crew emerged with a new set of intermediates – but neither Sainz - with Hamilton hustling him for position – nor Leclerc entered the pits.
The VSC period continued, Hamilton hounding Sainz and Verstappen doing the same to Norris. The champion anticipated the restart and lunged on the McLaren driver for P5 just as the green flags were flown for Lap 30, while Sainz held off Hamilton without much fuss.
Well, that was until Lap 33 when Hamilton went straight on into the barriers at Turn 7 and rejoined between Verstappen and Norris, telling his team that the car looked "intact". Verstappen, 40 seconds off the lead, reasoned that the Mercedes driver's front wing was going to "fall off".
The other Mercedes was making ground: Russell was setting purple sectors on his yellow-walled medium tyres, which triggered AlphaTauri's Pierre Gasly to pit for mediums, Leclerc to box one lap later on Lap 35 – his stop lasting 5.3s as the Monegasque missed the mark – and Hamilton to follow suit for a new nose and mediums as he was stationary for 13.8 seconds. Perez reacted on the following tour, as did Sainz.
The undercut is normally crucial when slicks come into play but Leclerc's early stop didn't pay off thanks to a slow out-lap; Perez emerged over six seconds in the lead.
Verstappen was another medium-tyre-taker on Lap 36 but Norris, ahead of him, stayed out, and that choice paid off for the McLaren driver when Tsunoda locked up at Turn 10 and brought out the Safety Car.
Russell took the chance to switch to mediums once again and Norris seized his opportunity to do the same to emerge fourth. His McLaren team mate Daniel Ricciardo also pitted – but for softs, perhaps anticipating a chance at the restart, which he would take in P6 behind Verstappen.
The Safety Car retreated at the end of Lap 39, with the lap counter changed to a countdown timer; there were just 35 minutes left on the two-hour clock.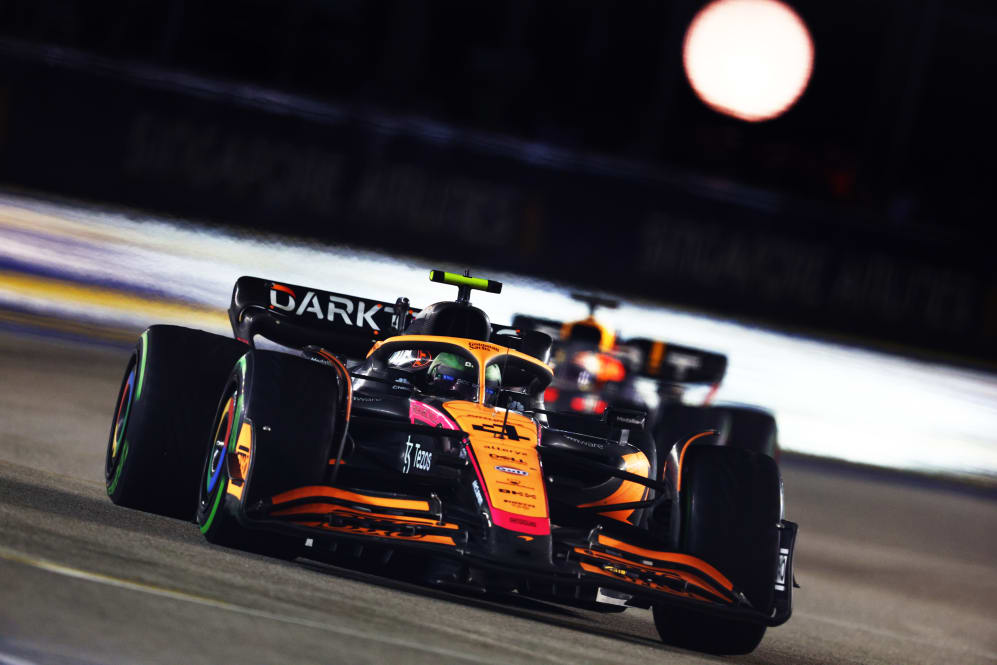 Fourteen cars took the restart and Verstappen attempted a pass on Norris, but the Dutchman suffered a huge lock-up at top speed into Turn 7. He avoided the barriers but had to swap his flat-spotted medium tyres on Lap 40, dropping to the rear behind Russell.
Verstappen wasn't last for long as Russell then slowed with a punctured right-rear tyre, having brushed wheels with Mick Schumacher in an attempt to pass the Haas for P12 at Turn 1. It soon became clear that Schumacher also had a puncture and he too pitted on Lap 42.
Perez was now being hassled by Leclerc for the lead, the Mexican complaining about the engine's "driveability" just before DRS was enabled with 26 minutes remaining, on Lap 43.
Leclerc and Perez pushed the limits thereafter in a brilliant chase for the lead, full points to be awarded as the race went beyond Lap 45.
Perez and Leclerc were blazing ahead of Sainz and Norris, the leader shrugging off a couple of lock-ups on Laps 45 and 46 while his pursuer managed to rescue a small trip off the dry line on Lap 47. Leclerc backed off and Perez began to pick up the pace, breaking just out of DRS range. However, the Mexican would be investigated after the race for dropping more than 10 car lengths behind the Safety Car, for which he would be given a five-second post-race penalty.
In the other Red Bull, Verstappen had passed Schumacher, Magnussen and Bottas to make it into P10, with Gasly his next victim on Lap 50 – with 13 minutes remaining. Hamilton, who had an unflinching pair of Aston Martins ahead of him, was up next.
Russell was pulled into the pits on Lap 52 (with eight minutes left) for a new set of softs, and he eventually secured the fastest lap of the race.
With Perez facing the stewards after the flag, he continued to ramp up the pace and eventually won by 7.5s over Leclerc in a truly stunning show of defence. Sainz rounded out the podium, proving no threat to the leaders but taking no threat from fourth-place finisher Norris, who capitalised on a free stop under the Safety Car.
Completing the top five was the other McLaren of Ricciardo, while Stroll picked up a brilliant P6 after errors from Hamilton and Verstappen.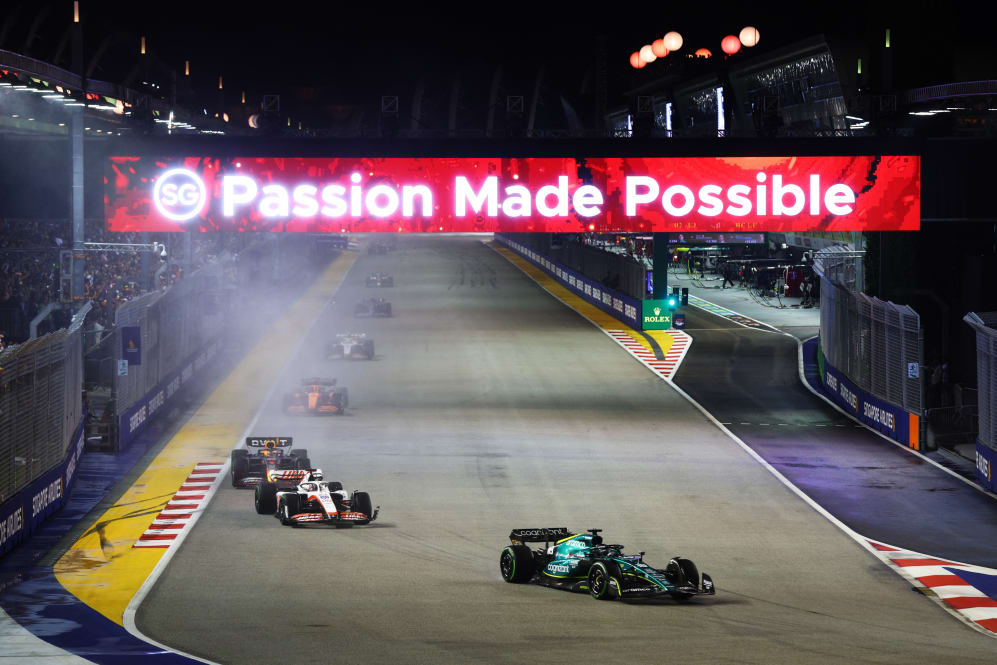 Verstappen, having started eighth, will have to delay his championship celebrations as the Dutchman picked up P7 with under two minutes of the race remaining. He shrugged off his lock-up in chase of Norris, and made easy work of Schumacher, Magnussen, Bottas and Gasly.
However, Hamilton proved a tougher obstacle and only became unstuck when he made a mistake in chase of Vettel with eight minutes left, the seven-time champion locking up at Turn 8 and relinquishing places to both of his rivals. Vettel lost out to late-braking Verstappen with two minutes remaining, and finished eighth in his final Singapore Grand Prix.
Gasly rounded out the top 10 behind Hamilton, while Bottas finished 11th – the Alfa Romeo driver unable to capitalise on a switch to soft tyres on Lap 34.
Magnussen had to pit after his Lap 1 collision in avoidance of Verstappen and the Danish driver finished 12th on a disappointing day for Haas. Team mate Schumacher was 13th, that collision with Russell forcing him to pit 17 laps from the end of the race.
As for Russell, he did end up taking the fastest lap (with no point) and, from the pit lane, finished 14th for Mercedes.
Tsunoda, Ocon, Albon, Alonso, Latifi and Zhou were the six retirements from a brutal, attritional Singapore Grand Prix – in which Perez produced his finest drive yet.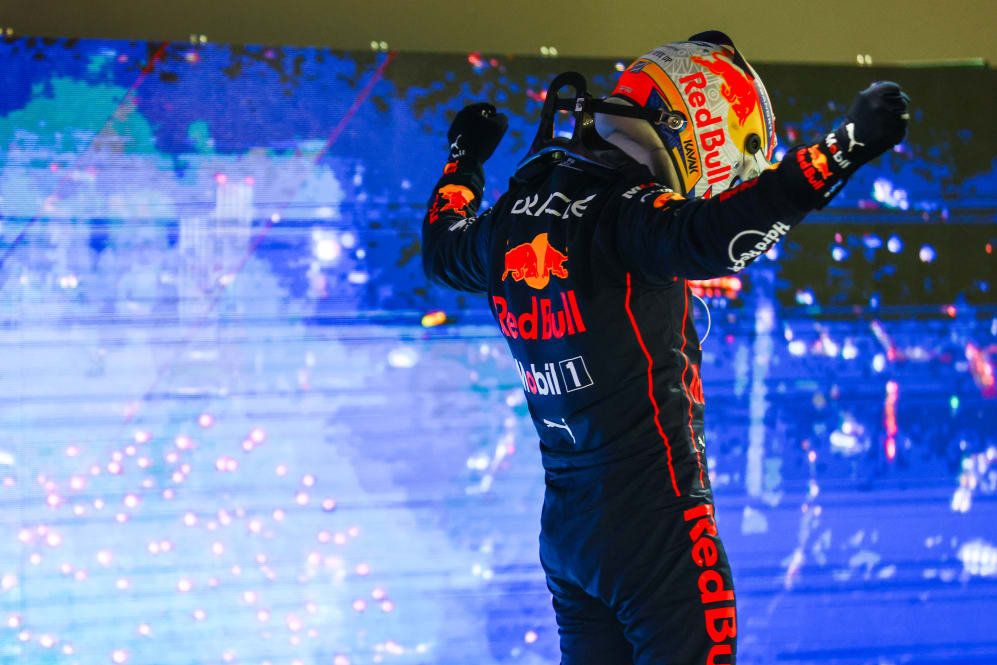 Key quote
"Yeah, it was certainly, I think, my best performance," said race-winner Sergio Perez. "I controlled the race although the warm-up was pretty difficult. The last few laps were so intense. I really didn't feel it so much in the car but when I got out of it, I felt it.
"I pushed – I gave everything for the win today."
What's next?
Suzuka hosts the next round of the World Championship with Max Verstappen on the verge of securing his second drivers' title in the 2022 Japanese Grand Prix, on October 07-09.