Report
Perez wins a captivating wet-dry Monaco Grand Prix as Leclerc falls from pole to P4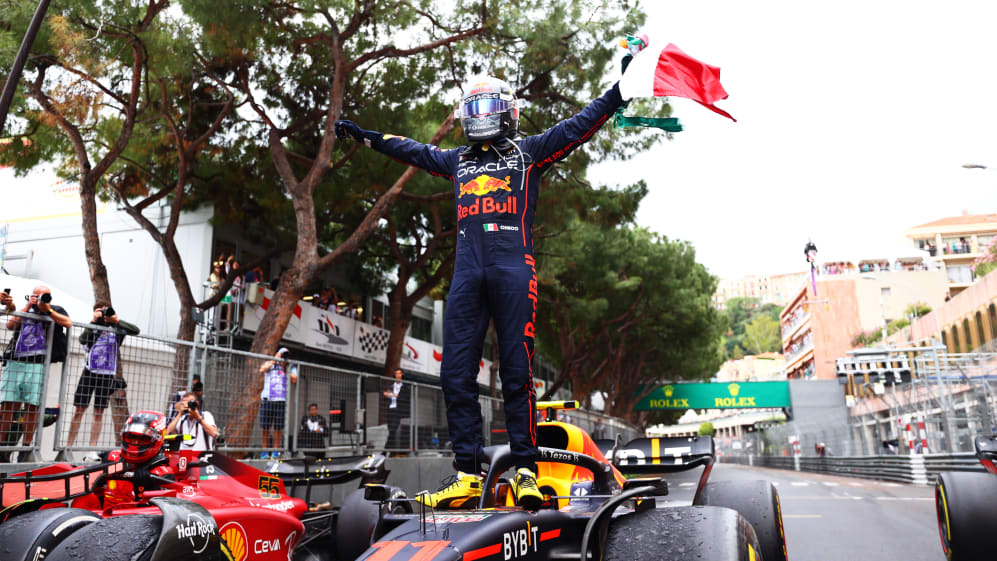 Red Bull's Sergio Perez won his first race of 2022 by 1.1 seconds after a nailbiting end to the Monaco Grand Prix, with Carlos Sainz and Max Verstappen unable to make it past the Mexican – and Charles Leclerc losing out after dropping from pole to P4.
Rain saw the start delayed and, at 1518 local time, drivers completed one lap, heading back to the pits as a red flag was called. Gazebos unfurled and teams waited until 1605 for a rolling race start behind the Safety Car on wet tyres. The Safety Car pulled in for Lap 3 of 77 and Leclerc led away with Sainz, Perez and Verstappen in tow.
The front-runners swapped to intermediates, with Perez coming in first on Lap 17, Leclerc and Verstappen following two laps later, while Sainz skipped straight to hards with a switch on Lap 21, Leclerc following for a Ferrari double-stack. Red Bull followed one lap later and pulled off an overcut with their own double-stack – the order was now Perez, Sainz, Verstappen and a furious Leclerc in P4.
Mick Schumacher spun and crashed spectacularly at Swimming Pool on Lap 27, bringing out another red flag on Lap 30. He walked away, the gearbox and rear suspension having detached from his Haas. Resumption came with a rolling start on Lap 33, Ferrari on hards while Red Bull opted for mediums.
Perez held his lead and the mediums held their own on the restart, but began to drop off past the Lap 55 mark, with around 10 minutes remaining. It was now that Sainz, Verstappen and Leclerc closed in. The Mexican almost lost out in the dying moments of the race, Sainz almost sticking his nose in front at the hairpin, but victory would be his – a huge statement after a disappointing Spanish Grand Prix.
With the race timer showing zero on Lap 64, Perez's margin of victory was just 1.154s over Sainz, Verstappen just 0.337s behind the Spaniard, and Leclerc shocked to finish 2.9s off in P4.
FORMULA 1 GRAND PRIX DE MONACO 2022
Monaco
2022
Race results
POSITION
TIME
POINTS

1

Sergio

Perez PER

Red Bull Racing

1:56:30.265

25

2

Carlos

Sainz SAI

Ferrari

+1.154s

18

3

Max

Verstappen VER

Red Bull Racing

+1.491s

15

4

Charles

Leclerc LEC

Ferrari

+2.922s

12

5

George

Russell RUS

Mercedes

+11.968s

10
Having skipped a stop for intermediates – going straight from wets to slicks – George Russell rounded out the top five for Mercedes ahead of McLaren's Lando Norris.
Alpine's Fernando Alonso started seventh and finished there despite Lewis Hamilton hanging on his tail for much of the late phase.
Hamilton had taken damage in an early scrap with Alpine's Esteban Ocon, the Frenchman then given a five-second penalty. Despite finishing ninth, he was thus demoted to 12th, giving Valtteri Bottas P9 for Alfa Romeo and Sebastian Vettel the final point for Aston Martin.
Pierre Gasly's early charge on intermediates was cut short at P12 when the track dried up and he finished 12th, promoted to 11th thanks to Ocon's penalty.
Daniel Ricciardo missed out in P13 ahead of Aston Martin's Lance Stroll, the last driver on the lead lap.
Late mistakes saw Yuki Tsunoda finish last and 17th behind Alfa Romeo's Zhou Guanyu, and 15th place Williams driver Nicholas Latifi.
There were three retirees, with Kevin Magnussen bowing out before Schumacher's heavy crash, and Alex Albon quitting late on from last-place.
AS IT HAPPENED
Well before lights-out, puffs of grey-flecked cloud encircled the Circuit de Monaco, Ferrari's Charles Leclerc looking to finish his first home race – and win it – from pole position. Team mate Carlos Sainz would follow him off the front row while Sergio Perez and Max Verstappen occupied the second row for Red Bull.
After their qualifying crash, Sainz and Perez sported new gearboxes and a suite of new parts in what was surely a long night for their respective crews. Barriers and clouds looming, laps to the grid got under way without a hitch… and then the umbrellas unfurled. The FIA stated the formation laps and start would be delayed, with the field set to begin on wet tyres.
At 1518 the drivers began their sighting laps on wet tyres behind the Safety Car, rooster tails billowing behind their cars – and a red flag was soon called, prompting instant tents to be deployed. The lengthy delay was stopped at 1605 for a race start behind the Safety Car.
Lance Stroll and Nicholas Latifi had brushes with the barriers on the formation lap, the Aston Martin driver pitting with a right-rear puncture before the Lap 3 rolling start. Over an hour after it was originally scheduled, the 2022 Monaco Grand Prix began in earnest, with Leclerc squirrelling away from pole, team mate Sainz, Perez and Verstappen in chase.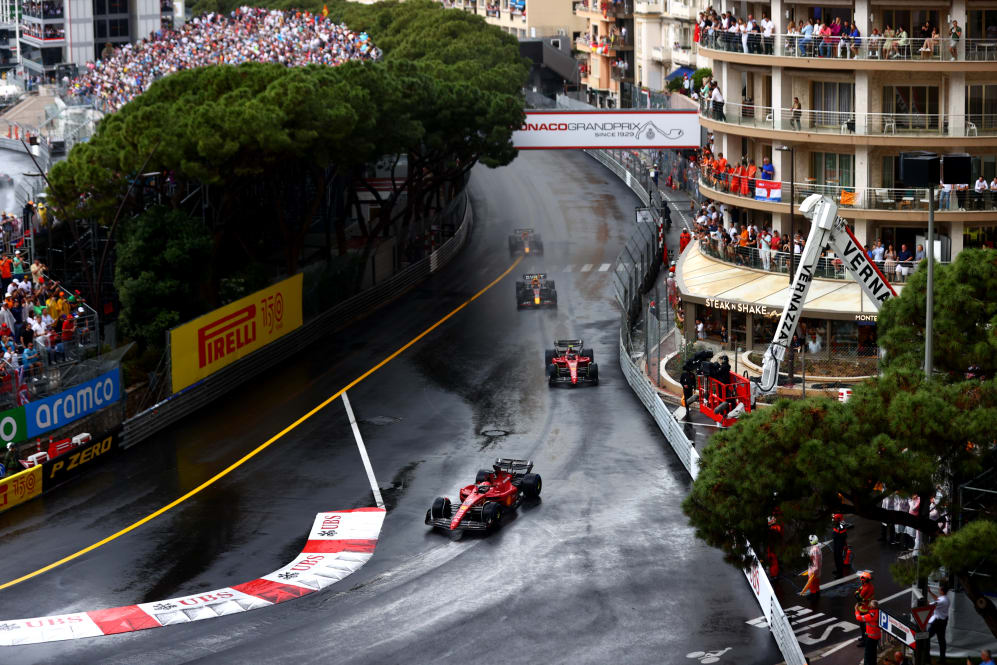 Pierre Gasly had also swapped to intermediates, Mick Schumacher coming in on Lap 5 for Haas. After Sebastian Vettel dropped to P10 with Esteban Ocon jumping ahead, the four-time champion pitted on Lap 7, Yuki Tsunoda joining him in chase of the points. The conditions were drying and giving Leclerc and his hunters a choice to make.
By Lap 10, Leclerc was over 4.5 seconds ahead of Sainz with the Red Bulls stalking the Spaniard. Perez soon called for inters – but stayed out on the wet compounds with a dry line clearly formed.
Lap 12 saw inter-shod Gasly right on Zhou Guanyu's tail for P13, the rookie skipping over Nouvelle Chicane and losing out at the inside of Mirabeau, releasing Gasly to fight Daniel Ricciardo for P12. Two laps later, Gasly passed the McLaren into Swimming Pool – perhaps ample proof that the track was calling for intermediates.
"We are going to go straight to dry [tyres]," asserted Carlos Sainz, now five seconds off his team mate on Lap 15.
Lewis Hamilton didn't agree with that plan, boxing at the start of Lap 16 from P8 to switch to intermediates, and emerging in P9 having opened up quite a gap to the midfielder train behind. Perez was the next taker, Lap 17 seeing him go for the green-walled tyres and emerge fourth behind Norris, to release Verstappen in chase of Sainz, who elected not to react.
Norris did react to Hamilton and went for intermediates, entering fifth and emerging from the pits in P7. Meanwhile, Hamilton attempted a pass on Esteban Ocon for P8 but tapped the inside-right of the Alpine and took front wing damage too. Ocon would later receive a five-second penalty for the collision.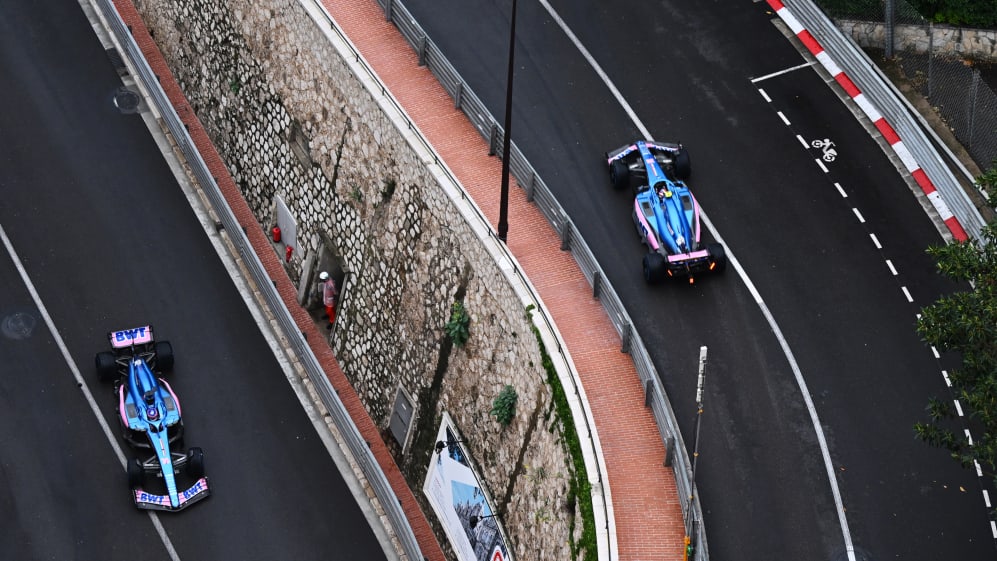 At the very front, Leclerc and Verstappen chose to pit on Lap 18 for intermediates, emerging in sequence – Mick Schumacher between them – leaving wet-tyred Sainz in the lead ahead of medium-shod Perez.
Schumacher, notably, had swapped for hard tyres on Lap 17 – front wing damage from a previous off proving the catalyst for his decision. Alex Albon, Ricciardo, Zhou and Latifi following suit soon after.
The Hamilton-Ocon battle raged on while a flash of red in the pits saw Leclerc and Sainz double-stack for hard tyres leaving the Red Bulls out in front. Sainz emerged third, Leclerc fourth – the Monegasque seething as he was held up in the pits and lost further time with a tough out-lap, a call to stay out on track having come fractions too late for the home hero.
Red Bull followed Ferrari one lap later, on 22 of 77, for a double-stack swap to hard tyres.
The resulting order was: Perez, Sainz, Verstappen, then Leclerc. The Red Bulls had seemingly overtaken the Ferraris with an overcut, but they were only split by few seconds.
Cue a Champions League-worthy save from Real Madrid fan Sainz on Lap 24 when he was right on Perez's rear wing on the main straight: forced onto the wet line, and then forced to catch a snap of oversteer that would have surely ended his race.
Haas's Schumacher couldn't make a save on Lap 27, however, having spun entering Swimming Pool and hitting the barriers hard, the gearbox and rear of his car flying off – Schumacher walking away but shaken.
A Virtual Safety Car, then Safety Car, followed. Kevin Magnussen, who had retired moments before with a reliability issue, was one of many concerned over Schumacher's state.
The red flag was deployed on Lap 30 as barrier repairs took place. The Stewards, meanwhile had noted Perez and Verstappen for crossing the pit exit line after their stops.
During the stoppage, Mercedes chose to swap Hamilton's front wing after his clash with Ocon. And tyre changes came thick and fast too – Red Bull, Mercedes, Alpine, Williams, plus Tsunoda and Zhou going for mediums while the rest, including Ferrari, opted for hard tyres.
The race restarted on Lap 33 and Perez survived the first few corners before locking up at Mirabeau, but carried on to open up a lead beyond DRS range, when it was enabled on Lap 39. Time was ticking – there were only 30 minutes remaining until the chequered flag.
On the Lap 33 restart, Hamilton chased Alonso for P7 and was soon backed up into the Spaniard's team mate Ocon. Alonso led a train of cars stretching all the way back to P18, and with the lead pack bearing down.
But before Perez began to see blue flags fly, it became clear that the Red Bulls' medium tyres were dropping off. Sainz was just under a second off the Mexican with 10 minutes left, on Lap 54, with Leclerc gaining on Verstappen.
Sainz was millimetres off Perez through Portier, the tunnel and Nouvelle Chicane with the time ticking down, the Spaniard having a proper look at Lap 57 – but nothing doing. He had six minutes left and the next lap saw Sainz almost rear-end the Red Bull through the hairpin. The top four were now split by two seconds.
There were more moments, through Nouvelle Chicane, Rascasse and the hairpin once again, that could have seen Perez lose out – but he kept a cool head on struggling mediums and won by just 1.154s over Sainz.
The Spaniard meanwhile was just 0.3s ahead of third-place Verstappen at the chequered flag, which flew on Lap 63 of 77.
"No words, no words… The season is long but we cannot do that. We cannot do that," were the words of crestfallen fourth-place finisher Leclerc.
In chase of Norris, George Russell went straight on at Nouvelle Chicane on Lap 9 but passed him for P5 soon after, having forgone a stop for intermediates. McLaren's Norris ended up sixth after covering off Hamilton's stop early on, while Alonso finished seventh for Alpine with a traffic jam behind him.
Hamilton caught damage from his early scrap with Ocon and ended up eighth, as the Frenchman copped a five-second penalty for that collision and was classified 12th.
Ocon's penalty promoted Valtteri Bottas to ninth, the Finn having also skipped a stop for intermediates for P9 from P12 on the grid, while Sebastian Vettel took the final point for Aston Martin.
For AlphaTauri, Gasly took 11th courtesy of Ocon's penalty, the Frenchman's early moves on intermediate tyres cut short by the red flag that followed.
Daniel Ricciardo skipped the stop for intermediates but finished 13th for McLaren, from 14th on the grid, while Stroll took P14, having tapped the barriers behind the Safety Car on Lap 2.
Zhou dropped to 16th for Alfa Romeo, having produced a stunning save through Nouvelle Chicane on Lap 39, while Tsunoda made two mistakes – at Turn 1 on Lap 56 and another at Sainte Devote three laps later – to finish 17th and last. Those excursions promoted Nicholas Latifi – who almost crashed at Sainte Devote on Lap 10 and behind the Lap 2 Safety Car – to 15th for Williams.
Alex Albon was the third retiree after the Haas drivers bowed out, the Thai driver pulling into the pits late on from P18. That DNF rendered moot a five-second penalty for going off track and gaining an advantage.
Perez's first win of the season came in unlikely circumstances, the Mexican tearful as he soaked it all in on the podium shouldered by somewhat stony-faced podium finishers Sainz and Verstappen. But neither would be as shocked as Leclerc, who not only lost a chance to lead the championship, but another chance to win his home race on Sunday.
Key quote
"It's a dream come true," said Red Bull's Driver of the day, Sergio Perez. "As a driver you dream of winning here. After your home race I think there is no other more special race to win. To do it and the way we did it, we made it a bit harder for us at the end... With the graining I had, to not make any mistakes, bring it home – keeping Carlos behind wasn't easy.
"I'm for sure very, very happy. I was running today a Pedro Rodriguez helmet, I'm sure up there he is super proud of what we have achieved together in the sport."
What's next?
Verstappen has a nine-point lead over Leclerc as Formula 1 heads to another street circuit for the 2022 Azerbaijan Grand Prix on June 10-12 – that being the circuit on which Perez took his first win for Red Bull.