Qualifying - Bottas wins Mercedes battle for pole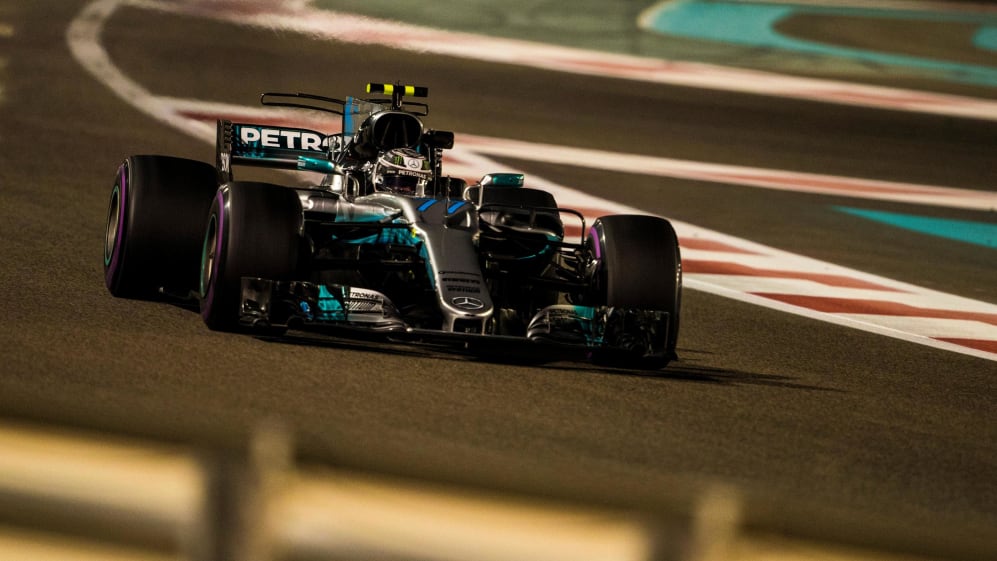 The Mercedes drivers staged a fantastic scrap for the final qualifying honours of the season in Abu Dhabi on Saturday evening, with Valtteri Bottas upstaging world champion team mate Lewis Hamilton to take his fourth career pole by 0.172s, as Ferrari and Red Bull were left in the silver cars' wake.
The former's Sebastian Vettel and the latter's Daniel Ricciardo will fill the second row of the grid for tomorrow's season finale at Yas Marina, with respective team mates Kimi Raikkonen and Max Verstappen starting fifth and sixth.
Renault's Nico Hulkenberg got the better of Force India duo Sergio Perez and Esteban Ocon for seventh, while Williams' Felipe Massa completed the top ten in his final F1 qualifying appearance. Q1 saw Bottas and Hamilton immediately tussling over fastest time, with the Finn just shading his team mate with 1m 37.356s, the fastest time thus far this weekend, to 1m 37.391s. Once again, Raikkonen outpaced Vettel, 1m 37.453s to 1m 37.817s. The Red Bulls were a bit breathless in this company, with Ricciardo on 1m 38.016s and Verstappen on 1m 38.021s. Everyone used the ultrasoft Pirelli tyres.
Further back, Lance Stroll just made Q2 for Williams, leaving an angry Romain Grosjean 16th on 1m 39.516s in the second Haas, ahead of Pierre Gasly's Toro Rosso on 1m 39.724s, Pascal Wehrlein's Sauber on 1m 39.930s, team mate Marcus Ericsson on 1m 39.994s, and Brendon Hartley in the Toro Rosso on 1m 40.471s.
Hamilton took the advantage back in Q2 with a new weekend fastest time of 1m 36.742s, with Bottas riding shotgun on 1m 36.822s and Vettel getting closer on 1m 37.034s ahead of Raikkonen, Ricciardo and Verstappen.
To his great satisfaction, Massa edged out old Ferrari partner Fernando Alonso to get into Q3, leaving the Spaniard the first faller after he failed to improve on 1m 38.636s. Team mate Stoffel Vandoorne didn't go any quicker either, so ended up 13th on 1m 38.808s, but the McLarens were split by Carlos Sainz's Renault on 1m 38.725s.
Kevin Magnussen hauled his Haas round in 1m 39.298s for 14th, as Stroll took 15th on 1m 39.646s.
Bottas went back in front after the first runs in Q3 with 1m 36.231s to 1m 36.403s, with Vettel on 1m 36.859s from Raikkonen on 1m 36.985s. Red Bull were well off that pace, with Verstappen on 1m 37.696s and Ricciardo on 1m 37.716s. Hulkenberg headed the Force India boys, with Ocon ahead of Perez, and Massa.
Neither Mercedes driver improved on their second tries, so Bottas had pole from Hamilton. Vettel improved slightly without changing position, while an heroic lap from Ricciardo took him to fourth with 1m 36.959s ahead of Raikkonen, who also didn't go faster.
Verstappen stayed sixth despite improving to 1m 37.328s, while Hulkenberg kept his Renault ahead of the Force Indias without improving. Perez jumped Ocon, with 1m 38.374s to 1m 38.397s, as Massa took an honourable 10th in 1m 38.550s for his final Grand Prix.
Thus, with Brendon Hartley's 10 place grid penalty (for a new MGU-H on his Toro Rosso) applied, the provisional grid will line up: Bottas, Hamilton; Vettel, Ricciardo; Raikkonen, Verstappen; Hulkenberg, Perez; Ocon, Massa; Alonso, Sainz; Vandoorne, Magnussen; Stroll, Grosjean; Gasly, Wehrlein; Ericsson, Hartley.
WATCH: Qualifying highlights from Abu Dhabi