Report
QUALIFYING: Brilliant Bottas poaches pole from Hamilton and Vettel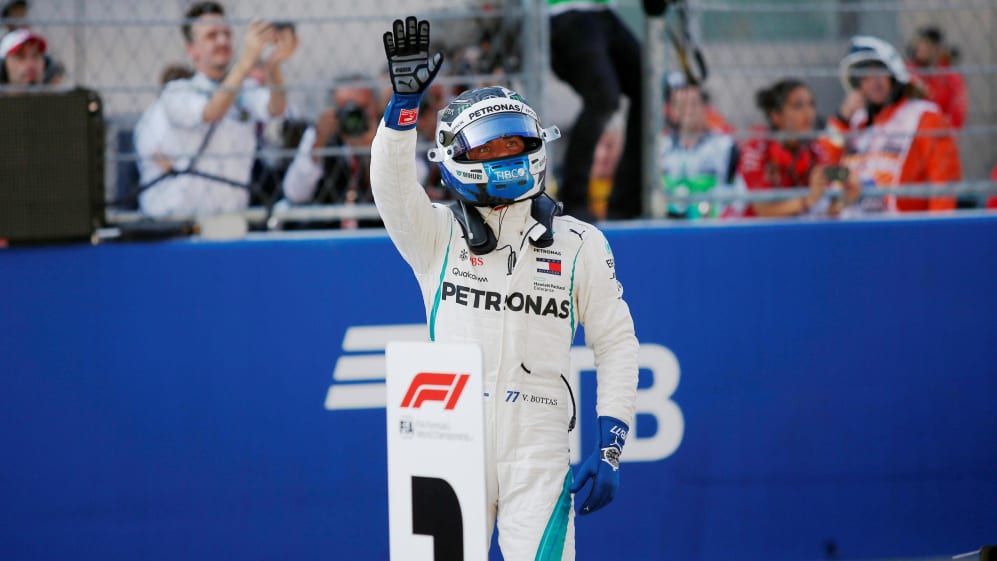 Valtteri Bottas had never been out-qualified by a team mate at Sochi going into this weekend. And after Saturday's qualifying session, he still hasn't. The Finn maintained that superb Russian record by pulling a fine lap out of the bag in Q3 to claim his second pole position of the year.
Bottas had laid down a marker early in the final segment, going fastest in the first runs after Lewis Hamilton had looked to be in imperious form in the early part of the session. On the second runs, though, Hamilton blitzed the first sector but ran wide through Turn 7 and had to abort the lap, while Bottas stayed cool and lowered the bar yet further.
Ferrari couldn't get close, with Sebastian Vettel only managing a time that was over half a second back from Bottas to go third. He led team mate Kimi Raikkonen to lock out a Ferrari second row, while Kevin Magnussen managed to pinch the best of the rest mantle in the final stages of Q3, the Haas driver going fifth fastest to equal his best start of the year.
But the day belonged to Bottas...
Q1 – HAMILTON COMES OUT OF THE BLOCKS QUICKEST
Lewis Hamilton laid down the gauntlet early doors in Sochi, clocking a best Q1 time of 1m 32.410s – a full 0.784s quicker than Sebastian Vettel's pole time from last year. Bottas was second, while the Red Bull boys, despite knowing that they were going to start Sunday's race from the back of the grid, went out and enjoyed themselves anyway, Max Verstappen and Daniel Ricciardo taking P3 and P4. Interestingly for Sunday's race, they looked in better shape than the Ferraris of Kimi Raikkonen and Sebastian Vettel – Vettel's best time in sixth a worrying one second off Hamilton's pace.
Eliminated first time out were Toro Rosso's Brendon Hartley, who complained of vibrations on his STR13, McLaren's Fernando Alonso, Williams' Sergey Sirotkin – who suffered a minor spin near the session end – with those two followed by their sister cars of Stoffel Vandoorne and Lance Stroll.
It was edgy segment for Renault, meanwhile, with Carlos Sainz and Nico Hulkenberg only managing P14 and P15 – right on the bubble of the drop-out zone as Sauber's Charles Leclerc headed the midfield in P7.
Q2 – HAMILTON FASTEST AS TOP FOUR GO THROUGH ON ULTRAS
No driver has ever finished in the top four in Russia after pitting more than twice in the race. With that presumably at the forefront of their minds, both Mercedes and Ferrari sent their drivers out on the more durable purple ultrasoft tyre rather than the quicker hypersofts at the start of Q2. Drivers who make it through to Q3 have to start the race on the tyres they set their fastest Q2 time on, so the two teams were rolling the dice strategically to see if they could squeak through the segment on the more hardy tyres and gain an advantage in the race.
Fortunately for them, both of their pace advantages were such that they managed it, Hamilton again going quickest by 0.149s to Bottas, with Vettel and Raikkonen over four-tenths back in third and fourth.
With Red Bull and Toro Rosso's Pierre Gasly not bothering to go out, given that they'll all be starting from the back due to grid penalties – and Renault opting to give the segment a miss, to allow them a free tyre choice in the race – all the drivers who ran in Q2 effectively got a free pass through to Q3.
Leclerc once again led the way for Sauber, looking impressive around the Sochi Autodrom after having struggled there on Friday, while the lack of runners also meant that his team mate Marcus Ericsson got through to Q3 for the first time since the 2015 Italian Grand Prix. Both Force Indias and both Haas cars also made the cut.
Q3 – BOTTAS COMES FROM BEHIND TO TAKE POLE
So Ferrari were a second off in Q1, four-tenths off in Q2… were they keeping their powder dry ahead of Q3? Sadly, the answer for the tifosi was a resounding no.
With the Ferrari SF71H seeming to lack the fluidity of Mercedes' W09 around Sochi, the second row was the best the team could hope for, Sebastian Vettel going third ahead of Raikkonen, with Vettel a full half second off the ultimate pace.
That ultimate pace, however, came not from Hamilton but from Bottas. The Finn had sat behind his team mate dutifully all weekend, and the expectation was that the number 44 Mercedes of Hamilton would do the business in qualifying the same way he had in Singapore with his now-famous 'magic' lap.
When Hamilton blitzed the first sector, the Sochi Autodrom braced itself for more Hamilton stardust. But a rare mistake from the Brit as he overcommitted into Turn 7 sent the Mercedes driver into the run-off area, ruining his lap. His qualifying was over, and he didn't even bother to finish his lap. Meanwhile Bottas, Raikkonen and Vettel were all still lapping hard, but the Ferraris quite simply couldn't live with the Finn's pace at a track he thrives at. Bottas duly improved again to secure the sixth pole of his career, 0.145s ahead of Hamilton.
It was a welcome tonic for Bottas, who took his maiden win here last year, after his recent admission that his lack of results had been draining his stores of confidence. Hardly surprising, then, that he was shaking when he stepped out of his car at the end of the session…
In all the excitement, meanwhile, few noticed Kevin Magnussen's sterling final effort, which saw the Danish Haas driver finish P5, leapfrogging over the early Q3 midfield pace-setters of Force India's Esteban Ocon and Sauber's Charles Leclerc. Sergio Perez and Romain Grosjean were eighth and ninth in the second Force India and Haas cars, while Marcus Ericsson wound up 10th.
So a gripping session in Russia with an unexpected outcome. Friday's race simulations showed Ferrari and Mercedes neck-and-neck on speed over a whole Grand Prix. But do the Scuderia really stand a chance of preventing a Silver Arrows whitewash – especially if Bottas sacrifices his race to help title-chasing Hamilton? Sunday should be a fascinating chess match of a race between the two squads.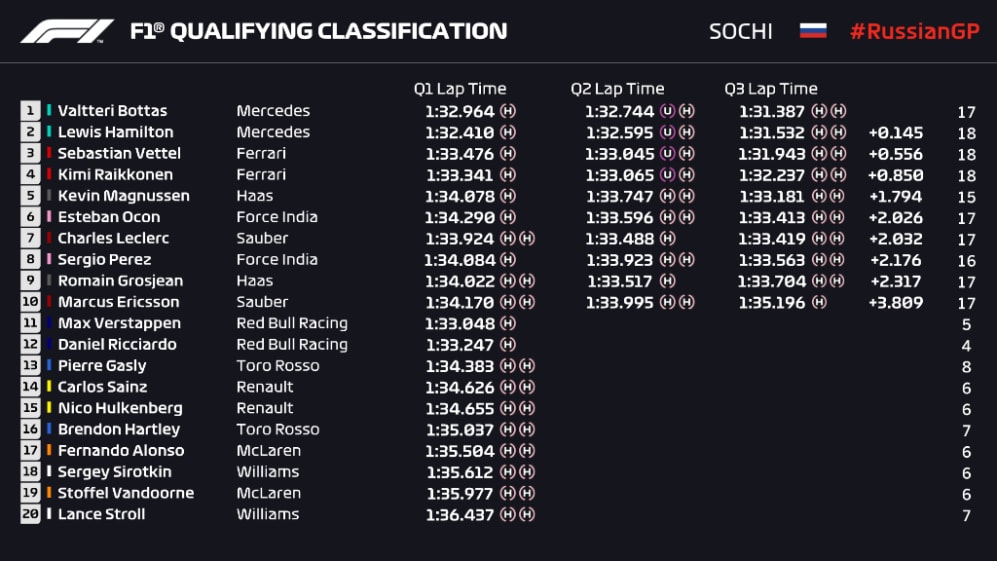 The key quote
"It was a nice lap, and in the end I managed to also improve a little bit. I don't know what happened, I think [Lewis] aborted his lap. It feels good. Still shaking a bit. Shakes from concentration. It was fun." – Valtteri Bottas
The key stats
Russia was Mercedes' fifth front-row lockout of the season.

Valtteri Bottas also secures Mercedes' 97th pole position.

It was Pirelli's 200th pole position in Formula 1, making them only the second tyre manufacturer in F1 history to reach that landmark after Goodyear.

Although Vettel starts third, he can take comfort that Bottas won from that position last year.

It's the first time that Kevin Magnussen has ever started in the top 10 at Sochi.

Charles Leclerc's seventh place in Sochi was Sauber's best qualifying since Nico Hulkenberg lined up fourth for the team at the 2013 United States Grand Prix.

Marcus Ericsson's Q3 appearance was his first in 62 Grand Prix weekends – the longest ever gap between Q3 appearances.

Fernando Alonso has now completed a full F1 season of outqualifying Stoffel Vandoorne – 21 races on the trot.

Between 2014 and 2017, Williams always had at least one car in the top six in Russia. But in 2018, both drivers were out in Q1, for the ninth time this season.

Brendon Hartley was out-qualified by Pierre Gasly for the ninth consecutive race, and the 11th time in 2018.
Onboard pole lap
What's next?
Sunday's Sochi race begins at 14:10 local time, 11:10 UTC, with the weather forecast predicting dry and cloudy conditions, and highs of 24 degrees Celsius. Could this be the Grand Prix at which Vettel gets back in the 2018 title game? Join us then to find out...