QUALIFYING: Hamilton roars to Hungary pole, as Bottas denies Verstappen front-row start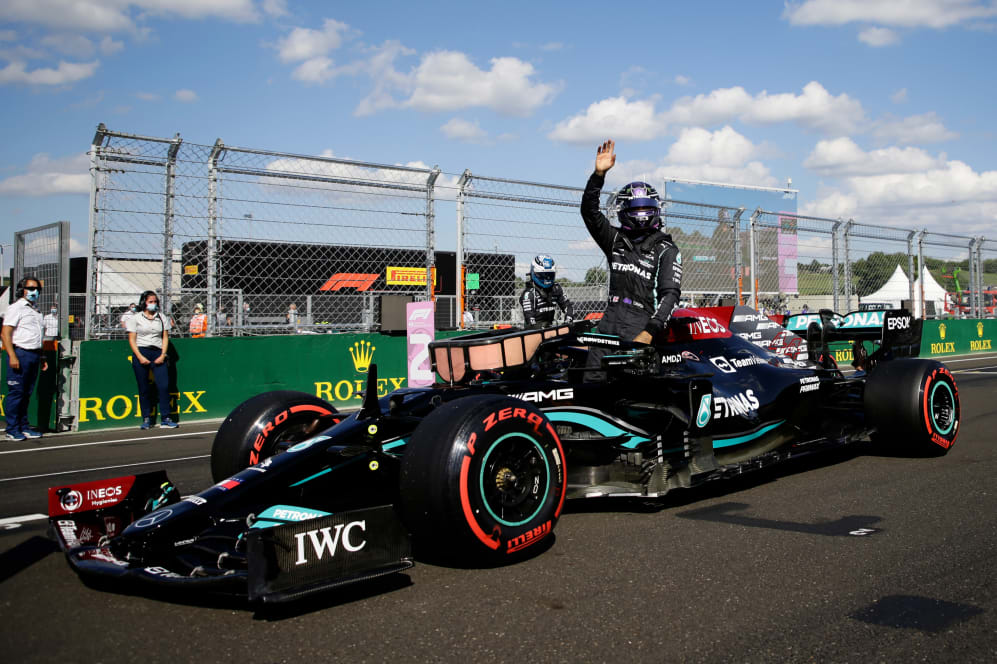 Lewis Hamilton took his first pole position in seven races with a scintillating lap in Hungarian Grand Prix qualifying, locking out the front row with Mercedes team mate Valtteri Bottas as the Briton's championship rival Max Verstappen had to settle for third.
The seven-time world champion got the job done on his first run in Q3, setting a lap that was three tenths of a second quicker than his Red Bull rival.
On the second runs, Hamilton got out of the garage first and ambled down the pit lane, keeping an eye on his mirrors with Verstappen close behind. He continued to cruise all the way to the pit exit and while he picked up the pace, his out lap was slow and bunched up the field.
As a result, Red Bull's Sergio Perez could failed to cross the line in time to start a timed lap, the Mexican banging his steering wheel in frustration, with his race engineer saying on team radio it was "a bit of gamesmanship".
Hamilton set a slow first sector and didn't improve in the other two either, but it mattered not as while Verstappen set personal bests in sector two and three, it wasn't enough to improve on third.
FORMULA 1 ROLEX MAGYAR NAGYDÍJ 2021
Hungary
2021
Qualifying results
POSITION
TIME

1

Lewis

Hamilton HAM

Mercedes

1:15.419

2

Valtteri

Bottas BOT

Mercedes

1:15.734

3

Max

Verstappen VER

Red Bull Racing

1:15.840

4

Sergio

Perez PER

Red Bull Racing

1:16.421

5

Pierre

Gasly GAS

AlphaTauri

1:16.483
That gave Hamilton his eighth pole in Hungary – tying the record for most poles at a single circuit – while Mercedes locked out the front row for the fifth time in their last seven attempts at the Hungaroring.
Intriguingly, the top two teams have gone for different strategies, Mercedes opting for the medium tyres on both their cars, while Red Bull have gone for the soft compound, which should deliver more grip off the start but will not last as long to shorten the first stint.
Pierre Gasly was a very strong fifth – 11 places clear of AlphaTauri team mate Yuki Tsunoda – for his eighth top-six start of the year, with Lando Norris improving on his second run to leap up three places to sixth, in what is his highest ever start at the Hungaroring.
Charles Leclerc was the leading Ferrari – his team mate Carlos Sainz having crashed out in Q2 after losing the car at the penultimate corner – in seventh, with Esteban Ocon outqualifying Alpine team mate Fernando Alonso by a position for the first time in six races.
Sebastian Vettel completed the top 10 in his Aston Martin, as he finished outside the top five in Hungary for the first time since 2008.
More to follow.
AS IT HAPPENED
Q1 - Russell misses out on Q2 for the first time in 2021
Air and track temperatures ramped up for qualifying, with conditions more akin to those the teams experienced in Friday's second practice session.
Haas were desperately trying to get Mick Schumacher's car repaired in time for the German to take part, following his FP3 crash, but they ran out of time.
WATCH: Mick Schumacher suffers heavy FP3 crash in Hungary
Out on track, the two Mercedes were the first to set leading lap times with Hamilton heading Bottas, but they were usurped by Verstappen by 0.2s.
All three times were good enough to progress, so they retreated to the garage – but the second Red Bull of Perez did two runs, both delivering similar lap times as he struggled for pace and ended up a second away from his team mate.
Yuki Tsunoda heaped the pressure on himself after a lacklustre opening two runs – and he was unable to do enough on his third, which meant an early bath.
George Russell was unable to maintain his season-long run of Q2 appearances, with a scruffy final lap that put him 17th, less than a tenth clear of Williams team mate Nicholas Latifi.
Knocked out: Tsunoda, Russell, Latifi, Mazepin, Schumacher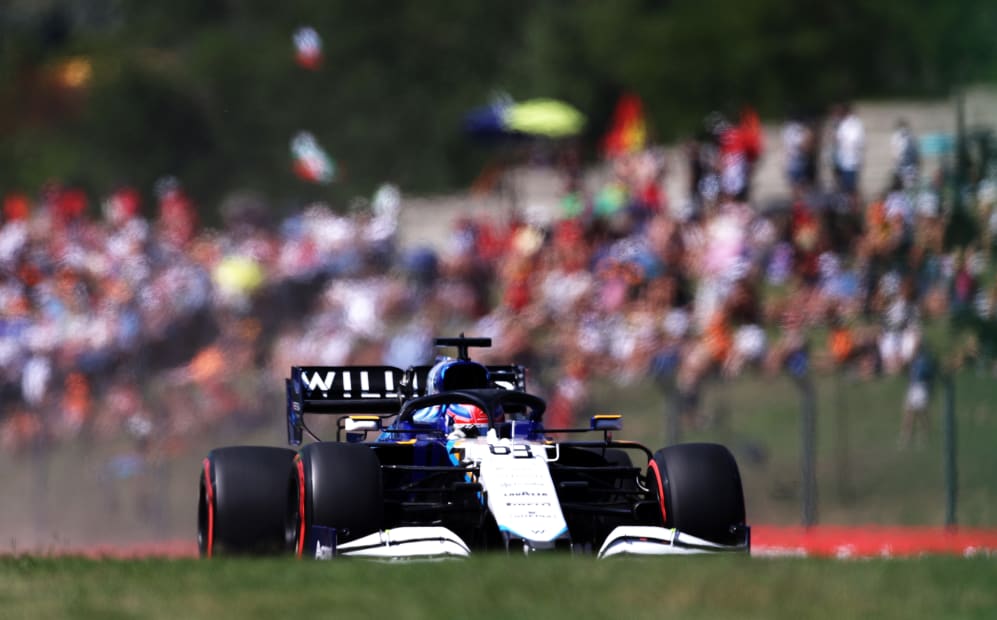 Q2 - Sainz crashes out, as Red Bull and Mercedes go for different strategies
It was mediums for Mercedes and Red Bull as Q2 got under way, with the rest of the field opting for the less durable soft tyre. Hamilton went quickest, a couple of tenths clear of Verstappen, with Bottas slotting into third ahead of Perez.
Leclerc popped into second on the softs, and his team mate Carlos Sainz – who was fourth in Q1 – was going quick, too, but got it wrong at the penultimate corner, and slid into the wall sideways, tearing off his front wing. He got going again, but in driving over the front wing, his Ferrari got stuck.
That meant his session was over, with the race director throwing a red flag to give the marshals some time to clear away his scarlet machine. When running got back under way, with six minutes and 40 seconds remaining, with Alonso wasting little time and eased into the top 10 on the softs.
Red Bull sent both their drivers out on soft tyres, with both improving, which means they will start on that rubber, while their rivals Mercedes will be on the more durable medium to set up an intriguing tactical battle in the race.
Daniel Ricciardo popped into the top 10, but his stay didn't last long as a flurry of drivers improved. He was bumped down to 10th, just 0.08s behind Vettel to see the Australian miss Q3 in Hungary for a fourth year in a row.
Lance Stroll was a tenth behind team mate Vettel in 12th, with the Alfa Romeo duo of Kimi Raikkonen and Antonio Giovinazzi lining up just behind. Sainz was the fifth and final driver to drop out, having failed to set a time following his crash.
Knocked out: Ricciardo, Stroll, Raikkonen, Giovinazzi, Sainz
Q3 – Hamilton gets the job done
Hamilton set a very competitive opening lap in Q3, that laid down a daunting gauntlet for Verstappen, whose own opening salvo was slower than his best effort in Q2.
As they bolted on new tyres for their second runs, Hamilton beat Verstappen out of the garage and controlled the pace all the way round.
He locked up at the penultimate corner, to put him on the back foot, and failed to improve in any of the three sectors.
Verstappen had a stronger lap, but he stayed third to leave him with only one front row start in Hungary (when he was on pole in 2019).
Bottas did exactly what Mercedes will have hoped, putting the car second as a rear gunner for Hamilton, for what is only his second front row start of the year.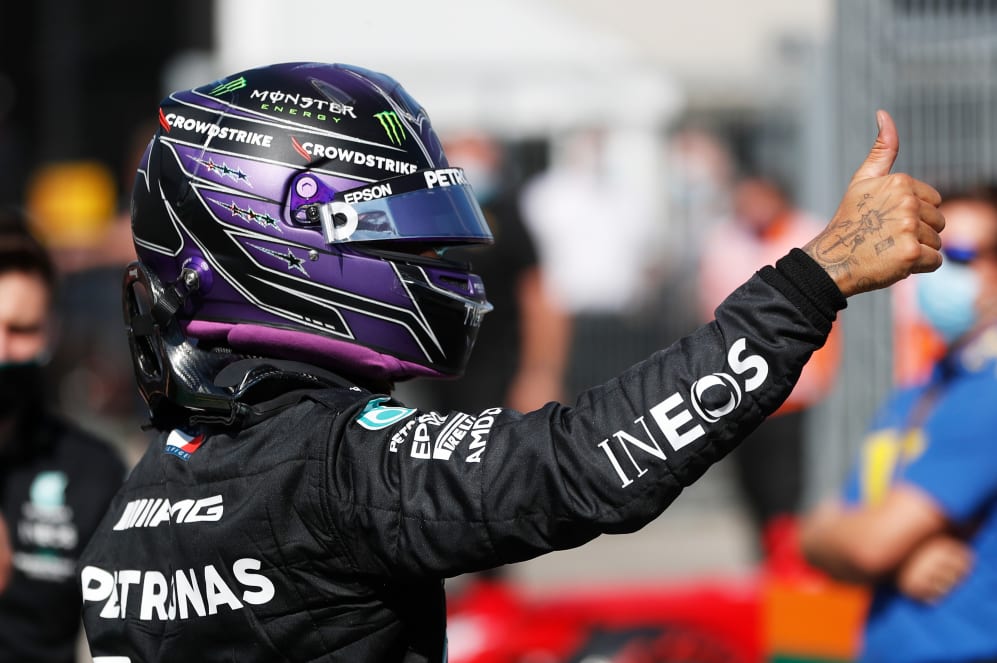 The key quote
"It was an amazing qualifying lap that last one," said pole-sitter Hamilton. "I think it's been an amazing teamwork from everyone this weekend, Valtteri included, just trying to push the car forwards, developing constantly, the guys back at the factory just have not left any stone unturned so it's been amazing to see everyone coming together and rallying up and pushing forwards."
What's next?
The Hungarian Grand Prix kicks of at 1500 local time, which is 1200 UTC. Hamilton has the edge on title rival Verstappen, but the last time the Red Bull driver started third (at Imola), he passed Hamilton for the lead at Turn 1….