Qualifying - Vettel spoils Red Bull party with Singapore pole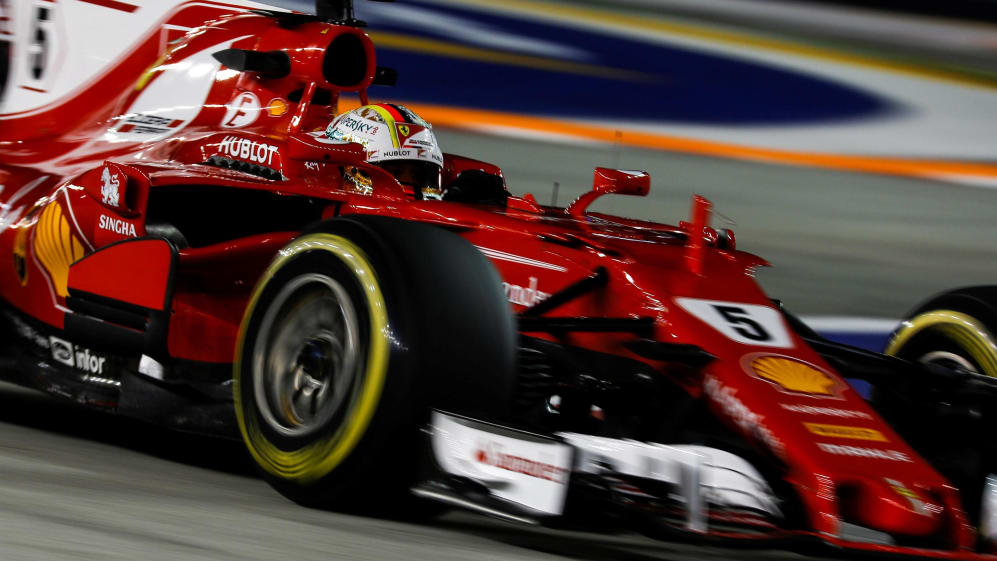 For a while in Singapore on Saturday evening it looked as though Max Verstappen was set to become F1's youngest ever pole sitter. That was until the man who holds that record – Ferrari's Sebastian Vettel – stormed to his fourth P1 qualifying at the Marina Bay Street Circuit, beating the Dutchman by a clear three-tenths of a second.
It was a lap that left even Vettel breathless with disbelief that finally settled the situation in his favour as he fights to retrieve his previous championship advantage from points leader Lewis Hamilton, who finished fifth on the grid for Mercedes.
Daniel Ricciardo was third with a time almost identical to his Red Bull team mate's, with Kimi Raikkonen taking fourth in the second Ferrari. Then came the silver cars of Hamilton and Valtteri Bottas, Renault's Nico Hulkenberg, the McLarens of Fernando Alonso and Stoffel Vandoorne, with Toro Rosso's Carlos Sainz completing the top ten.
Prior to the start of Q1, teams were warned that there was some oil on the entry to Turn 20, a residue from the Porsche race that followed FP3. The big problem was hitting walls, which Williams' Felipe Massa, Haas's Romain Grosjean and Force India's Esteban Ocon all did, the first of that trio losing time and chances by puncturing his right rear tyre.
But the big excitement was Red Bull's pace as Verstappen narrowly headed Ricciardo, 1m 42.010s to 1m 42.063s, with Hamilton third on 1m 42.455s and the Ferraris nearly a second down on Hamilton in fifth and sixth places.
That got even worse for the Scuderia, though, as they were in the pits having changes made for Q2 there was a rash of further improvements. Alonso jumped to third ahead of Sainz and Vandoorne, leaving Hamilton sixth ahead of Renault's Jolyon Palmer, Toro Rosso's Daniil Kvyat and Hulkenberg, thus dropping Bottas, Raikkonen and Vettel to 10th, 11th and 12th.
A late improvement from Grosjean also bumped team mate Kevin Magnussen's 1m 43.756s to 16th and thus the first of the Q1 fallers, followed by Massa, who got going again to lap in 1m 44.014s, Williams team mate Lance Stroll on 1m 44.728s, and the Saubers of Pascal Wehrlein and Marcus Ericsson on 1m 45.059s and 1m 45.570s respectively.
Ferrari came out fighting in Q2, as Vettel on 1m 40.329s headed Raikkonen on 1m 40.999s, Hamilton on 1m 41.075s and Bottas on 1m 41.409s. But then Verstappen went quickest with 1m 40.379s and Ricciardo moved in behind Vettel with 1m 40.776s. This was more like it.
Grosjean went off again, this time in Turn 1, then Vandoorne jumped to sixth on 1m 41.227s.
In the end it was Verstappen on 1m 40.332s as a strong lap for Raikkonen ended in the final sector with 1m 40.525s. That was then beaten by Ricciardo with 1m 40.385s as Red Bull went 1-2, while Vettel and Hamilton were inseparable on 1m 40.529s and 1m 40.577s.
The outstanding Vandoorne was sixth from Hulkenberg, Bottas, Alonso and Sainz, which meant that Palmer was the first to miss out with 1m 42.017s. The Force Indias were, unusually, nowhere, with Perez on 1m 42.246s and Ocon 1m 42.760s in 12th and 14th, separated by Kvyat on 1m 42.338s. Grosjean brought up the rear with 1m 43.883s.
Could Verstappen hold on to become the world's first teenaged F1 polesitter, or would Mercedes and Ferrari be able to wind up their engines sufficiently to overcome the Red Bull duo?
Q3 saw the times really tumble. This time it was Vettel on provisional pole after the first runs with 1m 39.669s, snatching the honours from Verstappen, who had lapped in 1m 39.814s. Ricciardo was also super-quick with 1m 39.862s, jumping him to third ahead of Raikkonen on 1m 40.069s and Hamilton on 1m 40.192s. The track seemed to be getting better every lap.
Further back, Bottas was sixth from Alonso, Vandoorne, Hulkenberg and Sainz.
Could Verstappen get the initiative back from Vettel? Would Ricciardo intervene?
Vettel pushed harder than ever and clipped his time to 1m 39.491s, and to that Verstappen had no reply as his 1m 39.993s lap failed to match his previous effort. Ricciardo improved fractionally, to stay third with 1m 39.840s, while Raikkonen was likewise unable to go quicker and stayed fourth ahead of Hamilton, who improved slightly to 1m 40.126s for fifth.
"I don't know where I found the time," Vettel admitted. "We struggled yesterday and also this morning. I'm still full of adrenaline so maybe what I saw makes no sense, but I love this track. The car was tricky but was getting better and better. I scraped the wall with my left rear, and I think I need to calm down, but I'm very, very happy. It's amazing, on this track, and when you can feel the car coming alive you can do what you want."
Ericsson has a five-place grid penalty for an unscheduled gearbox change following his FP3 crash, but given he qualified last, the provisional grid currently reads exactly as per qualifying order.