Report
Dazzling Leclerc fends off both Mercedes to end Ferrari's Monza win-drought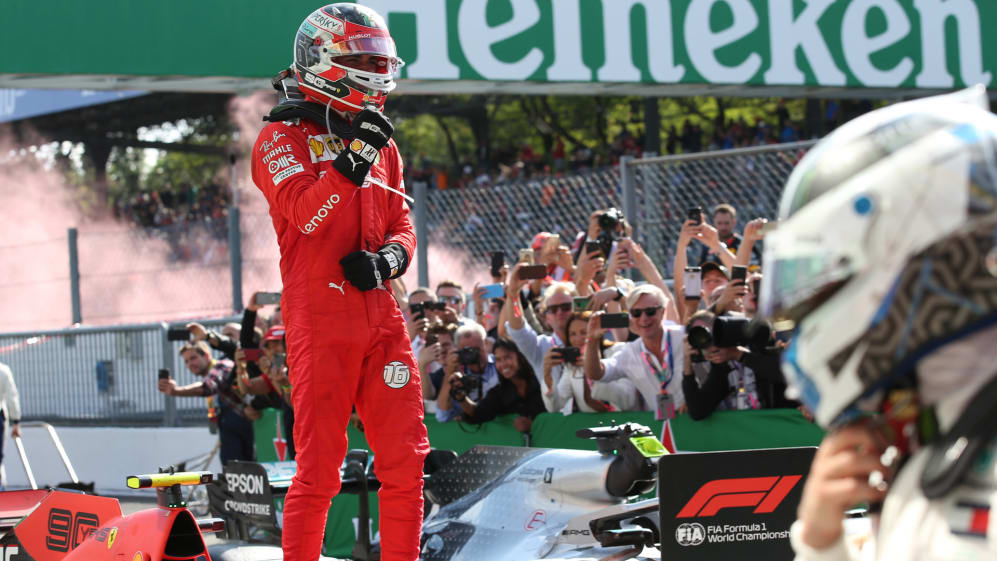 A battling performance from Charles Leclerc saw the Monegasque claim his second win in as many weekends, taking a brilliant Italian Grand Prix victory for Ferrari, the Scuderia's first at Monza since 2010, as he saw off a late-race push from Mercedes' Valtteri Bottas.
Leclerc became a first-time Grand Prix winner last weekend in Belgium. But while that victory would undoubtedly have been special, winning at Monza in his first race here as a Ferrari driver – claiming the Scuderia's first Italian Grand Prix win since Fernando Alonso's victory nine years ago – will doubtless have turned the 21-year-old Leclerc into a national hero in Italy.
For the majority of the race, it appeared as though Lewis Hamilton would once again deny Ferrari home glory. But once the five-time champion's tyres went off in the closing stages of the race, it was left to team mate Bottas to launch a late, and ultimately unsuccessful assault, on Leclerc.
Bottas therefore came home second, while Hamilton completed the podium – with Sebastian Vettel having dramatically spun his Ferrari out of contention for the second consecutive Italian Grand Prix early on in the race.
A fantastic day for Renault saw Daniel Ricciardo claim a season's best fourth place ahead of team mate Nico Hulkenberg in sixth. Despite starting eighth – rather than 17th last weekend – Red Bull's Alex Albon ended up one place lower than he had done in Spa, coming home in sixth, ahead of the Racing Point of Sergio Perez, who just managed to hold off Red Bull's Max Verstappen, who ended up eighth having started P19.
Antonio Giovinazzi chose an opportune moment to score just his second points-finish of the year, coming home ninth for Alfa Romeo, while Lando Norris completed the top 10 for McLaren.
But the day ultimately belonged to Leclerc and Ferrari – while questions will once again be asked of Vettel.
FORMULA 1 GRAN PREMIO HEINEKEN D'ITALIA 2019
Italy
2019
Race results
POSITION
TIME
POINTS

1

Charles

Leclerc LEC

Ferrari

1:15:26.665

25

2

Valtteri

Bottas BOT

Mercedes

+0.835s

18

3

Lewis

Hamilton HAM

Mercedes

+35.199s

16

4

Daniel

Ricciardo RIC

Renault

+45.515s

12

5

Nico

Hulkenberg HUL

Renault

+58.165s

10
AS IT HAPPENED
It was Hamilton rather than Leclerc who made the better start off the front row. But Leclerc thought quickly, moving right to crowd Hamilton as his Ferrari SF90 got going properly. Leclerc thus held the lead through Turn 1, as Bottas briefly nipped past his team mate for second before Hamilton slid back around the outside to reclaim the position. Hulkenberg cheekily, and briefly, took Vettel for fourth, before Vettel DRSed back past him down the main straight.
At the back, Verstappen from 19th on the grid was forced into the Turn 1 run-off after appearing to misjudge the concertina effect into the first bend, damaging his front wing and coming in immediately for a new one.
As the race settled down in the first few laps, barring some brief excitement when Red Bull's Alex Albon tried to fight his way past McLaren's Carlos Sainz only to be dumped unceremoniously off at the first Lesmo, Vettel was holding a comfortable fourth when he dropped his car on his own at Ascari.
Ending up sideways to the track, the German then clipped Lance Stroll's Racing Point when he clumsily re-joined, sending Stroll into his own spin. It was a moment of madness, briefly followed by another when Stroll then nearly clattered into Pierre Gasly's Toro Rosso when he tried to re-join, with Vettel and Stroll subsequently handed a 10-second stop/go and a drive-through penalty respectively.
The race then burst into life following the first round of pit stops, with the hard tyre-shod Leclerc emerging on Lap 21 just in front of Hamilton's medium-tyred Mercedes. Hamilton was sharking behind the Ferrari driver, and as they approached the second chicane two laps later, Leclerc firmly cut to the right of the track, forcing an irate Hamilton onto the run-off and earning himself a black and white driving standards flag.
What it meant, though, was that Leclerc held on the lead – but it was far from a comfortable one. Lap 36 saw an apparently-rattled Leclerc scamper across the Turn 1 run-off area. Hamilton was applying pressure – but unfortunately for him, the five-time champion was also starting to struggle on his medium tyres.
That came to a head on Lap 42, with a rare mistake from Hamilton seeing him lock the brakes at Turn 1 and run through the bollards, allowing Bottas – who'd been eating into the gap to the leading pair at a vast rate of knots since his Lap 27 pit stop – into second.
For the last few laps, Bottas tried his hardest. But ultimately, the Finn just ran out of time and tyres, allowing Leclerc to hold on, and claim his second career win, and his second in as many weekends, by just 0.835s from the Finn, as Hamilton ended up third, having stopped late on to strap on some soft tyres and go for the fastest lap, which he duly took.
The reaction of the Italian crowd had to be seen to be believed, with a delighted Leclerc pounding the air as he climbed onto Monza's legendary podium, overlooking an ecstatic sea of red below him as the Hymne Monegasque rang out for the second consecutive race.
Behind the front three, it was a red-letter day for Renault, Ricciardo eventually taking a comfortable fourth ahead of Hulkenberg in fifth, the team's best finish of the year so far, while Verstappen ended up just two places behind his sixth-placed team mate Albon after his P19 start. That was impressive, but not as impressive as Perez, who matched Verstappen's jump up the order, going from P18 to P7 by the flag, as his team mate Stroll finished out of the points here for the first time in his F1 career.
Local boy Giovinazzi and McLaren's Norris rounded out the top 10, while it was a less happy day for Haas's Kevin Magnussen, Toro Rosso's Daniil Kvyat Sainz, all three retiring from the race with technical problems or, in Sainz's case, a loose front wheel following a pit stop.
However, the real story of the day was the contrasting fortune of the Ferrari drivers, Vettel ending up a dismal P13 after yet another unforced error, as his team mate once more converted pole to a victory – and in front of the adoring tifosi no less, a feat Vettel has never managed as a Ferrari driver – while simultaneously taking Vettel's fourth place in the drivers' standings as well.
The wind, it would appear, is very much in the sails of Charles Leclerc.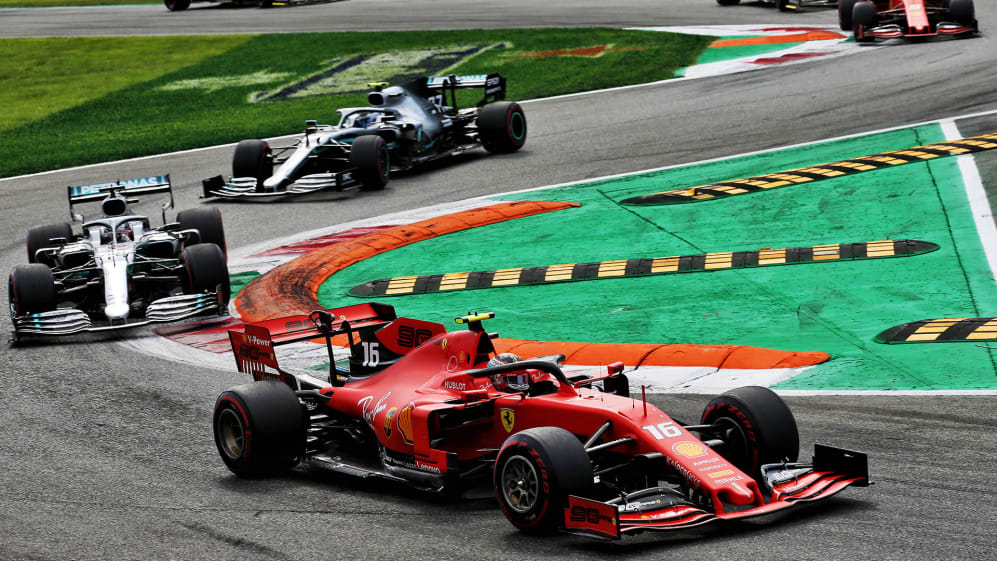 The key quote
"Thank you so much! What a race. I've never been so tired…
"I did a few mistakes, but at the end I finished first so very happy with this. I need to be careful with the mistakes, but none of them made me lose a position today." – Charles Leclerc
What's next
After two weekends on the trot in Belgium and Italy, Formula 1 will return at the Singapore Grand Prix on September 20-22. But can Singapore specialist Sebastian Vettel shine brightest under the famous floodlights – and wrench back some momentum from his hard-charging team mate?
2019
Driver standings after Italy
POSITION
POINTS

1

Lewis

Hamilton

Mercedes

284

2

Valtteri

Bottas

Mercedes

221

3

Max

Verstappen

Red Bull Racing

185

4

Charles

Leclerc

Ferrari

182

5

Sebastian

Vettel

Ferrari

169
2019
Constructor standings after Italy
POSITION
POINTS

1

Mercedes

505

2

Ferrari

351

3

Red Bull Racing

266

4

McLaren

83

5

Renault

65