Report
Race - Vettel beats Hamilton to hard-fought Bahrain win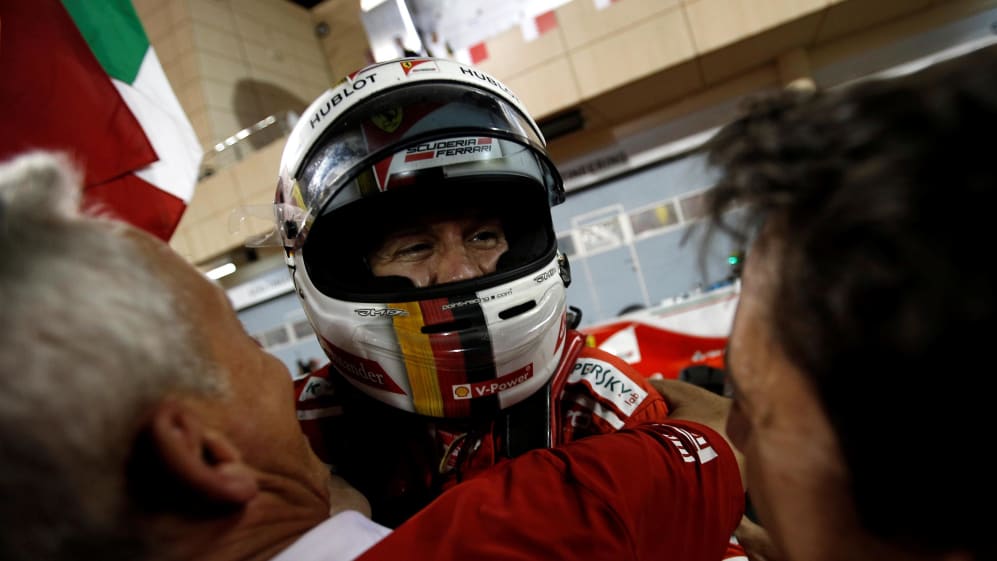 Sebastian Vettel has a clear lead in the drivers' championship after winning a tense 2017 Formula 1 Gulf Air Bahrain Grand Prix from Lewis Hamilton on Sunday. A late charge from Hamilton wasn't quite enough to prevent a splendid Ferrari victory, as his Mercedes team mate Valtteri Bottas took third.
Kimi Raikkonen was fourth for Ferrari, with Daniel Ricciardo Red Bull's only finisher in fifth, team mate Max Verstappen having retired early with brake failure. Felipe Massa secured sixth for Williams, from Force India's Sergio Perez and Haas's Romain Grosjean. Renault's Nico Hulkenberg and Force India's Esteban Ocon completed the top ten.
From third on the grid, Vettel jumped Hamilton's Silver Arrow going into Turn 1 at the start, then chased polesitter and early leader Bottas as the three of them were joined by the Red Bulls of fast-starting Max Verstappen and Daniel Ricciardo in a high-speed train.
Vettel and Ferrari gambled on going for the undercut with an early pit stop on lap 10, and it worked well for them. They were followed by Verstappen and Red Bull doing likewise next time around. But as Vettel recovered in 12th place, Verstappen crashed in Turn 4 on the 12th lap, due to suspected brake failure.
A lap later Carlos Sainz, leaving the pits after a stop in his Toro Rosso, collided with the side of rookie Lance Stroll's Williams as the Canadian turned into Turn 1 - a misdemeanour which subsequently earned Sainz a three-place grid drop for the next round in Canada.
The safety car was deployed, leaving Mercedes no alternative but to pit both their drivers at the same time. That meant stacking Hamilton behind Bottas, and while trying to give the Finn's crew time to service him, Hamilton came in so slowly that he was deemed by the stewards to have hindered the following Ricciardo, and was handed a five-second penalty that would prove very costly.
The safety car promoted a surprised Vettel to the lead, but on soft rubber as his main rivals (bar Ricciardo) had opted for more supersofts, Hamilton soon repassed the Australian's Red Bull when the track went green on the 17th lap, and closed in on Bottas who was struggling with oversteer. He dutifully moved over to let his faster team mate go by in Turn 1 on the 29th lap, setting up another Vettel versus Hamilton encounter.
The Ferrari driver pitted again, for softs, on the 33rd lap, putting Hamilton into the lead. He held it until the 41st lap, as Vettel closed in, then pitted for another set of softs - and to take his time penalty. Once again he caught and passed team mate Bottas, and a blistering series of fastest laps cut the deficit to the Ferrari from 19 to 5.8s by the 54th lap. But thereafter Hamilton eased back, finishing 6.6s adrift after a day of valuable damage limitation.
The unhappy Bottas hung on to complete the podium, two seconds ahead of Raikkonen's Ferrari, with Ricciardo slumping after the safety car to finish fifth, well behind the second Finn but equally a long way ahead of Massa's Williams.
Perez drove brilliantly to take seventh for Force India, heading a happy Grosjean in his Haas and Hulkenberg, whose own feisty performance earned himself and Renault their first points of the year.
Ocon took up his usual reservation of 10th place in the second Force India, but Pascal Wehrlein might have felt as deserving of the final point after a great comeback for Sauber confirmed that he is now fully fit again. He took 11th after outfoxing Toro Rosso's Daniil Kvyat on the last lap. The Russian had been involved in one of the race's best battles, with Renault's Jolyon Palmer and McLaren's Fernando Alonso. Palmer dropped back after damaging his front wing on the Toro Rosso, while the Spaniard's Honda-powered car again let him down in sight of the chequered flag. It was a bad day for the Woking team with yet another suspected MGU-H failure preventing team mate Stoffel Vandoorne from starting.
Sauber's Marcus Ericsson joined the retirements late in the race, and besides Sainz, Stroll and Verstappen, Kevin Magnussen stopped early due to electronics issues in his Haas.
So after his 44th career victory, Vettel leads the championship table with 68 points to Hamilton's 61, with Bottas now third on 38 from Raikkonen on 32, Verstappen on 25 and Ricciardo on 22.
Mercedes still lead the constructors' stakes, with 102 points to Ferrari's 99, with Red Bull on 47 ahead of Force India on 17, Williams on 16, the luckless Toro Rosso on 12, Haas on 8 and Renault on 2.