Racing Point's pace didn't merit my two points - Perez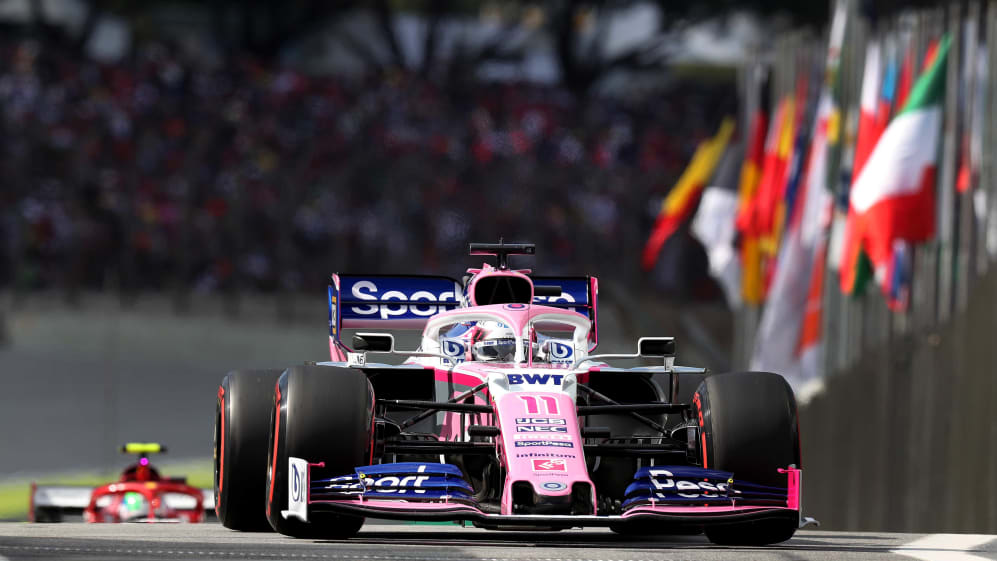 A number of teams profited from a dramatic end to Sunday's Brazilian Grand Prix at Interlagos, but Sergio Perez doesn't believe Racing Point should have been one of them.
A tough qualifying session saw team mate Lance Stroll drop out in Q1 and Perez scrape through to Q2, although he was then within 0.2s of a spot in the top ten. In the race, Perez was unable to break into the top ten until retirements for Valtteri Bottas, the two Ferraris and a spin for Alex Albon promoted him to ninth place.
It's two points that we didn't really deserve
"I didn't really see it coming," Perez said. "It was a chaotic race, we needed to be strong out there. We were not good enough. We were lacking so much straight-line speed we couldn't fight. We got overtaken very easily and then we couldn't push to get past people, so quite a disappointing race.
"It's two points that we didn't really deserve, because we didn't have the pace all weekend, but I'm just pleased with that."
Although Perez felt the points were not deserved, Stroll believed a relatively late stop for soft tyres had left him well-placed to challenge for a position in the top ten before he suffered an apparent suspension failure after hitting some of the debris left by the Ferrari collision.
"That's exactly what happened, I ran over some debris," Stroll said. "It was very tight all the way to the end with all the Safety Cars. We were on a good tyre and it's a bit of a shame because we were definitely in a position to grab some points."
Team principal Otmar Szafnauer admits Racing Point were disappointed by the end result, given the fact Toro Rosso scored 19 points - including second place for Pierre Gasly - to move 16 points clear of them in the constructors' standings.
"A tough day for us, even though we managed to salvage a couple of points in the final few laps," Szafnauer said. "Before the Safety Car came out, we had both cars on different strategies with Lance doing a good job to make the one-stop race work.
"It looked as though he would score points, but we switched him to a two-stop race under the Safety Car and then he got hit by debris when the Ferraris got together.
"Sergio switched to a two-stop race early on and took advantage of the chaotic final laps to finish in ninth place. We face an uphill task in Abu Dhabi to reclaim sixth place in the constructors' championship, but we will go there fighting and give it everything."