Raikkonen realistic on Alfa progress despite third straight points finish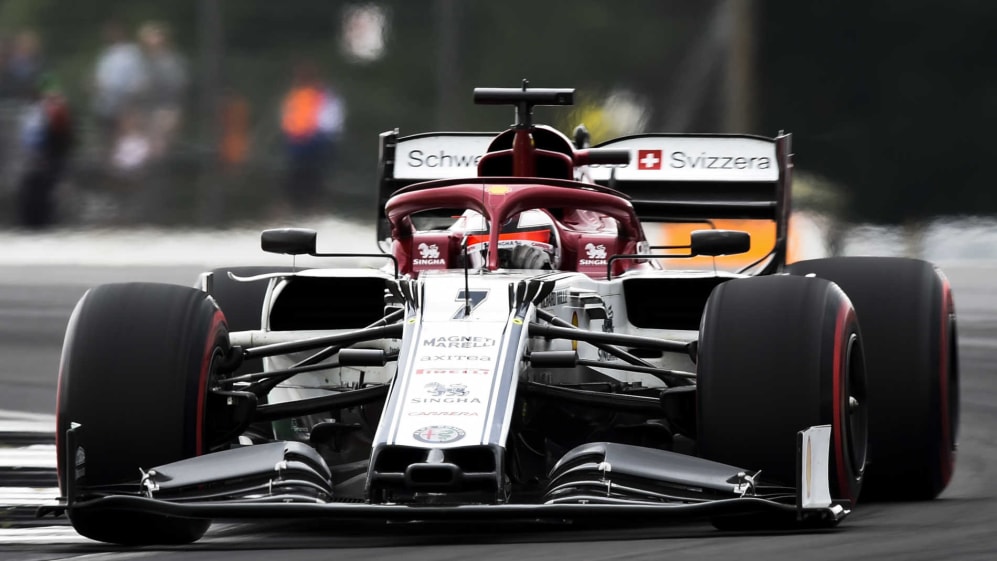 Points in three consecutive races might have been celebrated by Alfa Romeo in the past, but Kimi Raikkonen still had more questions than answers after finishing P8 at Silverstone on Sunday.
Raikkonen qualified just outside the top 10 alongside team mate Antonio Giovinazzi and was fighting for the lower points for much of the race. Sebastian Vettel's collision with Max Verstappen, coupled with a second pit stop for Lando Norris saw Raikkonen move up to ninth. A final overtake on Alexander Albon gave Raikkonen four points at the end of the day, but he is not letting the final result cloud his opinion of Alfa Romeo's weekend.
"Not the easiest of races, I must say," Raikkonen admitted. "I think the car was handling quite nicely, especially in the second part of the race, but we were lacking quite a bit of straight-line speed and that was just limiting us. My best choice was to get within the DRS of somebody and hang in there, so that no one else could pass me.
"In the end, I waited long enough the tyres run out on the first Toro Rosso. I knew it was going to be difficult to keep them behind, but the car was really good around the corners. I had just enough to keep them behind.
"The pass on Albon was into Turn 15. I saw he was struggling more and more with the left side tyres so I waited and passed him then. I knew that was the best way because if I passed them earlier they would then pass me back on the straight. In the end, it was a pretty good result."
The first practice session on Friday saw Raikkonen stop on track with a power unit failure, and the Finn attributes the lost running to some of the troubles understanding the car at Silverstone.
"I think we'd better check some things up for the next race, as overall it was a difficult weekend with the engine issue on Friday, when we were trying to compare both packages. I don't think we had a very strong weekend, but we managed to get some good points."
That engine issue did not directly impact Raikkonen's race result, but Giovinazzi retired after spinning into the gravel, with a mechanical failure currently being investigated by the team back at their factory in Switzerland.
"It's unfortunate but it's how racing goes," Giovinazzi said. "I was quite close to Kimi and we were on similar strategies, so I could have been in or close to the points, but we can still be pleased about our performance. We scored a good result for the team and we made another step forward. The midfield is very close so we need to keep working hard to remain there."
Alfa Romeo lie sixth in the constructors' standings on 26 points, seven ahead of Racing Point and 13 behind Renault.