Ricciardo frustrated to have missed out on podium 'shoey' in final Red Bull race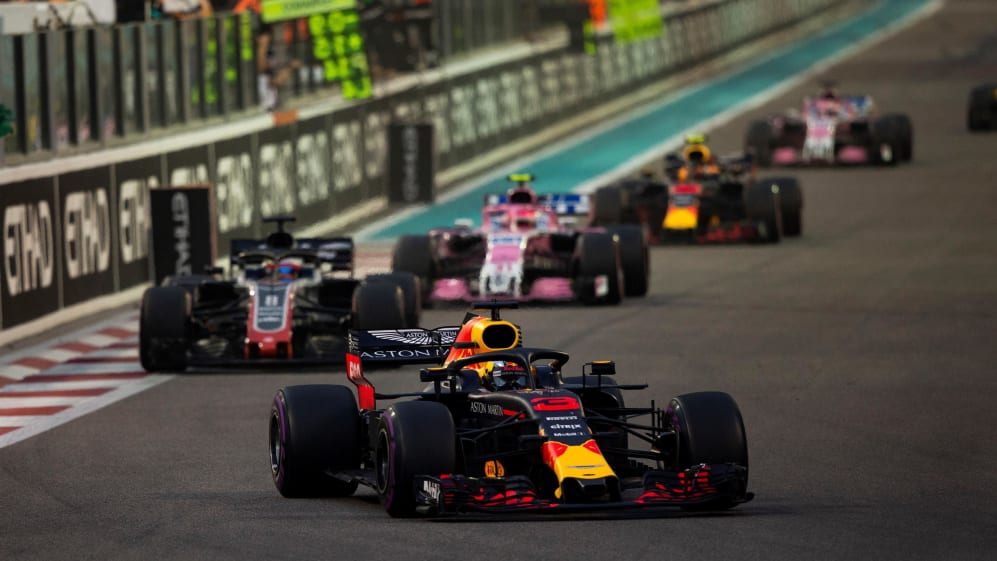 Daniel Ricciardo closed the most significant chapter of his racing career at the 2018 Abu Dhabi Grand Prix, saying goodbye to the Red Bull team that he's been with since 2014 – and with whom he's taken all of his seven Grand Prix victories – and the Red Bull company that have supported his career since 2008. Despite that, or maybe because of it, the Australian couldn't hide his frustration at having to watch his team mate Max Verstappen take the final rostrum position in Abu Dhabi before Ricciardo leaves the squad for Renault next year.
Ricciardo found himself in the lead for the middle chunk of the race at Yas Marina, as he tried to go deep into the Grand Prix on his purple-walled ultrasoft tyres. The Australian had gained a supposed tactical advantage by setting his fastest time on them in the Q2 segment of qualifying, while Verstappen was forced to start on the faster-but-flakier hypersoft tyres.
But despite finding himself ahead of Verstappen after his team mate bogged down off the start, Red Bull called the Dutchman into the pits on lap 18, leaving Ricciardo to carry on until lap 34 – a move which meant that, by the end of the race, the Australian was trailing his team mate in fourth.
"Obviously I can't be ecstatic with fourth to be honest," said a frustrated Ricciardo after the chequered flag signalled the end of his 100th race with Red Bull. "It wasn't the most exciting race – a little bit that was fun [when leading the race], but it just put me out of reach then with the leaders.
"I don't know if we had many other options. Obviously we could have pitted early and kept track position but it's always hard to know.
"So yeah, it was alright, just a bit kind of helpless at the end, I couldn't really do much. The pace advantage initially was strong and then it fell away quite quickly so we just probably weren't quick enough.
"Obviously a third and fourth for the team, it's solid. But yeah, we close this chapter now, so thanks to Red Bull and the whole Red Bull family. I would have loved to have drunk out of my shoe, but we'll see. There's still a few hours to go."
With the final race of the season now done, Ricciardo revealed that he would fulfil his final commitments with Red Bull in Milton Keynes – the team not releasing him to test with Renault in the Pirelli tyre test in Abu Dhabi next week – before heading back Down Under.
"Next week, I'll close everything off with Red Bull, be a few days in the factory, and I imagine the following week, start to initially know a few people at Renault," he said.
"Then after that, go home, go to Australia, switch off for a bit. It's been a long season, so looking forward to going home and just talking to the sheep and the cows on the farm and not doing a whole lot for the first few days… They get me."
Horner on Ricciardo: 'He's such a big personality'
Red Bull team boss Christian Horner has often stated his belief that the line-up of Ricciardo and Verstappen was one of, if not the best on the grid, and told reporters after the race that he'd be sad to see Ricciardo leave them.
"He's been great," said Horner. "We've seen him grow from when he first arrived in Europe as a 16-year-old, and his progression through the junior team, through Toro Rosso, into Red Bull Racing, 100 races with us, seven victories. He's such a big character as well. We'll miss him, we wish him all the very best for the future but it's been a blast having him in the team."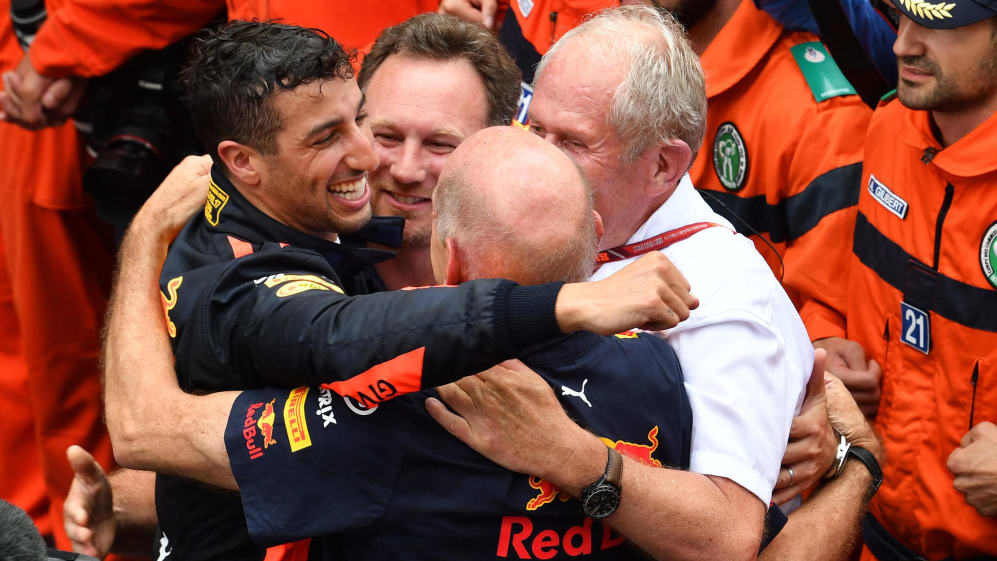 Asked whether he felt the team had given Ricciardo a bad hand in 2018 – with the Australian having suffered seven mechanical DNFs this season which derailed his early season title aspirations after wins in China and Monaco – Horner argued that it was Renault-related power unit issues rather than anything the team could control that had caused the majority of Ricciardo's problems.
"He had a really rough second half of the year," said Horner, "but unfortunately the majority of those issues were power unit related, which we had no control over. It's been hugely frustrating for him, for the team and last year Max had similar issues as well. It's hugely frustrating and something that we hope with the change of engine partner [to Honda in 2019], with the progress hopefully they make, that it becomes far less of a factor next year."
Ricciardo ends his time with Red Bull with seven victories and 29 podium places to his name. And having seen his new Renault team romp to fourth in the constructors' battle in Abu Dhabi, their highest finish since returning to F1 in 2016, he'll be keen to help the team progress even further up the field, and see if he can taste champagne from a yellow and black boot in 2019…