Ricciardo sets sights on Gasly's P4 in critical start at Imola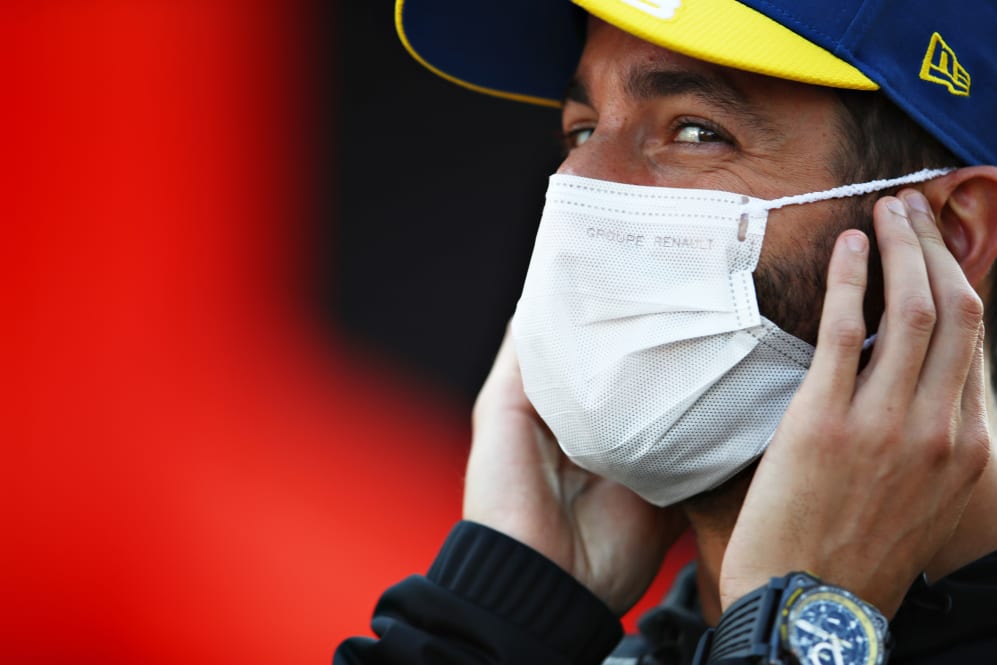 "That was my best Q3 lap of the year," said a delighted Daniel Ricciardo after qualifying an impressive fifth for the Emilia Romagna Grand Prix, who is now focused on beating Pierre Gasly's AlphaTauri off the line on a track where he appreciates it'll be tricky to overtake…
Ricciardo had an exciting qualifying session in Imola, first leaving it late to set his best lap in Q1 and then improving when it mattered in the top-10 shoot-out, rising from eighth to fifth in the final few moments.
READ MORE: Bottas beats Hamilton to take pole at Imola as Verstappen survives Q2 scare to take 3rd
"That was wow," said Ricciardo. "I'm still smiling. That was such a fun lap. I'm very happy with the lap and the result. Even that aside, pushing the cars around here, doing those lap times, is fun. It's a serious circuit, it really is. It's that combination - it's narrow, it's tight, it's fast.
"There's chicanes, but chicanes you can attack the kerbs. Not sure what it is with race cars and race drivers, there's something about taking kerbs and really throwing the car around, it shows a bit of personality in a way. It felt like a fun ragged aggressive session which we could manhandle. Q3 was awesome, that lap was my best Q3 one of the year."
Gasly is a target. If we can get him at the start, fourth is a serious chance for us
He'll line up fifth on the third row, one place behind the AlphaTauri of Pierre Gasly, who was consistently fast through all three segments in qualifying. Though the drivers love this track, they appreciate overtaking will be tricky, which is why Ricciardo knows his start will be crucial if he is to jump Gasly.
READ MORE: Gasly dedicates P4 at Imola to Senna after equalling best ever qualifying performance
"I didn't really get a long run in this morning, so I don't think we know too much for tomorrow, but saying that, everyone is in the same boat so I'm not too concerned," said Ricciardo.
"Gasly is a target. If we can get him at the start, fourth is a serious chance for us. That's what we'll try and capitalise on tomorrow. As fun as it was today, I do think it's going to be trickier in the race as far as overtaking [is concerned] - it is narrow, hard to find an alternate line when following a car. We qualified well, that's box number one ticked. We'll try and execute a good 300-400m tomorrow."
Ricciardo's fifth on the grid is only his fourth top-five start in 13 races this season and also the 11th consecutive race in which he has outqualified team mate Esteban Ocon. He's now looking for a seventh consecutive points finish.