Ricciardo to get new Renault chassis after damaging original on kerb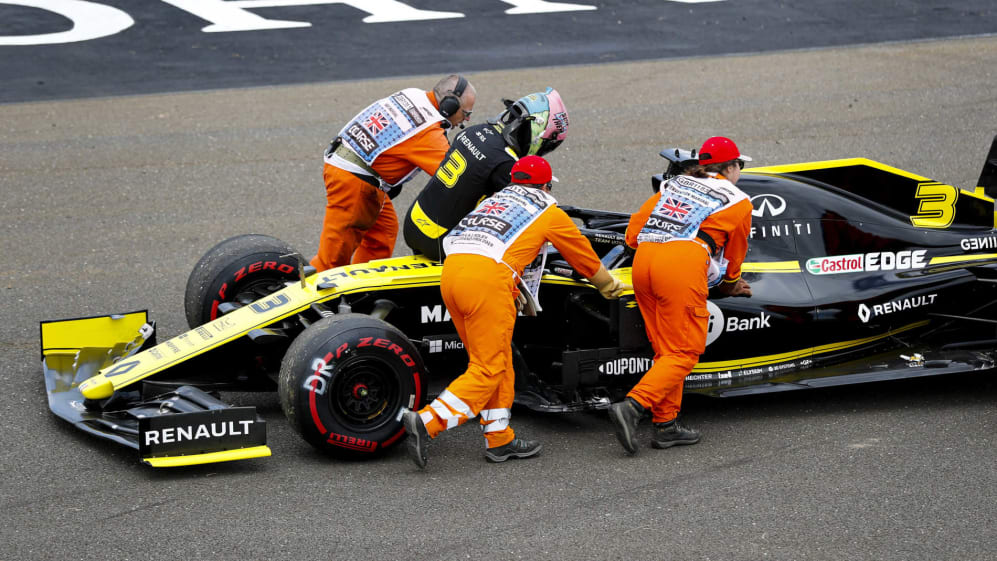 Friday at Silverstone proved a bit of a mixed bag for Renault. Having finished the first session with both cars inside the top 10, they then fell back down the order in FP2, with Daniel Ricciardo also stopping on track with an engine issue. And worse still, the team then found a small crack on the Australian's car - caused by running over a kerb - that will necessitate a chassis change.
A long night for Ricciardo's mechanics then, but fortunately for the seven-time Grand Prix winner, he won't face any grid penalties for either the change of chassis or switch of engine – the tub change coming prior to parc ferme conditions being established, and the 'new' engine being a previously-used Spec B unit that Renault always planned to revert to after practice.
"We have some work to do following today's sessions, but I'm sure we'll get there," said Ricciardo, who finished FP2 one place ahead of team mate Nico Hulkenberg in P14.
"I don't feel we will have a difficult weekend ahead. We didn't really make the improvements we felt we could have done in FP2 so we have a bit of homework tonight but I'm still optimistic that we will be better than what we showed today."
Nick Chester, Renault's Chassis Technical Director agreed that it has actually been a 'pretty good first day of running' for the Enstone-based team, despite what the FP2 timesheet appeared to show.
"FP1 was useful as we tried some things that gave us some direction on set up, particularly for the high-speed corners," he said. "FP2 was similarly fine, but we got caught in some traffic, otherwise we would have been further up the order.
"Daniel unfortunately stopped early with an engine problem; he was running a Spec A and will revert to his Spec B as planned and previously introduced. We have a few things to do ahead of tomorrow's running, but it's super tight so finding just a little bit will put us squarely into Q3."
The last time both Renaults appeared in the final segment of qualifying was Canada, three races ago. They currently sit fifth in the constructors' championship, 20 points behind McLaren.