Podcast
Rob Smedley on life as an F1 engineer and working with Massa and Schumacher
The Abu Dhabi Grand Prix saw a host of fond farewells, but one that flew slightly under the radar, amid Kimi Raikkonen leaving Ferrari, Daniel Ricciardo leaving Red Bull and Fernando Alonso bowing out of F1 altogether, was the departure of Rob Smedley from Williams.
The English engineer has been a fixture in F1 for 20 years, working with Jordan, Ferrari and latterly as Williams' Head of Performance Engineering. But Smedley is perhaps best known to most fans as having been Felipe Massa's long-standing race engineer, and on this week's episode of Beyond The Grid, the official F1 podcast presented by Bose, he opens up about working with the Brazilian – including the aftermath of the dramatic title decider in 2008.
Despite sealing victory in the season-ending Brazilian Grand Prix, Massa ended up losing that year's drivers' title to Lewis Hamilton by just one point – something Smedley admits was extremely tough to take having gone toe-to-toe with the McLaren driver all campaign.
"The emotion came out when you stop working, you take your headset off and you sit down," he said. "I found that 'this feels a bit funny, this doesn't feel like a normal win or loss – this actually feels much more profound than that.'
"Then I got really emotional and I actually went away and cried for about an hour. I was on my own - I just found a little quiet part of the garage that was kind of boxed off. And every so often I'd compose myself and think 'yeah, I'm alright now' and then I'd start crying again. It took me about an hour to compose myself, because it was just that intense emotion of competition for a full year, and I think I would have been like it if I'd won it to be honest. I'm convinced.
"You've kind of put your mind, body and spirit into it, and nothing else has mattered for 12 months. Then the emotion comes pouring out afterwards."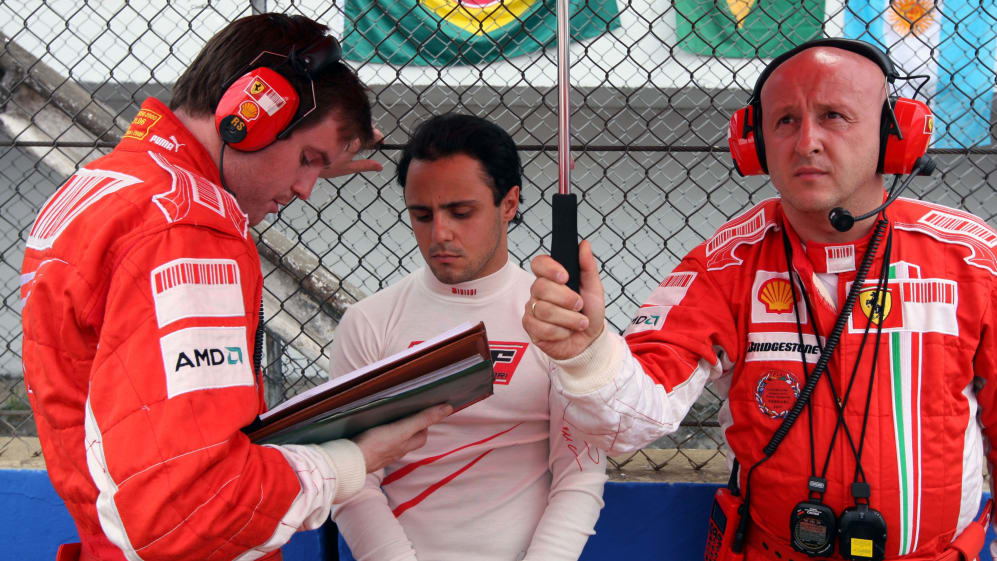 In an open and honest chat to host Tom Clarkson, Smedley also discusses how he felt when Massa was critically injured during the 2009 Hungarian Grand Prix weekend, how he felt issuing controversial team orders, what it's like to work for Ferrari as a non-Italian, and the genius of Michael Schumacher – a man Smedley remembers fondly as "a senior manager who just happened to be able to drive a racing car extremely well".
So, having heard from drivers and team bosses throughout the series, get ready to hear from someone with a different perspective. You can listen to the episode in the player above, or via Apple Podcasts, Spotify or your favourite podcast app – and don't forget to subscribe to make sure you don't miss out on future episodes.
To listen to all the episodes to date, meanwhile, including conversations with the likes of new Ferrari driver Charles Leclerc and incoming Williams driver Robert Kubica, click here.