Russell given 3-place grid drop for Kvyat Q1 block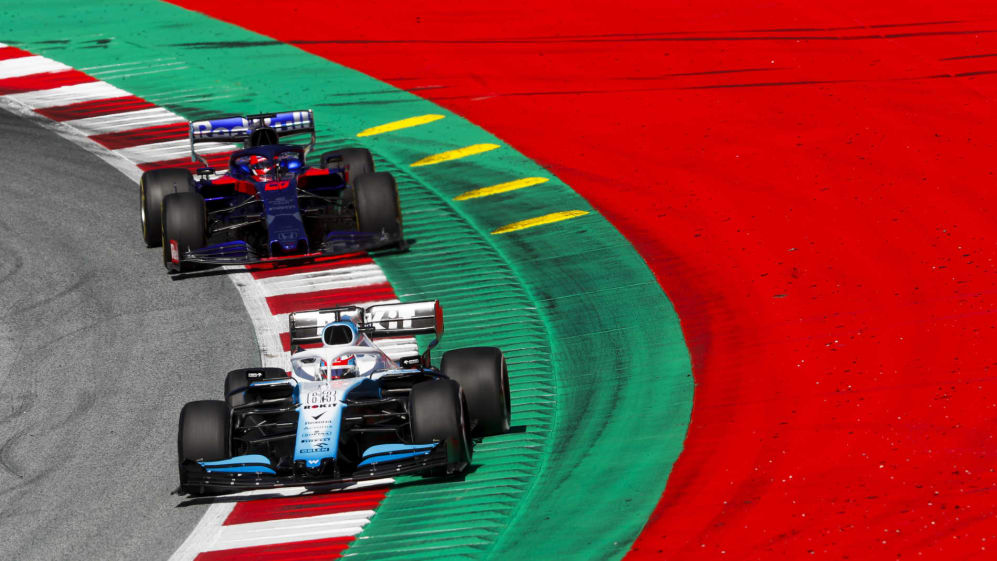 Fans at the Austrian Grand Prix nearly witnessed a nasty incident in the first segment of Saturday's qualifying when Toro Rosso's Daniil Kvyat bolted around the super-quick right-hand flick at Turn 9 only to find George Russell's Williams right in front of him.
Russell had found himself off line after being overtaken by Kvyat's team mate Alexander Albon, as the cars jostled around for track position ahead of their final Q1 attempts.
On rounding the corner and discovering the slow-moving FW42 in his path, Kvyat, with super-quick reflexes, dived his STR14 into the run-off area to avoid a collision, before angrily yelling at his engineer over team radio: "I could have killed him". Once Q1 was over, the Russian – who failed to improve on his time thanks to the incident, ending up P18 – then took to the radio once more, saying that he believed Russell deserved a penalty.
The stewards clearly agreed, and having considered the matter after qualifying, duly handed out a three-place grid drop to Russell, while endorsing the 2018 F2 champion's Super Licence with one penalty point.
"The Stewards reviewed video evidence and heard from the driver of car 26 (Daniil Kvyat) and the driver of car 63 (George Russell) and the team representatives and determined that car 63 unnecessarily impeded car 26 after the apex of Turn 9," ran their report.
"The Stewards noted that car 63 was not given the requisite warning by the team in a timely fashion about car 26 approaching on a fast lap. Furthermore, the situation was compounded by car 23 [Albon] overtaking car 63 during a slow lap, just before the incident in question."
"It is very frustrating, added Kvyat. "The feeling with the car was good throughout the session and I was on a good lap time which would have put me through to Q2. It's a shame not to be able to show what the car was able to do today due to these things which are out of my control."
So a tough lesson for rookie Russell – and while a grid drop for Williams hasn't tended to have many ramifications this year, the Briton had probably been looking forward to starting slightly further up than usual in Sunday's race, given that the likes of Carlos Sainz and Albon were set to start Sunday's Austrian Grand Prix from the back of the grid after taking new power unit elements.