Sainz blames qualifying 'games' for domino effect that led to Q3 crash
Ferrari's Carlos Sainz said he lost out on a chance to take pole position for the second race in a row as Yuki Tsunoda's crash ended Q3 prematurely in Azerbaijan – and blamed a "massive traffic jam" caused by others for his own accident at the end of the session.
The Spaniard cut a disappointed figure on Saturday afternoon in Baku after AlphaTauri rookie Tsunoda ended Q3 early, leaving him fifth on the grid and team mate Charles Leclerc on pole once again.
READ MORE: 'It was quite a **** lap' says Leclerc, despite taking second pole of season in Azerbaijan
Moments after Tsunoda's crash, Sainz locked up and spiralled into the run-off area of the same corner (Turn 3). On Saturday at Baku, he explained what he perceived to be a chain of events that led to his own accident.
"Well, I started the lap too close to Yuki," he began. "There was a massive traffic jam in the last three corners, like we all expected, but the FIA tried not to afford this to happen – but there was someone up front playing games and we were all in a massive jam.
"But I started the lap too close, I was very quick through Turn 1 and Turn 2, and then I saw Yuki locking up and crashing in front of me. I had doubts whether to try and do the corner and continue my lap, or hit the brakes harder and avoid the crash, and in the end, by trying to do one or the other I ended up crashing myself, no?
"But [it's] a bit of a shame, because it shouldn't have happened and it's again another quali, another missed opportunity," he added, alluding to a similar incident in Monaco last time out, where team mate Charles Leclerc crashed out from pole position and cost many others a shot at P1 on the grid.
READ MORE: Verstappen curses 'stupid' qualifying in Baku as he loses another chance of pole to red flag
Sainz couldn't hide his pain on Saturday as he saw another chance at taking pole position slip through his fingers in a second consecutive race weekend.
"I'm disappointed today," he continued. "Again, it hurts, because it's two consecutive weekends that we could fight for pole position and there's always something happening in front of me, which is very disappointing – I'm not going to lie.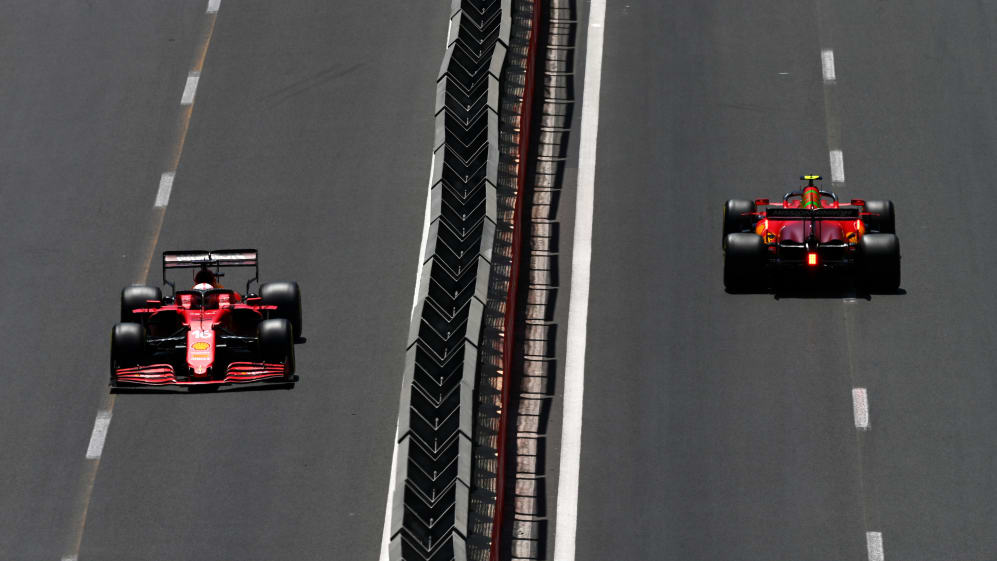 "At the same time, happy for the team, happy to show that we are getting better and I will try to recover tomorrow," he concluded.
Leclerc starts on pole once again, and this time he has no worries that damage from a qualifying crash might prevent him from starting the race. On the other hand, Sainz starts fifth, and has what seems to be minor damage for his team to inspect before lights go out on Sunday in Azerbaijan, following his hit with the barriers at the end of Q3.