Sainz: First points of the season a 'relief' after seventh in Baku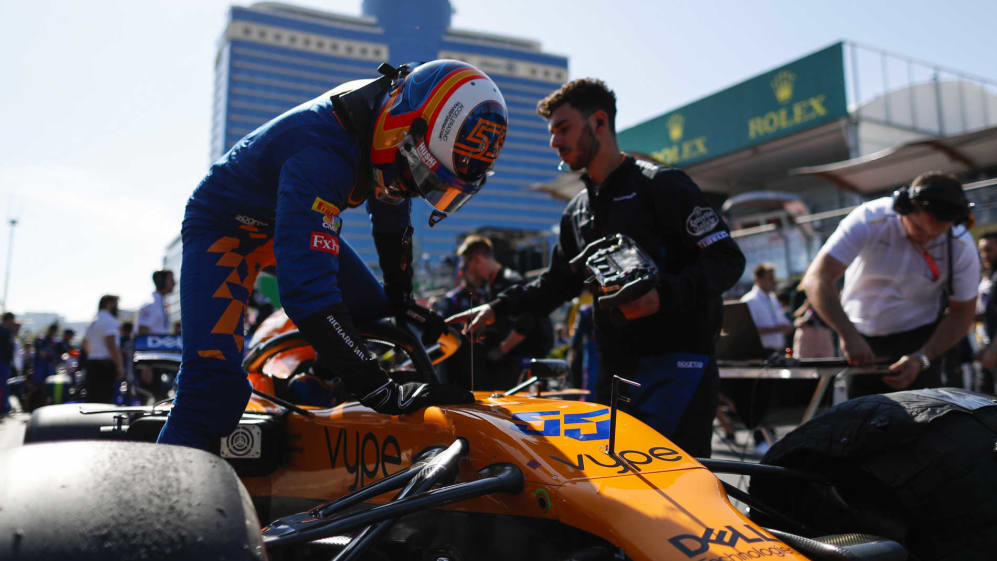 Carlos Sainz has shown impressive turn of speed in the opening three races of the season, but came away from each empty-handed. At last, he was rewarded in Baku, taking seventh place as McLaren got both cars into the top 10. It's no surprise, then, that he was pretty relieved...
It looked like it could be another of those weekends when Sainz's quick lap in the second segment of qualifying – that would have highly likely been enough to get through to Q3 – was ruined by a yellow flag that meant he had to back off and ended up 11th.
That became ninth on the grid, courtesy of penalties for Alfa Romeo duo Antonio Giovinazzi and Kimi Raikkonen, and he promptly showed good pace throughout, making up two places, but just running out of steam to catch and pass Sergio Perez's Racing Point.
"On a personal level this one is a bit of a relief after three races where I had the pace I had today," said Sainz. "I still don't understand three consecutive runs of bad luck happened to us. Today we didn't have any issues and we just demonstrated what we are capable of doing.
"We had great pace all weekend really, it's a shame that I couldn't use it in qualifying because of yellow flags, but today within eight laps I was back to where I wanted to be which was attacking the Racing Point in front.
"Since then we showed really good pace, we were managing the tyres to the end behind Lando and Perez. That Safety Car gave Perez an extra half a second, second of lap time and we couldn't pass him, but in general I'm very happy.
The result means Sainz has finished eighth or better in his last three appearances in Baku. And with Norris backing him up in eighth, it meant McLaren scored 10 points – their highest total since Bahrain 2018.
Norris had been running ahead of Sainz on the road, but McLaren opted to roll the dice and pit him under the VSC, which dropped him back one place.
"I'm pretty happy," he said. "It could have been a little bit better, I was in seventh. We tried something after the VSC hoping that the other guys tyres weren't going to turn back on as easily as what they looked like they did.
"But yeah apart from that there wasn't a lot more we could have done, so a double points finish I think we can be very happy with."