Sainz pleased with P7 after admitting McLaren surprised by rivals' upgrades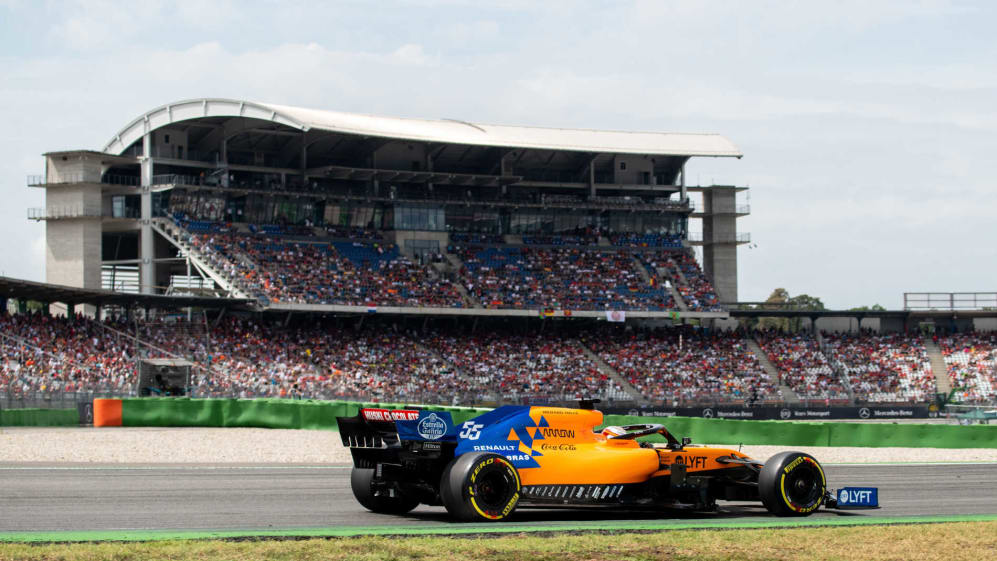 McLaren have been in a rich vein of form recently, the papaya cars solidifying themselves as the fourth-best team on pure pace. But they were surprised by the progress rivals made with their German GP packages at Hockenheim – which is why Carlos Sainz was pleased to take seventh in qualifying.
McLaren appeared to have fallen behind Haas, Racing Point, both of whom brought big updates, as well as Alfa Romeo and Renault after a very hot Friday practice, but hauled themselves back into contention in final practice and despite the conditions heating up for qualifying, Sainz made it into Q3 again.
"It's a very good starting spot especially after a tough Friday, where we were a bit surprised by the upgrades of our rivals," said Sainz, whose seventh on the grid gives McLaren their fifth consecutive top-eight finish.
"Kimi (Raikkonen), Haas, Racing Point – the whole weekend they have been stronger. Then in FP3, we did a good step forward with the cooler temperatures, but as soon as the sun came out in qualifying, the car started to feel similar to Friday. Thanks to a good reaction by the team, we put the car in a good window for qualifying and we managed to sneak through to Q3 and start P7."
Considering qualifying has been something of a weak point for Sainz this season, with McLaren team mate Lando Norris - 16th on Saturday - leading the head-to-head seven-three. But after hard work at the factory post-Silverstone, focused specifically on qualifying, Sainz improved that record in Germany.
"We did our homework back in the factory after a tough Silverstone and after not even competing in Austria," he said. "Maybe I just needed to get a normal qualifying to feel the rhythm back. Today proved that doing your homework pays off. We learned a lot last week, we put together a very solid qualifying."
Sainz knows converting seventh onto the grid into the same position on Sunday will be challenging, given Ferrari's Sebastian Vettel and Charles Leclerc are starting behind after reliability problems in qualifying.
"It's going to be good fun to race them," said Sainz. "A realistic position is P9, with Seb and Charles out of position."
His team mate Lando Norris was knocked out of Q1 and will line up 16th on the grid. Speaking to reporters after the session, he took the blame for the result, while his team later reported a battery pack issue cost him time.
"I got everything from the car, I just didn't put it together," said Norris. "I missed out by such a small amount. A small snap cost me getting into Q2. It was nothing huge, I just didn't put the lap together.
"It's not like we didn't have the pace – the pace was there. It's the first time this year where I haven't put it together, and done what I'm here to do. It's frustrating because Carlos is into Q3, so the car has potential."