Steiner: Haas rivals Renault will also be 'scratching their heads' after Baku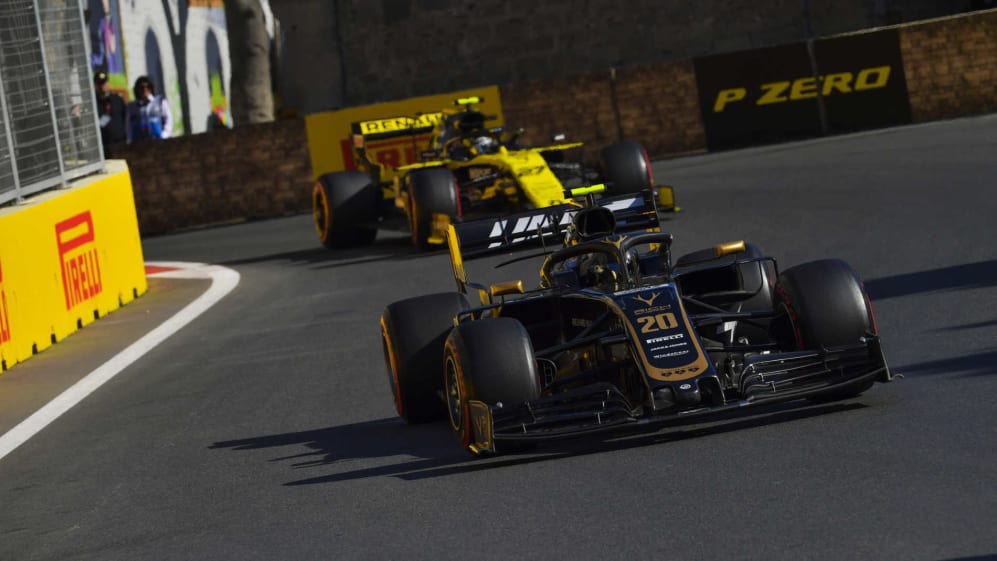 Haas and Renault may have fought a fierce battle at times last season, but the former's Team Principal Guenther Steiner has some sympathy for his French rivals after both squads struggled in Azerbaijan.
After suffering issues getting the Pirelli tyres to work at two of the first three races this season, Steiner had primed himself for a tough weekend in Baku even before practice started. His pessimism turned out to be well-placed, with neither Kevin Magnussen nor Romain Grosjean reaching Q3 or ever looking a serious threat for points,
But with Renault also enduring a difficult race – Daniel Ricciardo retired in unusual circumstances and Nico Hulkenberg was a lowly 14th – Steiner says both teams will be trying to understand how to unlock more pace from their respective cars ahead of Spain.
"At the moment it's still very close in the midfield because everyone is suffering the same problem one day or another," Steiner said. "There is nobody who is completely in control of what we need to do. Each race you go along and you say 'Oh they just gained a few points on us', but a few points after a while is a lot.
"So you need to be careful, you cannot be too positive about it. It's not a positive, but Renault will be scratching their heads as well as we do. We have the fastest cars but we are now at the back."
Despite predicting an uncompetitive weekend, Steiner says it doesn't make the form Haas showed in Azerbaijan any easier to take, with Magnussen finishing just ahead of Hulkenberg in 13th, and Grosjean retiring with brake problems.
"It's still never good when you get the disappointment. So it is quite disappointing. Or very disappointing.
"Other people can get it to work so we need to get it to work. There's no point saying 'Oh, it's not working'. Nine teams can get it to work. Who's better? Who's worse? We are absolutely the worst one to get it to work. I'm very conscious about that one.
"We will fix this problem, obviously, it's just like we were fast at the test, we were fast in Australia, we qualify… But at the moment we seem not to get it right.
"Everyone has got issues with the tyres, you can see it. You go into the graining phase, and then when we go into the graining phase we cannot get out of it anymore because our tyre then gets too cold and then we are done. Then we slide around.
"We've got four or five laps, we go fast, then the graining starts to go and then other people recover after the graining but we don't, because our temperature is too low and we just cannot get it to work anymore once the graining clears."
Haas were strong during pre-season testing in Barcelona, but Steiner says the recent struggles mean he is not taking an improved showing in Spain for granted.
"Well my confidence level at the moment is not very high, obviously, as you can imagine! Confident? No. We need to see where we are going [to improve]."