Stroll explains pit lane problem that robbed him of final Q2 run on 'tough day' in Sochi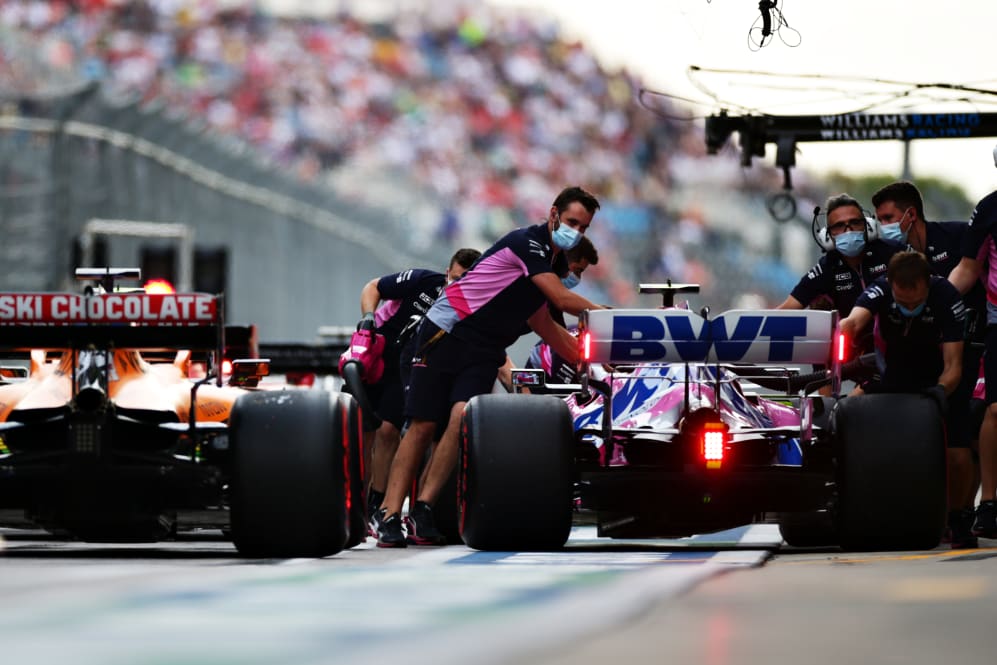 Lance Stroll was forced to play spectator in the second half of qualifying for the 2020 Russian Grand Prix, after an overheating issue on his Racing Point RP20 ruled him out of the final runs in Q2. But even without the issue, the Canadian driver admitted that he hadn't been in the groove around the Sochi Autodrom so far this weekend.
Stroll had ended up a disappointing 17th in Free Practice 2, and trailed team mate Sergio Perez across all three free practice sessions, despite running a significantly updated aerodynamic package compared to the Mexican.
READ MORE: Hamilton survives Q2 scare to beat Verstappen to Russia pole, as Vettel crashes heavily
But any chance Stroll had to deliver a riposte to Perez in qualifying was taken away in Q2 when, with Ferrari's Sebastian Vettel having brought out the red flags after crashing at Turn 4, Stroll was forced to switch off his engine while queuing in the pit lane for his final run in the segment, his mechanics wheeling him back into the garage and out of the session.
"It was a tough day," said Stroll, with Perez having gone on to claim an impressive P4 for the team. "We were all set for the final few minutes of Q2 and raring to go after the red flag. Sadly, the engine was overheating while we were in the fast lane so we took the precaution of switching off the car.
"It's frustrating because we've made it into Q3 consistently this year. I've not quite found my rhythm here yet; I just need to put together the finer details and come back stronger tomorrow. It's not easy to overtake here, but we have a quick race car. If we can get a good start and make some early progress, then it's all to play for in terms of points."
Meanwhile, Racing Point CEO and Team Principal Otmar Szafnauer admitted that Stroll had been left in the pit lane queue for a lengthy period due to the team attempting to "second guess" when the red flag period would end – adding that the Canadian "deserved more" from his Saturday in Russia.
READ MORE: 'I tried to take more risk' – Vettel explains reason for big shunt in Q2
"We tried to second guess when the session would restart," said Szafnauer. "Unfortunately, the power unit was overheating and we asked Lance to switch the car off. He deserved more from today, but he will be strong tomorrow, and at least he will get a free choice of tyres for the start of the race."
A good recovery drive from Stroll would be very welcome from his team on Sunday, meanwhile, with Racing Point currently 14 points adrift of third-placed rivals McLaren in the constructors' standings – with the Woking team having got both of their drivers into Q3 – with eight races left to run this season.