Interview
SUNDAY CONVERSATION: Damon Hill on the significance of his maiden GP win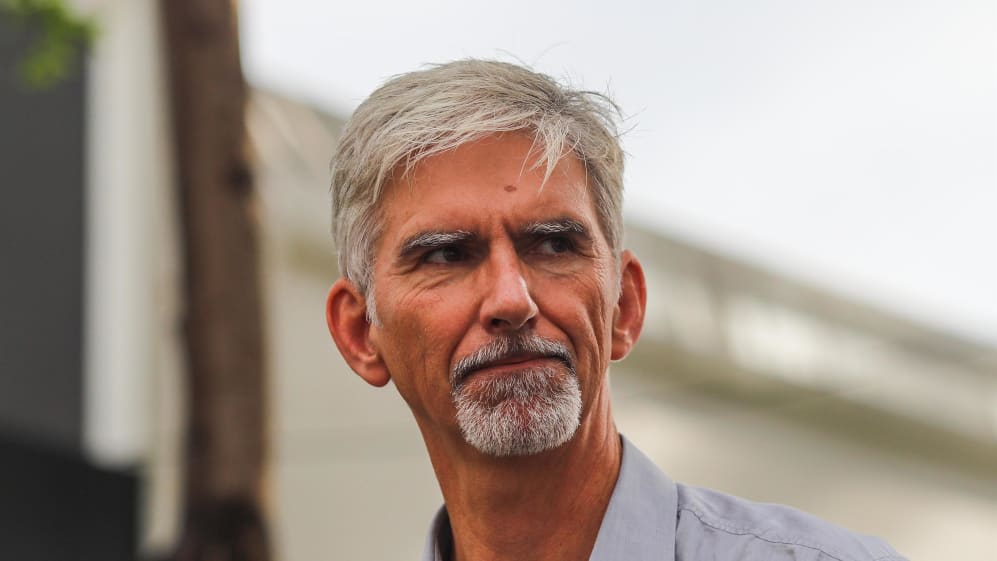 Twenty five years ago, a 32-year-old British driver made Formula 1 history in Hungary. That man was Damon Hill, who followed in his father Graham's footsteps by winning a Grand Prix. So how did it feel to finally stand on the top step of the podium? And does he have any regrets? David Tremayne sat down with him to relive the race...
He's always been the cerebral type, Damon Hill. The man whose face is wooden whenever he finds himself in the limelight. Sometimes you can see that when he's doing things for Sky TV. Reflecting recently on his breakthrough Grand Prix triumph, for Williams-Renault 25 years ago in Hungary, he laughed at his own behaviour.
"I'm not good with accolades or being pointed out as someone special. I think that might have come from when I was very young and didn't want to stick out like a sore thumb, but people would say, 'oh there's Damon Hill, his dad's Graham Hill.' I didn't like being, you know, identified."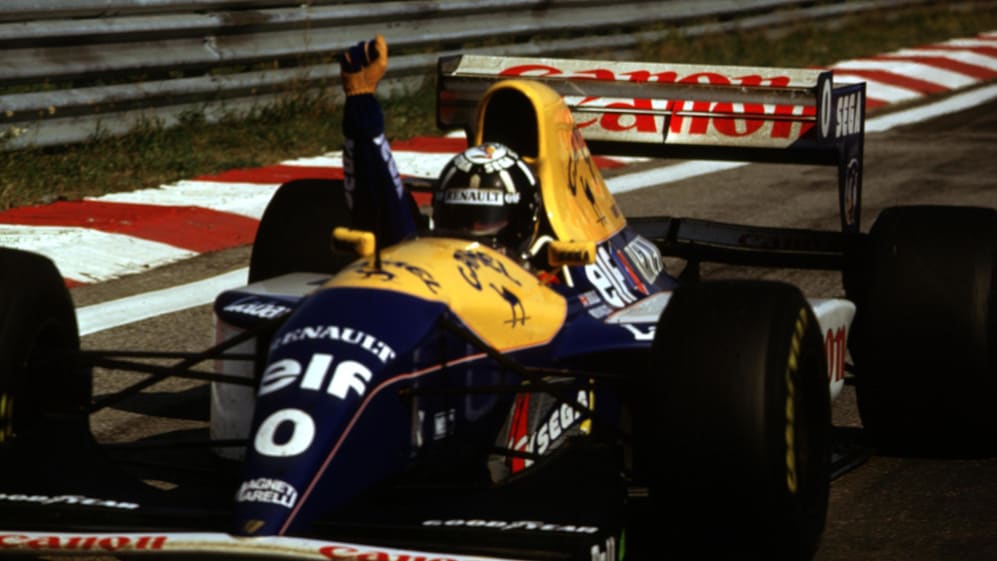 As he crossed the finish line at the Hungaroring in 1993 to become the first world champion's son ever to win a Grand Prix, he was 71.915s clear of runner-up Riccardo Patrese. Ever contained, he merely raised one arm from the cockpit to salute the first of the 22 chequered flags that he would reach ahead of anyone else in a great and oft-underrated career.
It was a popular victory, and it came at precisely the right time.
Ayrton Senna was already Williams-bound and Hill's 1993 team mate Alain Prost was headed for retirement. Frank Williams and Patrick Head were considering who should partner the Brazilian for 1994. The answer now stood before them, a metaphoric garland around his neck.
"I can hardly find the words to explain how I feel at winning," Hill said at the time. "It is such an overwhelming feeling." And he admitted that his late father, the great double champion and Le Mans and Indianapolis 500 winner, had spoken with him in the closing laps. He made a quiet but heartfelt dedication of his first triumph, "to the Hill family, past, present and future."
Later that week he admitted that it wasn't until he picked up the Monday newspapers that he really began to believe that he had won his first Grand Prix; how he had listened intently to every noise in the closing laps, terrified that the problems that had robbed him of victory in the preceding races at Silverstone and Hockenheim might recur; that he had noticed retiree Senna watching him from the chicane; that he felt very alone, despite the knowledge that millions of people around the globe were watching son emulate father.
"You try not to let yourself even think about the possible result. You have to remain in the present and concentrate on what's actually happening. But when you are running on your own, all sorts of things go through your mind. It can't be helped. It's a strange feeling.
"I hadn't won a race for five years and to be honest, I wasn't sure what the procedure was. Riccardo helped me through it. To a certain degree I took his place at Williams, but he was very sporting and congratulated me and then pointed me in the right direction. I must have been in a bit of a daze."
Had he begun to wonder, after Silverstone and Hockenheim, if it was never going to happen for him?
"I never thought like that because I always took the view that if you keep knocking on the door of opportunity, eventually it'll open. And if it doesn't…"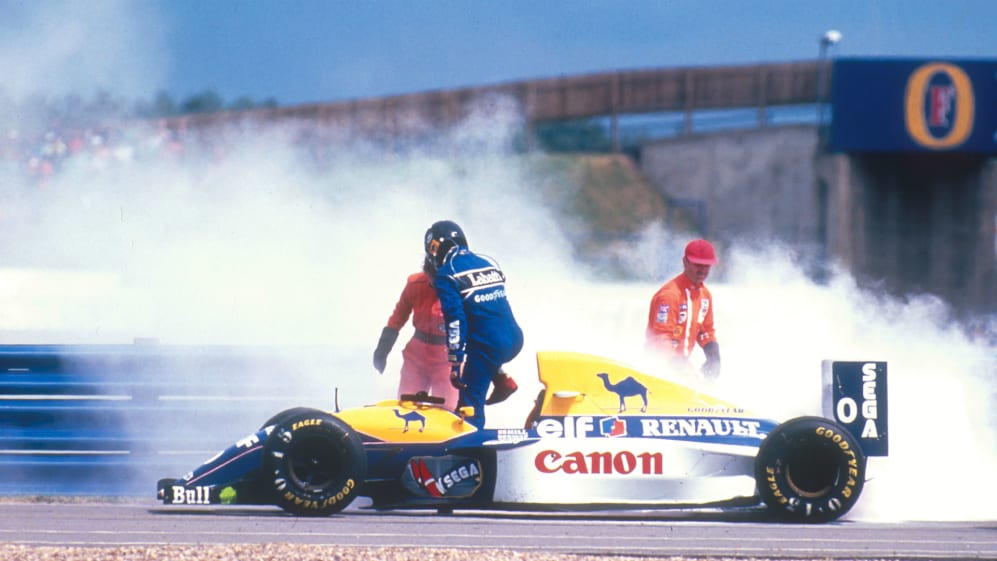 He burst out laughing.
"The way that you look at it is, if you had a failure, a puncture or whatever happened, and you really thought that was your one and only opportunity gone, well… You really can't look at it that way. As these things happen it's like you build a kind of debt of luck, and eventually it's paid back to you in some way. It lands in your lap, you know. And that's actually what did happen, of course."
That success at Hungaroring was a massively emotional moment, for there was so much more to the story than a driver taking his first Grand Prix victory. This was the son of a champion - a departed champion at that - emulating his much-loved father, though he hated it when people thought he was emerging from a paternal shadow. It wasn't like that at all.
"I think winning was just a kind of high," he admits. "It was a massive milestone, to have won a Grand Prix just like my dad did. I mean, as much as I would love to have had my own career as a standalone, it wasn't ever going to be like that. It was always about my genes, because I was following on, and the story was continuing. It was a legacy thing, there's no way around it.
"And I proudly wore my dad's crash helmet, not because I wanted to poach some of his fame or anything, but because I genuinely wanted to. It was a bit of heraldry, you know? I wanted to carry the banner. And I was very, very proud to have got the opportunity to win a race and say, 'okay, the Hills might be down but they're not out.' You know, they'll always come back."
He laughed again, and we discussed the fact that he'd proved to himself several times before he did eventually win, that he really could.
"It's a curious thing. I think some people are unbelievably confident, to the point of almost being in denial of any faults whatsoever. And with them it's easy to see everything as being predestined. And so, of course, that's what was always supposed to happen. And I always thought that's a kind of a dangerous place to be.
"So I always had a degree of circumspection about the whole thing. Not self-doubt, but circumspection. I was curious to see how well I could do. And I think that in this world that can be interpreted as a lack of confidence, and that's not gonna help you."
One of Damon Hill's most endearing traits is that he has always been a thinker, but he has been neither arrogant nor boastful of his heritage. But he paid a price for that circumspection in certain sections of the media, who mistook that for weakness.
"That sort of super-confident approach can pay dividends because it does affect those you compete against, because they don't like it when somebody is clearly exuding confidence and almost arrogance. And certainly Michael [Schumacher] did that, and it rubbed against many people. But when you are like that and you win, you get a double whammy because you've said beforehand. 'Yeah, I'll win, that's what I do.'
"What's the phrase? You can convince some of the people all of the time or all of the people some of the time.
"But I liked Fangio's quote: 'You should always try to be the best, but never believe that you are.' In other words, there's never a finish, you are always trying to improve the whole time.
"For me, I literally hadn't got a drive in 1989. I was out of a job.
"So, to suddenly find myself later in a Grand Prix car, leading Grands Prix… It wasn't a plan. It was just amazing how it happened. There was never any sense of preordained destiny. If there is anyone out there organising this, I'm very grateful to them because they were very kind to me.
"Actually, there were so many times that I should have given up. But it's like golf… I can't give it up. I'm on the verge of giving up nearly every week. But I can't do it. With racing, I should have stopped. I was 29, had no job, had just had a child with Downs Syndrome, had a mortgage at 17%... But I didn't give up."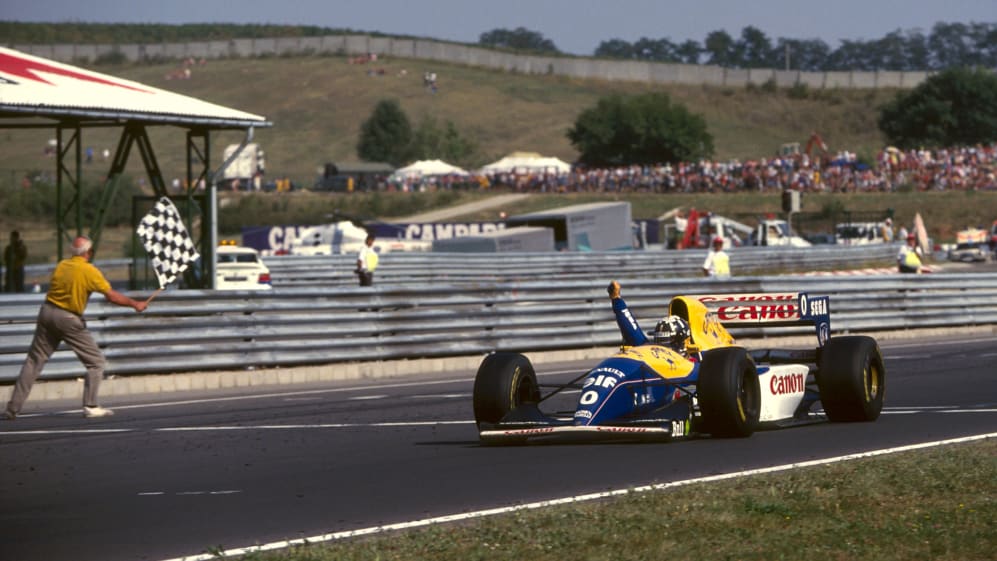 Damon's late mother Bette was always one of his biggest fans, and we chuckled over the aggressive way she defended her boy, often with critical postcards hand-written in haste.
"I think she was thrilled when I won. As you know, my mum was no different to the other parents that have supported their children in this sport, or any other. And, they can be a liability at times because their enthusiasm and their loyalty to their child sometimes makes them blind. So it could be a difficult one to deal with, especially as it was my mum who had put the idea forward to me of the Winfield racing school.
"But she had got a unique talent for saying the inappropriate thing to the wrong person."
More laughter.
"Well, maybe it was the appropriate thing, but to the wrong person at the wrong time. She was so loyal. But I'd actually taken the decision that I needed to have some distance, so she wasn't in Hungary. I guarded my career quite jealously and cautiously. I didn't want anything to upset things. She would complain to Patrick, and a load of other people I raced for. She would write to the Prime Minister. She was that kind of person. She had loud writing! It would be like it was shouting at you. I spoke to her soon afterwards. You remember I dedicated the race win to past, present and future Hills, and she was happy with that. And delighted for me. But she was a little bit like a racing driver, she was always wanting more for me."
Yet more laughter.
"But I'm sure she was absolutely over the moon, completely proud of her boy."
The over-riding emotion that he felt that evening, as he left the Hungaroring, was a kind of very quiet inner calm, rather than knee-jerking elation.
"And a sense of being at peace with oneself. Because you are in a battle with someone for the whole time in these competitions. In life we all are. You know, when you put yourself in competition there's one part of you that's going, 'you silly w****r, you've messed it up again,' or 'you're a real idiot.' And there's the other part of you that's going, 'don't listen to him!'
"So, when you win the guy who says, 'I told you that you could do it, you should just trust me,' - that's who you kind of make your peace with and that's the guy that you satisfy when things go right."
That's why there was no leap from him on the podium in Hungary, as there usually was from Schumacher.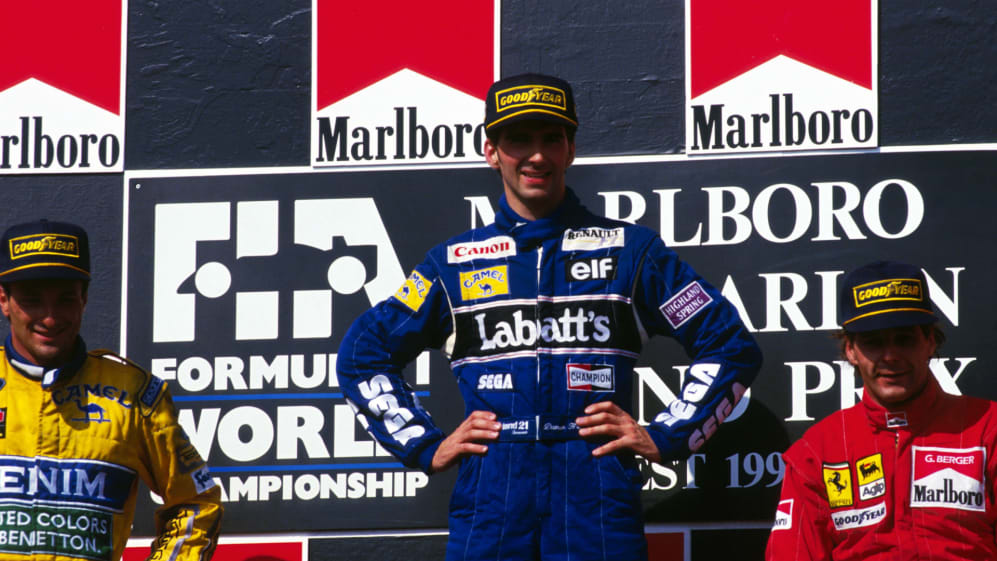 "I didn't do the jumping," he admits. "I took an awkward bow, didn't I? But Michael was right, because we should be celebrating on the podium. We're Formula 1 Grand Prix guys! But you can only be who you are. Nobody likes to see a glum face on the podium. If something awful has happened, yes. But generally speaking we should all be celebrating.
"You have to accept praise gratefully, don't you? It's a gift. If someone else gives you something, you have to be really thankful for that. It's just that the spotlight makes me feel a little bit awkward."
Damon Hill has always been true to himself. There's been no trading on family fame, just a quiet pride. And a small measure of regret that prompts an apology.
"I want to apologise to people who applauded me and I didn't appear terribly grateful or grateful enough or happy enough to receive the plaudits, because I just feel uncomfortable in those situations. Like, 'I think there's been a mistake, I don't deserve nearly as much as this.' And because, you know, I really don't. I only ever did it for myself!"
Or, rather, to retrieve with honour what a shattered family had lost on Arkley Golf Course on a cold and foggy night in late November, 1975.