Interview
SUNDAY CONVERSATION: Tonio Liuzzi on beating Schumacher and his up-and-down F1 career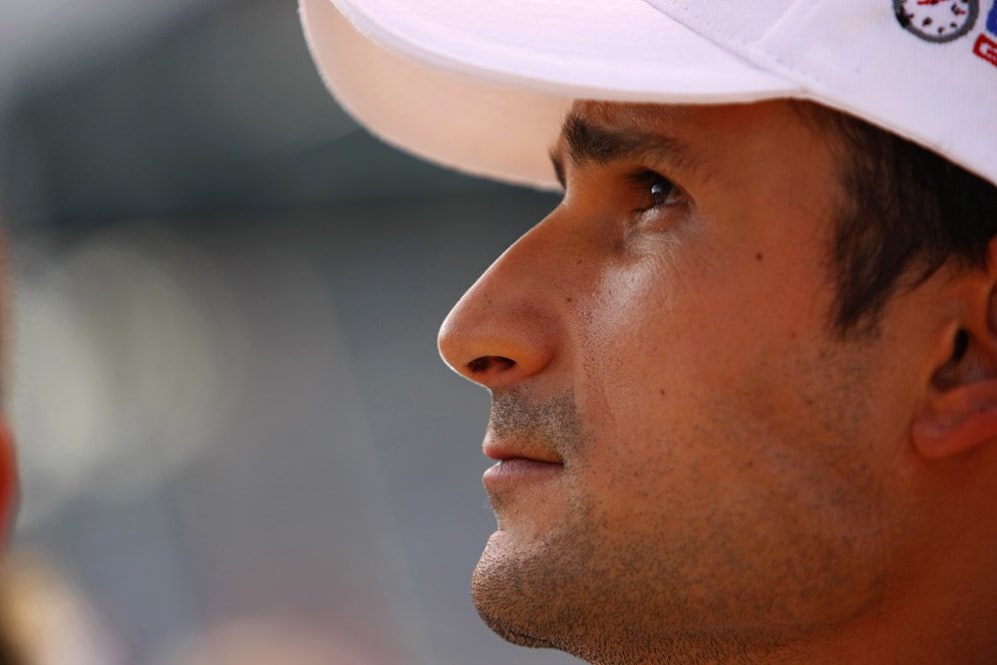 Some think Vitantonio Liuzzi was the most underrated driver in F1, others that he should have been working in a disco. In Monza, David Tremayne met up again with the man who beat Michael Schumacher to the world karting title in 2001, and overtook him twice on the first lap of his F1 debut at Imola in 2005…
There was a poignant moment in the paddock on the Sunday morning, just after Tonio and I had hooked up. Daniel Ricciardo was cruising by and they shared a fist bump. The Australian has won seven Grands Prix in his time with Red Bull, and is heading off to lead Renault next year. Yet when they were team mates at HRT in 2011, Tonio – himself once a Red Bull protégé – had him covered.
Tonio's smile never wavered, and at no time in our conversation did he ever seem morose or, worse still, jealous of how the wheel of fortune had rolled for him in a career now characterised by 'What Might Have Been'.
In F1, of course, it's fashionable to dismiss those who never made it because obviously they never really had The Right Stuff.
But Tonio did.
The first lap in F1 with Michael Schumacher – for me, it was an orgasm!
"I know that I did not come into F1 from the main door, like [Lewis] Hamilton or Jenson [Button] who straight away stepped into a great car," he once told me. "It's always frustrating when you come into F1 this way, but we all come from the same school and when I was young I think I always showed that I was stronger, or at least as good as them. So I have always felt positive and I know what is inside. But it is hard when you cannot show that."
On his graduation to F1 in 2005, as Red Bull took over Jaguar, he was specifically requested by Helmut Marko to present a party boy mien to the world, because that suited the energy drink company's edgy image.
It was something which would damage him, as it deluded some into thinking he was not serious about his racing. But those who bothered to get to know him quickly saw behind the façade of bright clothes, facial hair and the kitsch jewellery to a dedicated racer who had a high but quiet level of self-belief.
Of course, the first thing we touched on was that Imola debut. A caption in Autocourse had made me laugh, when it mentioned that he had driven there in his first Grand Prix with "restraint and maturity". In truth, he'd qualified only 0.172s off Red Bull team leader David Coulthard, and ran ahead of him throughout while becoming the only man ever to overtake Schumacher twice on his first racing lap. He scored a point with eighth place, just as Sebastian Vettel would on his debut two years later.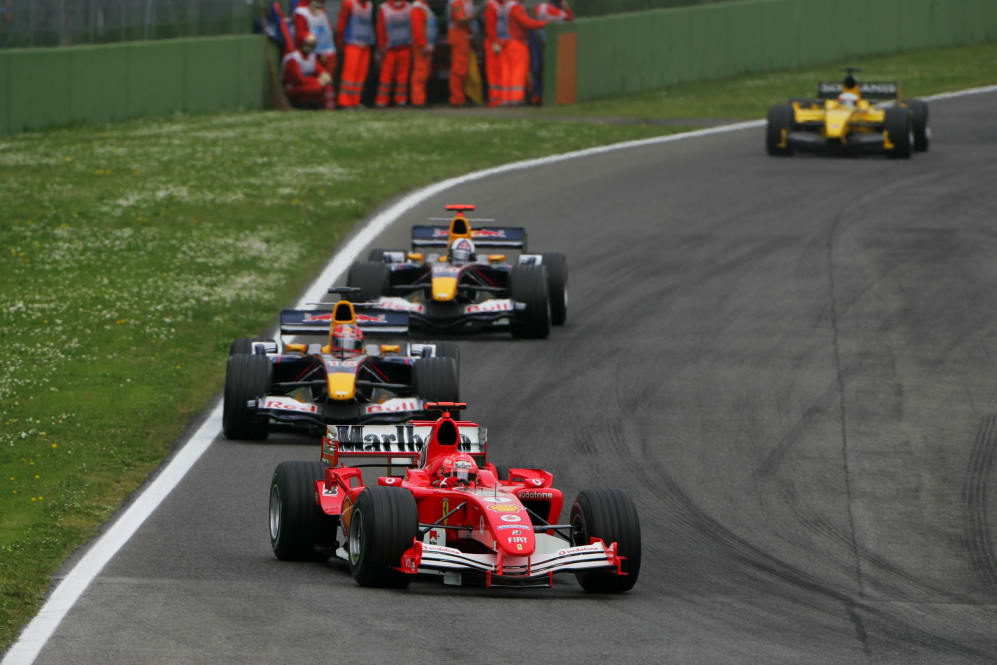 "It was definitely an amazing time," he laughed, "because at the time Michael was already the hero that we all know. I had basically him and Coulthard just ahead of me on the grid, and to be racing in front of my own crowd was amazing too. Michael was ahead of me before the first corner and then I passed him at Tosa, and then he passed me again. Then I passed him again at Acque Minerali, and he overtook me again. So, it has been quite a happening first lap!
"I always had a lot of respect for Michael, for the champion he is. We always had a good relationship. Definitely, I knew he thought I was an aggressive driver, but maybe he didn't expect me to be quite like that, fighting with him. He was definitely surprised! But obviously then I didn't want to bother him anymore because he had the pace to win, as he'd had a problem in qualifying. I knew that he was fighting for a win and I didn't want to disturb his race any more. But I have to say, that the first lap with Michael, for me, you know, it was an orgasm!
"When you arrive to F1, you realise your dream. You're debuting in front of your own crowd, and then you are fighting with Michael Schumacher…"
Michael, of course, knew Tonio well. The German really wanted to add the karting world championship to his burgeoning tally of drivers' titles, and trained with everything he had for the 2001 finale, which was held at his home track at Kerpen. But despite running the best equipment, he didn't succeed. Liuzzi beat him fair and square.
Rather than giving him a full-time drive alongside established star Coulthard for 2005, however, Marko made Liuzzi share with Austrian Christian Klien. He did only four races, and was switched to Toro Rosso for 2006, where he scored a single point by beating Coulthard's Red Bull and Nico Rosberg's Williams to the final points-scoring place in the US Grand Prix.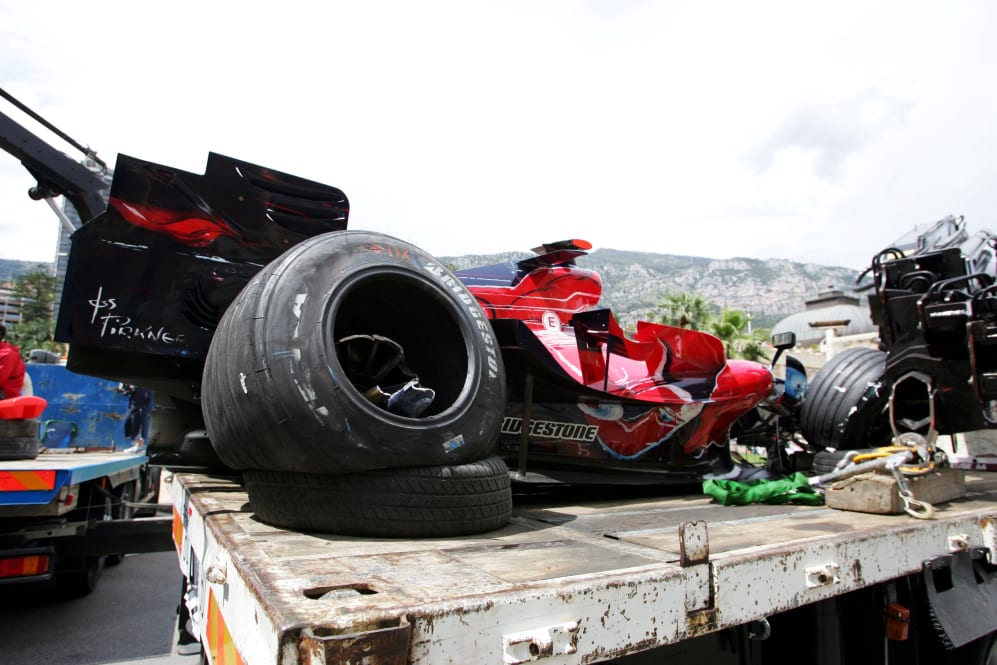 In 2007, he had a spell as fastest in the wet on Saturday morning in Monaco before gearbox trouble intervened, and narrowly missed the chance to qualify within the top 10, having been an astonishing fourth fastest in Q1 behind Lewis Hamilton, Fernando Alonso and Kimi Raikkonen, before being sent out late, and thus into traffic, in Q2.
In the race, he crashed at Massenet on the second lap and was heavily criticised for an "elementary error" – until it transpired he had been hit from behind by Coulthard.
His best race came in China in 2007, when he was by then partnered by Vettel after Scott Speed had been unceremoniously dumped. Since Vettel's arrival in the team in Hungary, the qualifying score had been four/two in Liuzzi's favour by the time they lined up on the grid in Shanghai, though Vettel was coming off a great race in the rain in Japan in which he had accidentally taken out Red Bull's Mark Webber as they battled Hamilton for the win. Now it was Liuzzi's turn to shine. He ran fifth by the 19th lap when he made his first pit stop, and was back up to seventh, right behind Vettel, when the latter stopped on the 26th. But by then it was beginning to rain, so Liuzzi had to stop again for wets five laps later. Vettel, already on them because of the timing of his stop, thus finished fourth, Liuzzi sixth. Typically, he was the first to congratulate his team mate, but on such things can careers turn. Vettel was the victor, Liuzzi the vanquished, as far as most were concerned.
"Entirely," he said. "Seb is showing always an amazing championship fight now, but I have to say that in my year together with him, I had a good time and a good fight, in terms of performance. I couldn't complain because I was really competitive and I was always really fast. Actually, that race, I remember I did an amazing qualifying lap in the dry - P11. And then basically in the race, all the luck went against me and he did a one-stop strategy, getting away with that as he took wet tyres. I was unlucky for the rain. It rained, like, four or five laps after my first stop and before my second. So I lost loads of time and finished sixth. Obviously, these are the things that change the perception of you."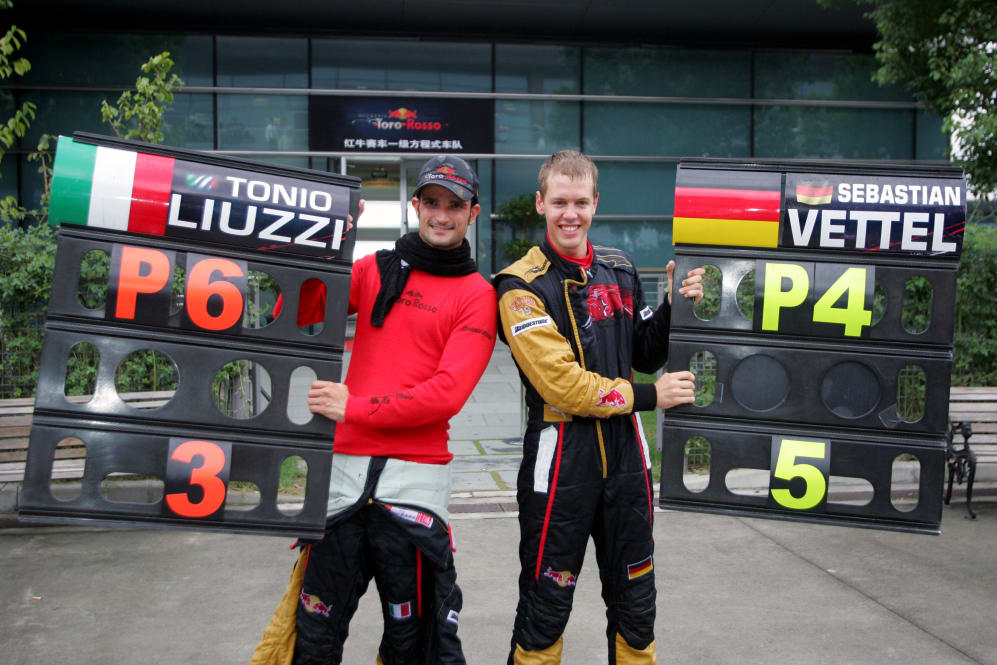 In his time with Toro Rosso, he was also caught up in political infighting between team owner Franz Tost's partner Gerhard Berger and Helmut Marko. And his progress was blighted by a falling out with Tost in Canada, who accused him of losing fifth place by making a mistake and crashing into Champion's Wall on the 54th lap when chasing podium finisher Alexander Wurz's Williams. Liuzzi was adamant that damage from driving over "40 per cent" of Robert Kubica's BMW Sauber after the Pole's huge accident eventually caused a suspension breakage.
"It was not so nice at the time, when they said I was only interested in the parties, but obviously Red Bull came into F1 with a different approach compared to a lot of other teams," he said. "They had to work on their marketing strategy and they were organising a lot of events, parties, and they always wanted us to be involved. And after that, suddenly they changed their approach and their image and they switched from one way to the other and, for their new target, somehow I was not in their plan. All the parties were one of their weapons to use against me.
"A lot of people tried to be the right arm of (Dietrich) Mateschitz but Marko always showed the consistent approach and I have to say that I always had a good relationship with him, even with what happened after.
"I always have had an amazing relationship with Red Bull, and I have always to thank Mr Mateschitz for what he gave me.
"Gerhard had, let's say, different targets for his team, and I was not part of them. His objectives were more political than others and I was the one that was too much in the group, so he fired me to give space to Sebastian Bourdais for 2008. Gerhard always had his own interests, and at the end, that didn't work well for him, either."
Liuzzi sat out 2008 as Force India's test driver, then qualified an impressive seventh on his return to racing with them at Monza in 2009. He qualified sixth in Canada the following year, and repeated his best finish with sixth place in Korea, as he and Adrian Sutil proved well-matched as the team fought in the midfield.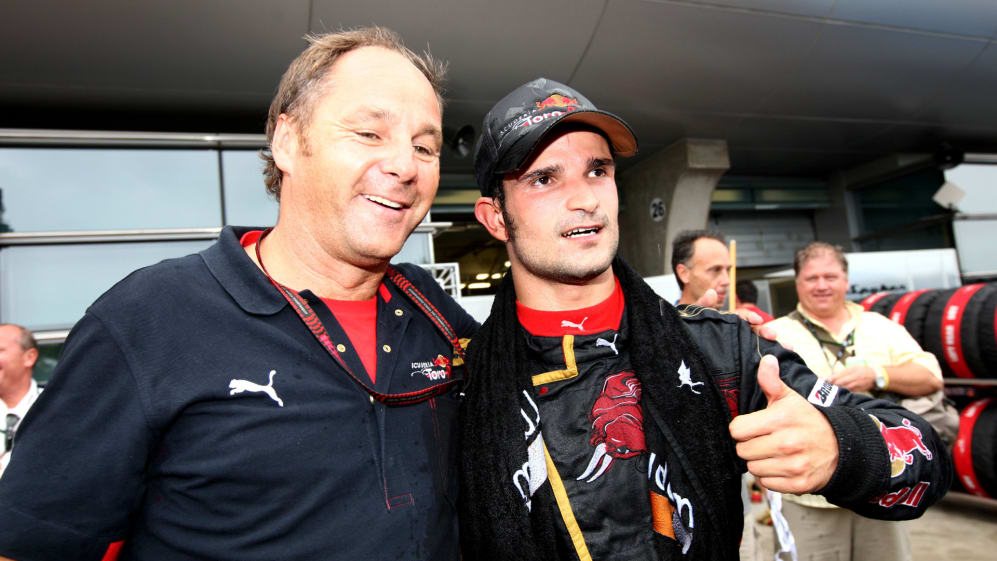 But by 2012 the F1 dream was over. He won in other categories such as Speedcar and International Superstars, and raced V8 Supercars, WEC, A1GP and Formula E before things wound down last year.
For a man who had dominated F3000 with nine poles, seven wins and nine podiums as his springboard to F1 in 2004, stopping was hard. But as he handled driving chores for Pirelli's Hot Laps experiences in Monza, he was nevertheless happy.
Does it make him feel sad or jealous that he was team mates with both Sebastian and Daniel, with whom he was at least as quick and sometimes quicker, when he looks at what they subsequently achieved?
"Yeah," he said. "Sometimes you think, 'What did I do wrong?' But my problem has always been being too straight and being myself, and that's how I live. I never went with compromise, and maybe that was the problem for me – I was always too real. I remember the first thing that they told me, that I was too realistic. Not too negative, or too optimistic, I was too realistic. Unfortunately, I am not a dreamer. I aim for dreams and I always wanted to win, but I would never say our car could be on pole if it couldn't be."
Likewise with Force India, it could hurt when he looks at what the team are doing today...
"It's fantastic," he said immediately. "I loved working with that group, because they are a good family. There are really good technicians and the way they work is really good. And they are showing every year that, even with the lower budget compared to competitors, they can achieve really great results."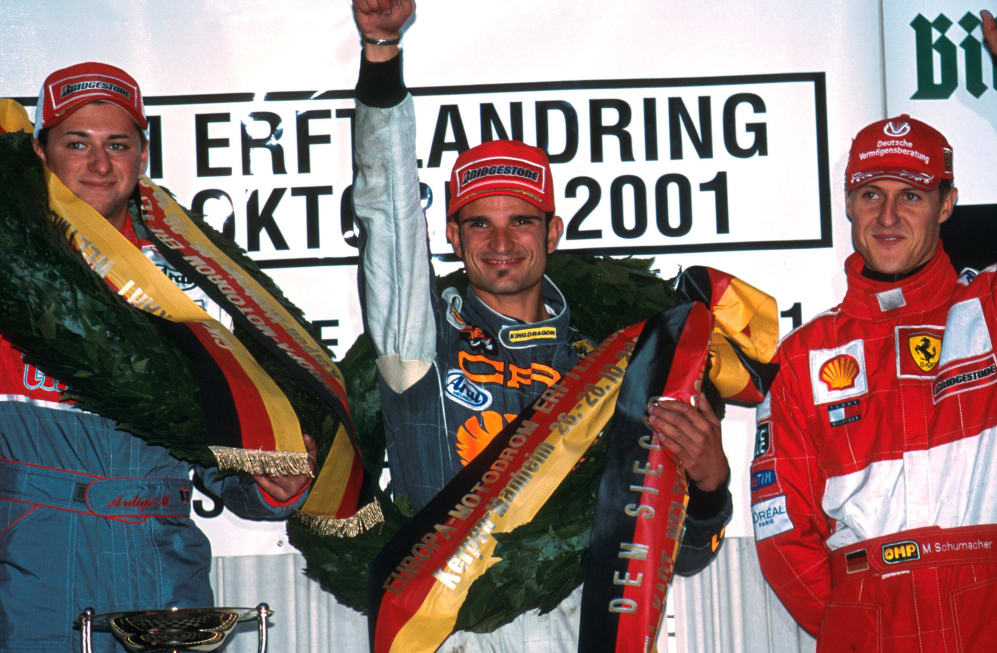 Liuzzi married his long-time girlfriend Francesca six years ago. They have an 18-month-old daughter called Sole, "like the sun, and her second name is Shiabuya", he said. "That is the name of the most famous crossing in Tokyo. I love Tokyo, and when I did Super GT I lived there one and a half years. I loved the Japanese environment. I always promised myself, even if Sole would have been a boy, that he would have been 'Tokyo' because everybody calls me Tonio Liuzzi so Tokyo Liuzzi would have been really nice…"
Sole is already into cars.
"I'm trying to keep her away, but every morning when she wakes up she jumps on her little Cinquecento and off she goes around the house," he said. "Already, at one and a half year's old. So, I'm scared."
Sideways?
"No. At the moment, she's under control. Not like her father."
Back in his native Pescara, he and Francesca run a beach club restaurant which they opened six years ago. A second followed in the commercial area of Pescara, and a third will open in Milan in a month.
It's a very different life to racing, of course, but they are doing well and they're happy.
But you remember things. Such as that after his accident in 2011, Robert Kubica suggested to Lotus that Tonio would be the perfect replacement, but instead they opted for Nick Heidfeld. For me, Robert's suggestion made perfect sense and evokes more feelings of what might have been – because of all the drivers I've seen since 1988, I'd say that he and Tonio were the two most outstanding who never had the careers they deserved.