Report
Test 2 report: Ferrari fastest on Day 2 as Hamilton hits trouble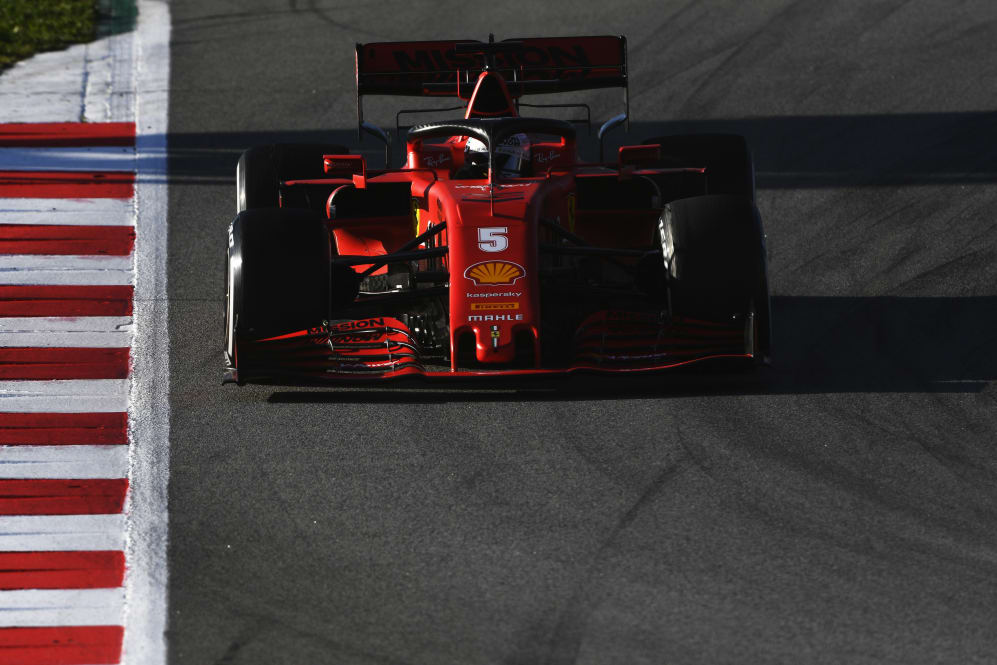 A damp, slick surface greeted drivers on the penultimate day of pre-season testing in Barcelona but the adverse conditions quickly made way for the Spanish sun as Sebastian Vettel set the fastest time of the day for Ferrari ahead of Pierre Gasly and Lance Stroll – while Lewis Hamilton managed just 14 laps before a Mercedes engine issue ended his day early in the afternoon.
Vettel set his table-topping time of 1m16.841s – the third-fastest of testing so far – in the morning session on the softest (C5) tyre compound. It was a time that would remain unbeaten all day, as Ferrari topped a session for the first time at this year's test.
But it wasn't all plain sailing for Vettel who also had a trip through the gravel in the morning that brought out the third red flag of the session.
WATCH: Verstappen spin leaves him stuck in the gravel on Day 2, Week 2 of testing
Things were not so good for defending champions Mercedes, as Hamilton spent more than an hour of the afternoon in the garage with an unexplained problem having taken over from morning runner Valtteri Bottas, only to finally emerge before stopping on track after just 14 laps.
Mercedes retired him from the session and he finished 13th overall under red flags, the team later revealing that he had an oil pressure anomaly.
Runner-up Pierre Gasly bolted on a set of C5s to his AlphaTauri in the closing stages to shoot up the order, finishing two-tenths off Vettel – both of them completing more than 130 laps apiece. Gasly managed six fewer but eclipsed his own total from the last two days of testing put together.
Third-place Lance Stroll and P4 Williams driver Nicholas Latifi spent the whole day driving, with Sergio Perez and George Russell set to take over from them on Friday. Latifi managed the most laps of any driver with 159 and finished half a second off Vettel.
WATCH: Lewis Hamilton testing breakdown ends Mercedes running early on Day 2
McLaren's Lando Norris finished fifth-fastest with afternoon long runs bolstering his final tally to 113 laps. Behind him was Max Verstappen, who managed just 31 tours before handing over to Alex Albon (P10) for the afternoon. Verstappen brought out a red flag in the morning with a trip into the Turn 5 gravel that left his Red Bull beached and in need of the rescue truck.
The Dutchman wasn't the only victim of that punishing piece of run-off as Mercedes' Valtteri Bottas almost got stuck in the same place, though he went on to complete 47 laps and finish seventh.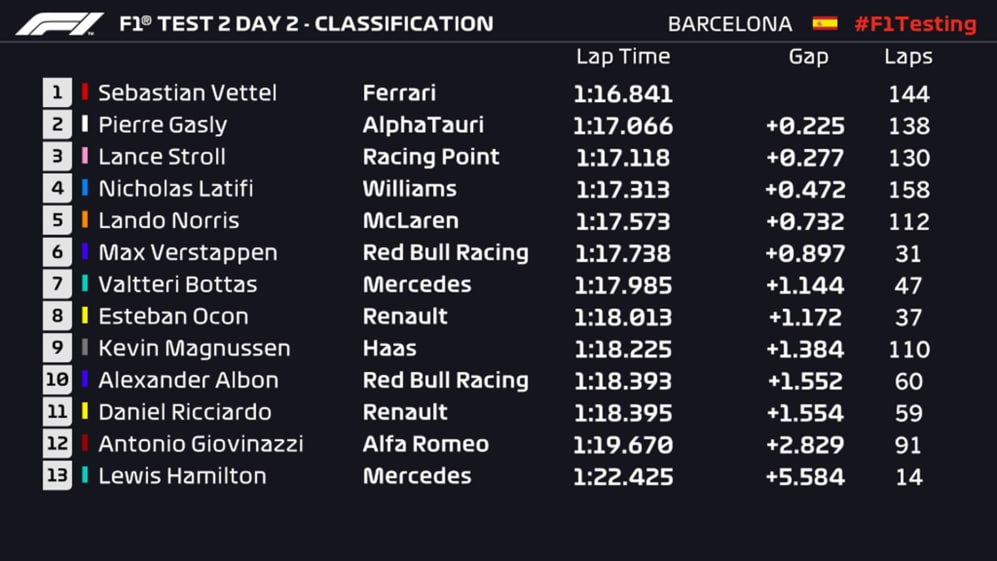 Those red flags were partly due to a wet – but rapidly drying – track in the morning that kept the kerbs perilously slippery, leading many to begin the session on intermediates before retreating to the smooth comfort of slick tyres.
In the afternoon, Renault's Daniel Ricciardo joined Albon and Hamilton for his first laps of Thursday with the Australian finishing 11th overall behind Haas's Kevin Magnussen and team mate Esteban Ocon.
READ MORE: 6 reasons why you should play F1 Fantasy in 2020
And Antonio Giovinazzi made his first appearance of Week 2 with a 92-lap stint to finish 12th overall for Alfa Romeo – a session that didn't yield the kind of spectacular lap that Robert Kubica managed on Wednesday as Giovinazzi brought out the first red flag, crashing at Turn 4.
With just one more day of testing, teams will be eager to get as much running in before they head to Australia for the first Grand Prix of the season.
Jolyon Palmer's verdict: Ferrari 'muddy the waters' with Vettel's flying lap
"Ferrari will be the talking point of the day: They finally showed what they can do on a soft tyre; the problem was, it wasn't very quick. Some of that appears to be straight-line speed, particularly in the fisrt sector, so it's safe to assume that the engine is turned relatively low.
"On top of that, they may have been carrying a reasonable amount of fuel – but that clashes with their choice of C5 tyre that should be run on a car in quailfying spec, which muddies the waters.
"It felt like a low fuel C5 time that leaves more questions than answers, considering how close they appear to be to the midfield."