Feature
The beginner's guide to... the Formula 1 Grand Prix weekend
As the fastest, most technically advanced motorsport on the planet, Formula 1 can seem extremely complex. But if you're a new fan of the sport, there's absolutely nothing to fear as we can explain it all in our beginner's guide. Here's everything you need to know about the Formula 1 race weekend...
The Grand Prix weekend format
Formula 1's Grand Prix format sees the event take place over three days, from Friday to Sunday. On Friday, there are (usually) two one-hour practice sessions – Free Practice 1 and Free Practice 2 (FP1 and FP2) – and FP3 takes place on Saturday.
Qualifying, generally on Saturday afternoon, is split into three stages – Q1, Q2 and Q3 – which last 18 minutes, 15 minutes and 12 minutes respectively. The five slowest drivers are eliminated in Q1, five more in Q2 (setting the grid positions from 11th-20th) before the top 10 grid slots – and pole position – are set by Q3. Any driver that doesn't qualify within 107% of the fastest Q1 lap time needs a special exemption to race.
READ MORE: How do F1 engine penalties work?
Sunday brings the Grand Prix, but first, drivers conduct reconnaissance laps to the grid to gauge circuit conditions and conduct last-minute checks, before stopping their cars in the grid slot where they each qualified. Around 25 minutes later, it's time for the national anthem.
Then it's time for the formation lap, where you'll see drivers weaving their cars from side to side to warm up their tyres before taking their grid positions again, ready for the start. When they're all back in position, the Race Director will initiate the start sequence. This involves five lights turning on, before blinking out one by one, and away they go for the Grand Prix.
Grands Prix generally last up to two hours but the distance is equal to the least numer of laps that exceed 305 kilometres. As of 2023, points are handed out in the below format, with an extra point given to the driver with the fastest race lap if they place in the top 10.
F1 Grand Prix points allocation
| Place | Points |
| --- | --- |
| 1st | 25 |
| 2nd | 18 |
| 3rd | 15 |
| 4th | 12 |
| 5th | 10 |
| 6th | 8 |
| 7th | 6 |
| 8th | 4 |
| 9th | 2 |
| 10th | 1 |
Exceptions to the format
There are some exceptions to the above format. Firstly, the Monaco Grand Prix length is equal to the least number of complete laps that exceed a distance of 260km, given it's a lower-speed street circuit.
Set your alarms carefully as session start times vary by location. For example, FP1 for the Italian Grand Prix is at 1330 local time; FP1 for the Singapore Grand Prix (a night race) is at 1730 local time. It's similar for the likes of Bahrain, Saudi Arabia and Abu Dhabi.
READ MORE: 10 things to be excited for as F1 gears up for 24 races and 6 Sprints in 2023
When it comes to the inaugural Las Vegas Grand Prix on 18 November, FP1 and FP2 will take place on Thursday, FP3 and qualifying on Friday, and the race late on Saturday.
Sprint weekends
There are also six Sprint weekends in 2023. A Sprint is a 100km dash to the line that sets the grid order for Sunday's Grand Prix, and Sprint weekends follow a different format.
At a Sprint event, the drivers begin with FP1 on the Friday morning, before taking part in qualifying later in the day.
Saturday sees second practice, and then the Sprint that pays out points – see the points table below.
Then Sunday, as usual, brings the Grand Prix.
F1 Sprint points allocation
| Place | Points |
| --- | --- |
| 1st | 8 |
| 2nd | 7 |
| 3rd | 6 |
| 4th | 5 |
| 5th | 4 |
| 6th | 3 |
| 7th | 2 |
| 8th | 1 |
What happens in Free Practice?
Watch out for the following over a weekend: first practice is generally used to shake down the car and make sure it works and behaves as it should, before the drivers begin to get a feel for the track and start thinking about set-up changes. FP2 is generally reserved for longer stints on the track as drivers prepare for the race, as well as a segment usually reserved for qualifying simulation runs; in FP3, drivers will focus on shorter runs to get ready for the following qualifying session.
You'll often see teams trial new aerodynamic parts during FP1, such is the rigourous nature of car development in F1. Teams will sometimes change parts between sessions or even within a single session, and they'll even run both of their cars with different set-ups to get a range of feedback from their drivers.
READ MORE: The most improved, most innovative, best-developed, and most dominant F1 cars of 2022
Cars carry more than 250 sensors and can each generate over a terabyte of data over a weekend. Moreover, Mercedes said in November 2022 that they exchanged more than 11 terabytes of data between their factories and the track during the 2022 Mexico City Grand Prix weekend alone.
As cars carry different loads of fuel and drivers use different tyre compounds in varying conditions over the three practice sessions, it's not always easy to determine who's going to be fastest in qualifying or the race solely by using practice times. Of course, we do analyse the times as much as we can – so stay tuned to F1.com for that…
Finally, in two practice sessions during the season, teams must field a driver who hasn't yet completed more than two F1 races. Teams generally choose to field their young drivers later in the season.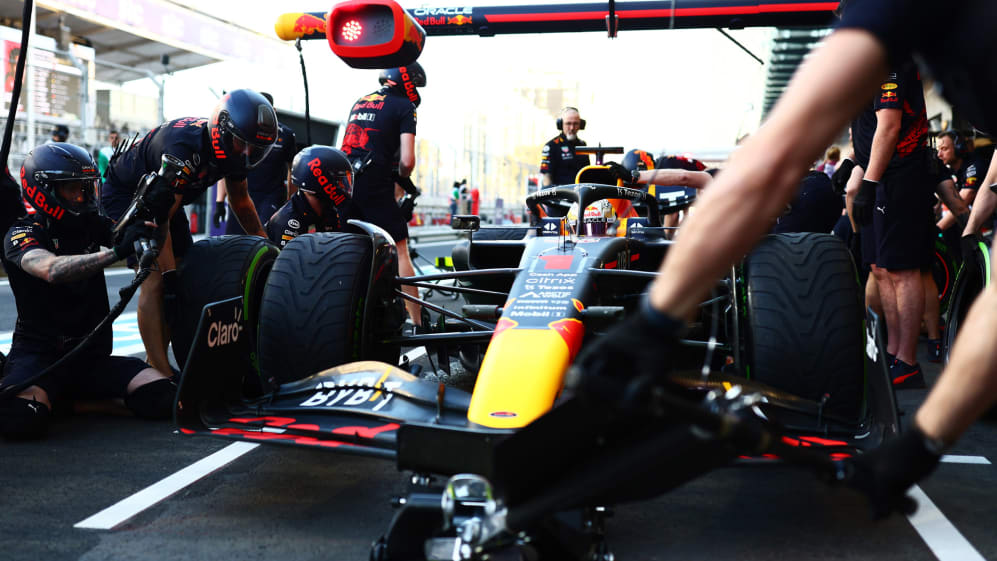 History and trivia
F1 weekends have seen a variety of formats over the years. Before the World Championship began in 1950, it was common to draw lots to decide the grid, but from 1950-1996 drivers had two one-hour-long sessions to set qualifying times, one on Friday and one on Saturday. With as many as 39 cars entering Grands Prix, drivers used to have to pre-qualify for qualifying – but that was abolished in 1992.
In 1996, qualifying consisted of a one-hour session on Saturday with drivers limited to 12 laps. In the 1997 European Grand Prix at Jerez, Jacques Villeneuve set a time of 1m 21.072s and then – to the millisecond – rival Michael Schumacher matched it. Unbelievably, Heinz-Harald Frentzen then matched it as well, the three drivers all having set identical lap times, down to a thousandth of a second. However, Villeneuve took pole, having set his time first.
In 2003, one-lap qualifying replaced the previous format. On the Friday, drivers would emerge one at a time in championship order. The order of that session was reversed for another one-lap shootout on Saturday (to give Friday's slowest driver a clean track and potential advantage).
In 2004, both one-lap shootouts were moved to Saturday. The canny Michael Schumacher found a loophole in this system as, in the 2004 British Grand Prix where rain was expected to fall during the second qualifying session, he admitted to deliberately spinning in the first session to emerge earliest in the second session and take advantage of dry conditions.
Aggregated qualifying was brought in for 2005. Drivers would conduct one low-fuel quali run on Saturday afternoon and then a high-fuel run on Sunday morning before the race with the two times added together. The following year saw a system similar to the current format brought in, but in-session refuelling was banned in 2010.
It wasn't all smooth sailing from there, as in 2016 there was an elimination system that, after a few minutes of mercy, saw drivers drop out of qualifying every 90 seconds. The current system returned two rounds later, and has been used ever since.