Video
The best onboard action from Azerbaijan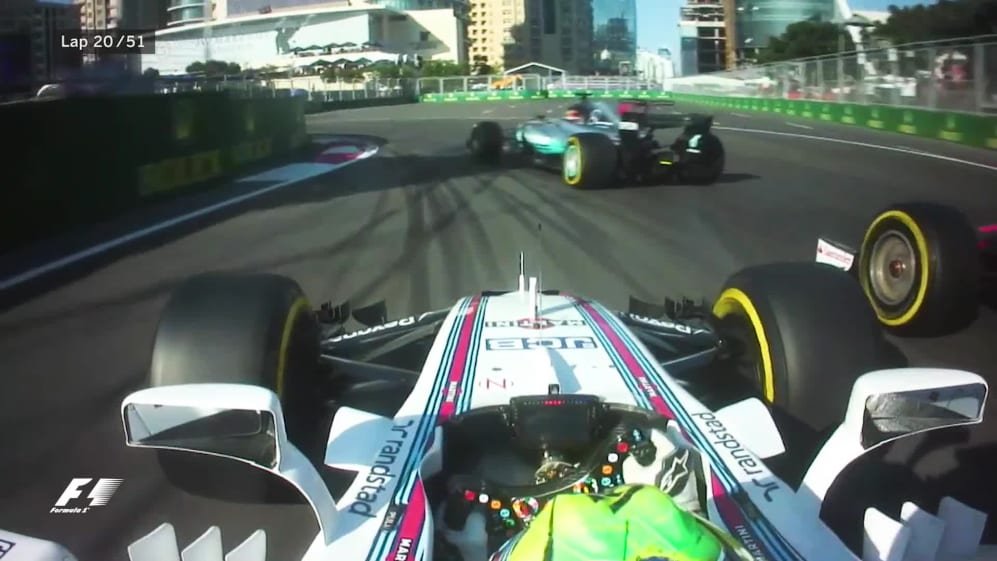 Sunday's race in Baku was packed with incident and intrigue. Here's our selection of some of the must-see moments you might just have missed - all from the driver's perspective...
Kvyat spoils his own start - and his team mate's
Intra-team battles were all the rage in Baku, but while the Force Indias and Saubers came together (more of which below), the mere threat of contact with a recovering Daniil Kvyat was enough to send Carlos Sainz into a first corner spin. From the onboard you can see that Kvyat's problems began when he locked up heavily under braking and was forced to jink quickly to the right to avoid contact with Felipe Massa's Williams. Sainz could see it all unfold ahead of him, but that didn't stop from losing control of his Toro Rosso all on his own.
Fighting Finns make contact AGAIN
To Russia 2015, Mexico 2015 and Spain 2017 you can now add Azerbaijan 2017 - a quartet of races where Valtteri Bottas and Kimi Raikkonen have come together. Their latest tangle came just two corners into Sunday's Grand Prix... As you can see from the onboards, Raikkonen was marginally ahead going into the left hander, but on the outside line he was always vulnerable, particularly as Bottas (having not given up the corner) had no choice but to ride over the kerbs on the inside - the factor that ultimately caused him to slide wide into his countryman. Despite Raikkonen's impact with the wall, it was Bottas who picked up the most damage with both a right-front puncture and bargeboard damage. The Mercedes driver would, however, recover magnificently - more of that below…
Brazilian precision from Massa - but Vettel hangs on
There was no shortage of drama at the first safety-car restart - and Sebastian Vettel and Sergio Perez were in the middle of it. Vettel is the man under severe pressure here, with the long main straight in Baku allowing Perez a run at the Ferrari - but while they squabble over second on the road, Williams' Felipe Massa gets an even better run down to Turn 1. The Brazilian dispatches Perez, and looks to have the momentum to pass Vettel - right up to the moment he pulls out of the slipstream and the speeds even out. Even so Massa attacks under braking, but Vettel is inch perfect and holds his line on the outside - while Massa has to wrestle his Williams into line as it struggles for traction. Vettel eventually sees off Massa into Turn 2, but the flying Williams may have been a factor in Vettel trying to stick much closer to Hamilton at the next restart...
Ocon and Perez come to blows
Having only just patched up their differences from Canada, Force India's Sergio Perez and Esteban Ocon put their relationship on the chopping block once more in Baku with what turned out to be a very costly collision. In an incident that was eerily similar to Bottas and Raikkonen's first-lap clash, Perez went from scrapping with Vettel and Massa for P2 into Turn 1 (above) to side-by-side with his team mate and heading for the wall at Turn 2. Both men picked up race-wrecking damage in the clash, and on a day when the script was flipped upside down, that meant the highly competitive Silverstone team were not there to capitalise.
Magnussen gets two for the price of one
Kevin Magnussen and Haas were one of the surprise packages on a day of shocks in Azerbaijan. The Dane rose as high as third in the closing stages - the foundations for which were laid with this superb double-pass on Nico Hulkenberg and a struggling Felipe Massa. Initially it appears the Haas man is too far behind, but a double-tow allows him to close that gap with astonishing speed. Once past Massa, Magnussen is canny enough to keep at least part of his car in Hulkenberg's slipstream - allowing him to complete a double overtake just before slamming on the brakes for the tricky Turn 1.
Triple threat
Anything Magnussen can do... Daniel Ricciardo described this outstanding 3-in-1 overtake, which came moments after the safety car had peeled in for the last time, as 'the winning move', and it's easy to see why as it lifted him from sixth to third in one fell swoop and put him in position to inherit the lead when Vettel and Hamilton hit trouble. What did it take for the Red Bull driver to pass so many cars in one go? A monster tow, some extremely late braking and whole heap of guts.
Bottas leaves it very late
Over the last 10 laps Valtteri Bottas was in relentless hunt mode, as he slashed Lance Stroll's advantage from just over 10s to 1.3s as the pair started the final lap. Into the closing corners, however, it appeared Stroll was set to bag second, with a considerable gap to Bottas entering the straight... The Finn, though, was able to give it everything, and was suddenly closing rapidly. Chequered flag in sight, he pulled out of the slipstream - and while his speed suddenly dips as a result, he had just done enough. 0.105s - a few metres of track - was all it came down to. Stroll still had the comfort of a first F1 podium at least, and a place in the record books as the second youngest driver in history to achieve it. Judging by his podium antics, we'd say he wasn't hung up on Bottas's surge...
Holy ****
It might have been censored, but in just two words Daniel Ricciardo managed to sum up an entire afternoon of breathless and unceasing drama. More importantly, for the fifth time in his F1 career, the Australian was able to clench his first and raise a finger in salute of victory. He's made something of a habit of scoring unlikely wins - so far every one of his triumphs has come from a starting spot of fourth or lower...