Feature F1 Unlocked
The reinvigoration of 'Smooth Operator' Carlos Sainz – How the Ferrari man stepped up after the summer break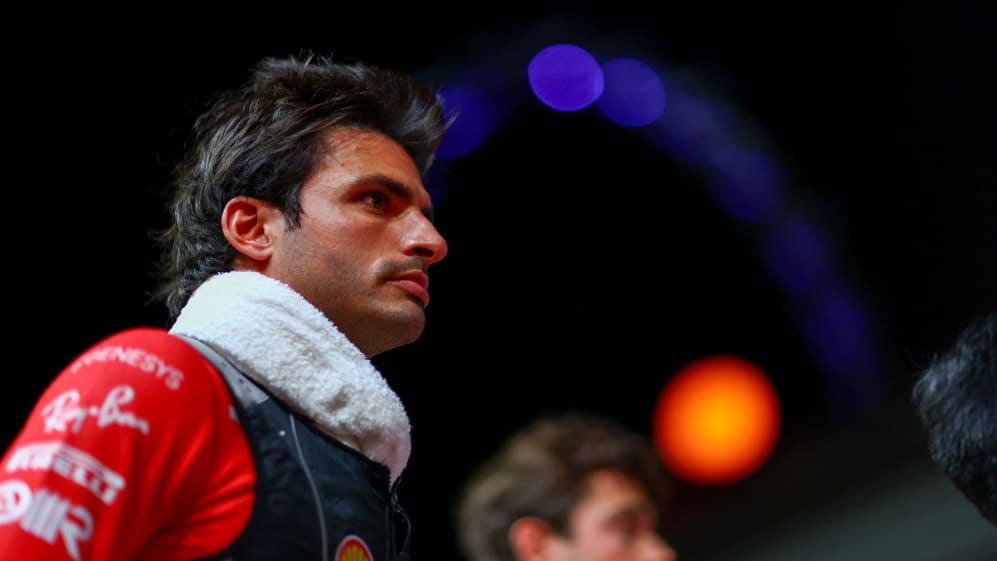 Would you have bet on Carlos Sainz being the driver to finally end Max Verstappen's winning run?
Cards on the table, there have been times this season when the prospect looked bleak for anyone to end Verstappen's streak, but prior to the summer break, Sainz perhaps wouldn't have been top of the most-likely list.
IT'S RACE WEEK: 5 storylines we're excited about ahead of the 2023 Qatar Grand Prix
He hadn't featured on the podium all season and had been candid in assessing the struggles he was having with the SF-23. It hadn't been particularly affecting his ability to score well, and he was ahead of team-mate Charles Leclerc in the points table, but it wasn't box office.
Post-break, however, it's been a different story. Sainz has simply been more hooked-up. So, what triggered the turnaround in form?
It's worth noting that he's always been one of the more analytical drivers on the grid and usually scores more points in the second half of the season than the first, as he gets on top of set-up and tyre management conundrums.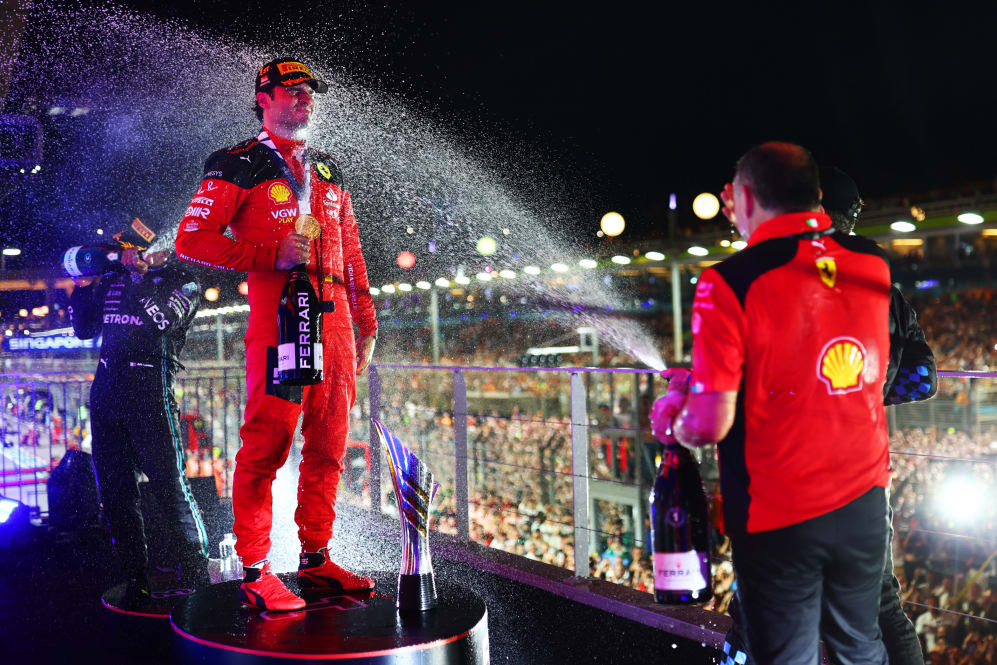 But this year he believes he's been invigorated by the summer break, and the opportunity to step back, revaluate his holistic approach to the weekend, and attempt to drag a little more from it. It's a subject, both before and after an epic victory in Singapore, he's been happy to discuss.
"Before the summer break there was already this decent feeling with everything," he clarifies. "I sat down with my engineers in the summer break and we said 'okay, what can we do to start putting the whole weekend together?'
"Clearly, we have a lot of pace, we are doing some good things – but we never put the whole thing together, so let's see what we can do to improve that and start having consistent performances in the second half – because the potential is clearly there."
Sainz assesses Zandvoort as "a very good weekend", Monza as "almost perfect" and says Singapore "was the perfect one." He's also very careful to make that into a team achievement rather than a personal triumph – while at the same time admitting he gets a lot of satisfaction when the time spent deep in analysis gets its reward.
READ MORE: Leclerc predicts 'very close' fight for P2 in the constructors' after Ferrari/Mercedes scrap at Suzuka
"It makes me very happy and proud, that when you work, you analyse – and you also have the speed – it pays off," he adds. "Now, we managed to put everything together – and that makes me very happy for the engineers, for the mechanics, the team… everyone."
It is, however, a staple of Sainz's three seasons at Ferrari that there are peaks and troughs in form – or at least, the perception of peaks and troughs. It's a basic tenet of F1 that no driver is under greater scrutiny than one seated in a Ferrari cockpit, regardless of the competitiveness of the product.
And for Sainz, that scrutiny is doubled because, unfairly or otherwise, there is an underlying assumption that Leclerc is Ferrari's datum, and thus Sainz's lap times, points and finishing positions can only be judged by the exploits of his team-mate. Whenever rumours, however unsubstantiated, suggest Ferrari are looking at another driver, it's always because Leclerc is losing faith in the team, or the team are losing faith in Sainz, never the other way around.
At the moment, Sainz is at the top of that particular cycle, bringing home the Scuderia's only victory of a parsimonious season. And perhaps he was the most likely candidate to take that win. Hindsight, of course, always has unmatched clarity, but in many respects, that victory was coming, and Singapore was a venue where it was likely to happen.
It's a tough place to race, difficult to make the right compromises for ride-height and roll stiffness, and with the added complication of significant track changes since the previous year, it's the sort of track on which a strongly analytical driver like Sainz should shine.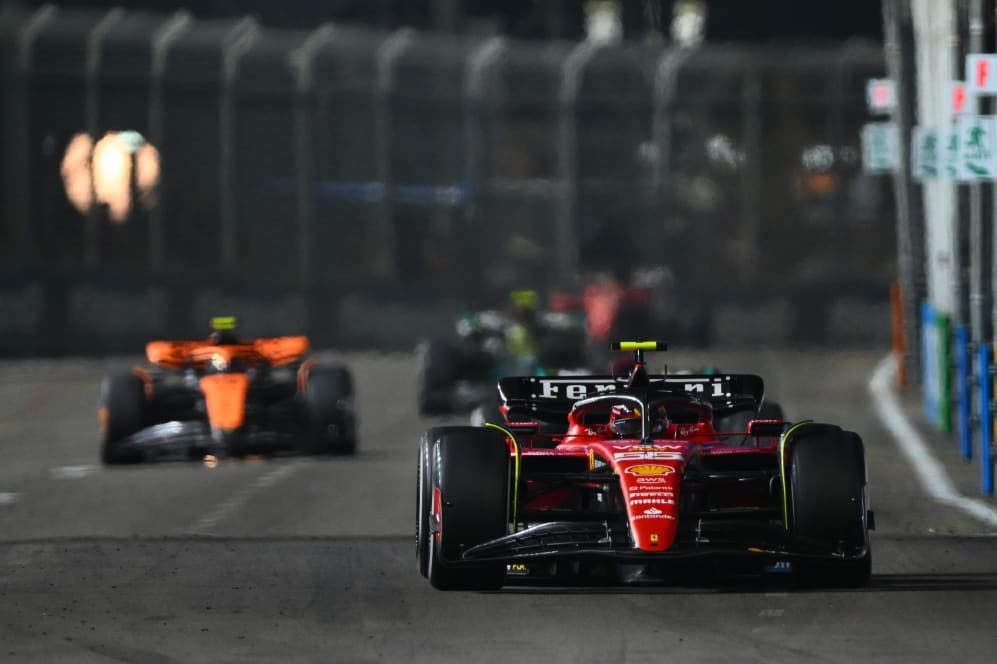 The analytical mind
The last 18 laps in Singapore were real heart-in-the-mouth stuff, with Sainz being hunted by Lando Norris and team-mate Leclerc, and with the ultra-quick Mercedes-AMG of George Russell and Lewis Hamilton inexorably closing in on the leaders after a late-race pivot to a two-stop strategy. But post race, Sainz wasn't talking about the thrills or the terror, it was all about control.
"It was very difficult to tell, before the race, whether we would have the pace to win but I felt like even if we didn't, by managing and controlling the gaps and controlling the pace and the tyre degradation, I could create for myself the opportunity to win," he explained.
"The Safety Car came a bit too early and going onto a Hard tyre on lap 20 wasn't my preference… but it was the right call and that stint on Hards was always under control – until the VSC came out and gave the Mercs the opportunity to two-stop. And we were clearly under a lot of pressure there at the end."
Rightly, he's been praised for having the clarity of thought under that pressure to figure out his best defence was using Norris as a buffer, and so choosing to back off and ensure the British driver was never isolated from the DRS tow – but that's more of a story for the outside world: in the pitlane, it's more the sort of thing you expect Sainz to do.
F1 NATION: Verstappen goes for a third title, the battle for second and the possible return of Ricciardo – it's our Qatar GP preview
Carlos Sainz made his debut for Scuderia Toro Rosso in 2015, alongside fellow rookie Verstappen. Before that, he'd tested for them and Oracle Red Bull Racing.
In those tests, particularly the days in the RB9 and RB10, he impressed people generally considered difficult to impress. While team management are obliged by traditional (and basic humanity) to praise publicly the performance and input of a rookie stepping into their car for the first time, it's not the case with the race engineers running the test.
Sainz, however, made an unusually good impression with his ability to learn, to build his lap times, to follow a run plan and deliver feedback that was both insightful and understandable – the latter being a highly-prized but frequently under-valued skill.
This impression of Sainz, as a driver that can puzzle things out, both with his car and with himself, has stayed with him across the last ten years, most evidently during his tenure at McLaren, where an obvious rapport with his race engineers manifested itself both in song (Smooth Operator – for those unfamiliar with the Sade back-catalogue) and genuine progression on track.
Sainz recorded their first podium since 2014 at Brazil in 2019, followed by third place in the 2020 Constructors' World Championship. And in between those two events, he got the call from Ferrari.
The Scuderia
There was plenty in Sainz's performances on track to get the most venerable name in motorsport keen on his signature, but with new tyres and a completely new aerodynamic concept on the way for 2022 and testing becoming ever-more proscribed, his clarity of thought was just as highly prized as his lap times.
It's gone well for Sainz at Ferrari – but well in patches. His first season was a triumph, in that he out-scored Leclerc. His second year was the reverse – with Leclerc comprehensively out-scoring and out-qualifying him, though it did include the highlight of his first victory at Silverstone.
The start of this year felt more like a continuation of 2022, than a return to 2021, with Sainz clearly frustrated: on the cusp but with that final tenth tantalisingly just out of reach. His performances since the break suggest he's located it now… though naturally cautious in his public statements, Carlos isn't promising a Ferrari renaissance for the end of the season.
F1 EXPLAINS: How the drivers prepare themselves mentally to cope with the demands of being in Formula 1
"I still think there's going to be tough weekends out there where we're not going to be fighting for podiums, and we're going to get P5 or P6," he said in Singapore, before finishing P6 in Suzuka. "We just need to make sure we keep getting those if that's the maximum that the team and the car can do those weekends.
"What I'm more proud of is that we had one chance to win this year and the team responded under pressure. I also responded and we managed to put together a perfect weekend in the one chance that the situation gave us. That speaks well of the progress Ferrari is making."
If Ferrari can keep making that sort of progress, you wouldn't bet against Sainz being the driver to exploit the situation if Verstappen has another off-day.
To read on, sign up to F1 Unlocked for free
You'll unlock this article and get access to:
Live leaderboard data
Epic experiences and rewards
Money-can't-buy competitions