Feature F1 Unlocked
THE STRATEGIST: Norris reckons he could have won in Qatar with a better grid slot – but is he right?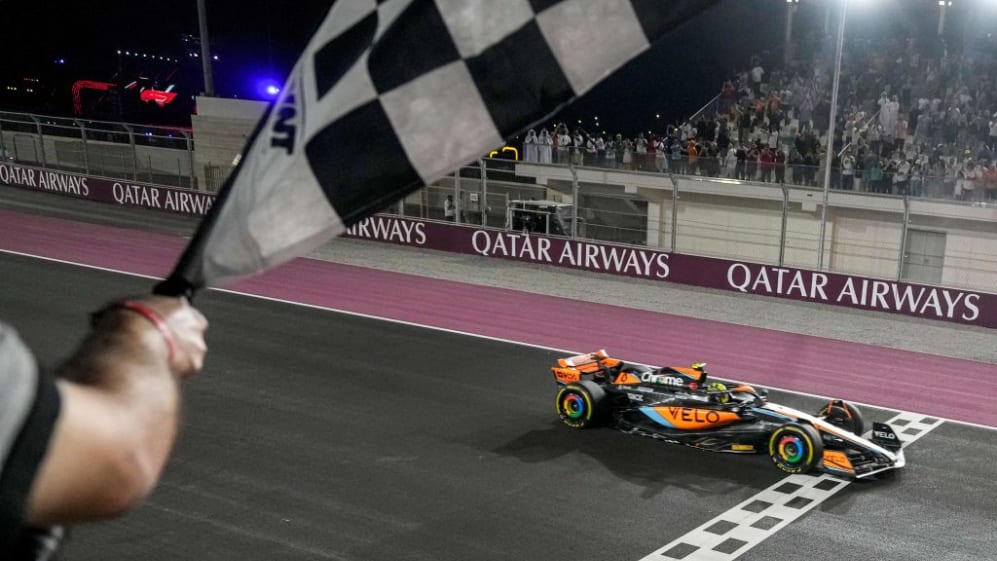 McLaren finished the Qatar Grand Prix with a second double podium of the year, with Oscar Piastri and team mate Lando Norris P2 and P3 respectively behind winner Max Verstappen.
It was a great result, but after the race Norris suggested the win would have been possible had he had a better qualifying and therefore better starting position. "The pace was good enough to win today," he said. "We had the pace to probably be on top if I didn't do the mistakes I made earlier in the weekend [in qualifying]."
Former Aston Martin strategist Bernie Collins has taken a look at the data to see if he was right…
Let's start by looking at what the Sprint can tell us. McLaren started from P1 (Piastri) and P2 (Norris) and finished with Piastri in P1 and Norris in P3, beaten to second place by Verstappen.
READ MORE: Piastri thrilled after overcoming 'very stressful' Qatar Sprint race to score first F1 win
Norris initially lost the position to Verstappen at the race start with a poor launch as he dropped from P2 to P6 on the opening lap. Verstappen also lost positions from P3 on the grid down to fifth, but made progress back through the field quickly and closed the gap to Piastri, but was unable to overtake.
Norris, slower to make up the positions, was matching Verstappen's times in the final laps, however both drivers were largely in traffic. Therefore despite being on similar tyres it's very difficult to get an accurate pace comparison across cars.
It's safe to say that Verstappen was faster than Piastri as the Dutchman was able to close the gap to the McLaren, and it's most likely he was faster than Norris too, as he was able to make quicker progress through the field.
With limited racing laps due to three Safety Car periods we didn't quite get enough time to watch it all play out, but based on the above it certainly looks like the Red Bull was faster.
REPORT: Verstappen secures third F1 world title as Piastri takes Sprint victory in Qatar
So onto the main event. McLaren had a poor qualifying on Friday evening due to the strict imposing of track limits. Piastri had one lap time deleted from Q3, while Norris had both his lap times chalked off.
Verstappen however on his second flying lap made a mistake in Turn 4, aborted the lap and parked in the garage before the end of the session. Using the theoretical best lap times for all three drivers from the session the order would have been Verstappen, Norris and Piastri (see the graph below).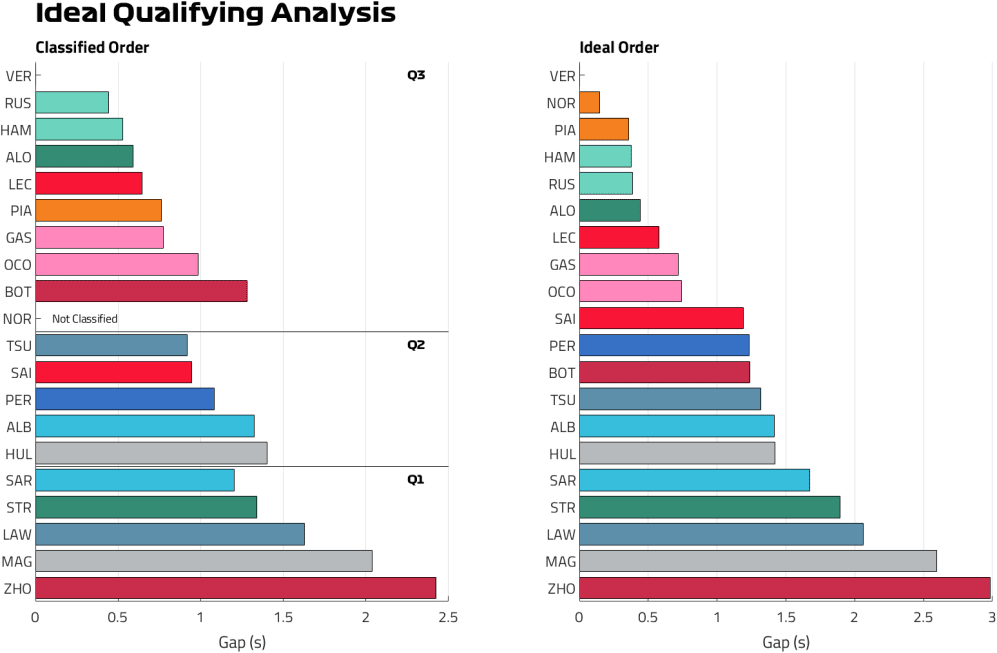 Theoretical best lap times takes the best individual sectors set by a driver and combines these into a best lap time. It is a measure of how good the lap time could be if a driver put all three sectors together perfectly.
Obviously this allows the track limits infringements from Norris and Piastri to be ignored. However with the lap times for the McLaren drivers deleted, Piastri was demoted to P6 on the grid, and Norris to P10. However from the theoretical best lap times we still have a measure that Verstappen was faster.
READ MORE: Norris and Piastri reflect on disastrous double Q3 lap deletions in Qatar qualifying
So into the race, could McLaren have won?
Piastri finished 4.8 seconds behind Verstappen with Norris only 1.1 seconds further back. On Lap 10, as Norris was released from traffic of Esteban Ocon, the gap to Verstappen was 10 seconds.
So it's easy to see the argument that if Norris could gain over four seconds to Verstappen over the race then perhaps if he had started closer then he could have won.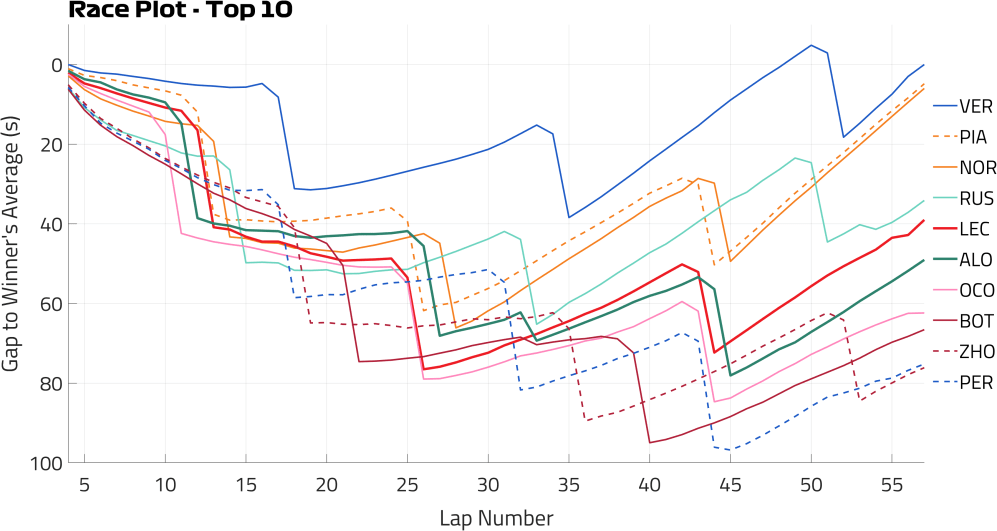 One of the biggest discussion points from the weekend was the stint length limitations imposed by Pirelli and the FIA in order to ensure tyre safety. With a maximum stint of 18 laps, this ensured a minimum three-stop race for all.
All three drivers went into the race with one new hard tyre set and one new medium available.
However, Verstappen had two used medium tyres with 17 laps available on each. Unfortunately due to earlier tyre usage before the regulation was known, Piastri and Norris's used medium tyres had only 13 or 14 laps available.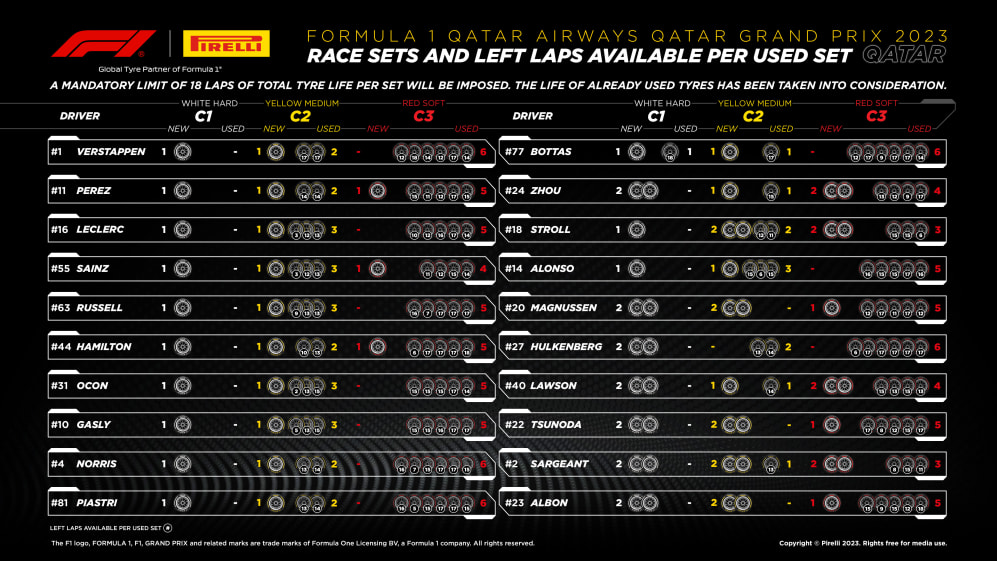 This severely hampered the stint length and stop lap flexibility available for the McLaren team. Importantly, McLaren chose to run these used medium tyres in the opening stints of the race on both cars. This forced both drivers to pit into traffic.
READ MORE: How the mandated tyre limits shaped an unusual Grand Prix in Qatar
Conversely for Red Bull with Verstappen, the tyre life flexibility allowed the stint to be extended. Red Bull extended each stint close to maximum tyre life in order to avoid traffic and protect from any Safety Car deployments.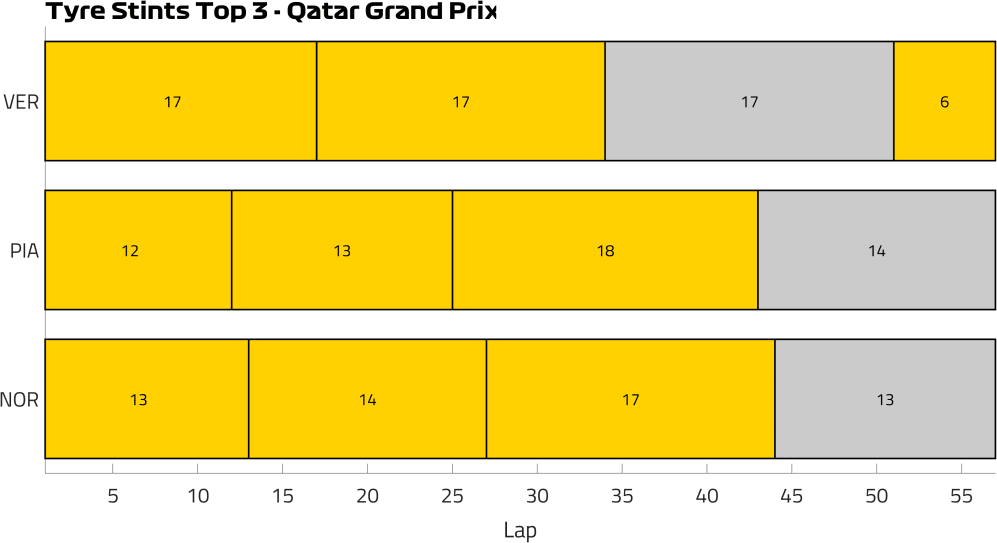 This saw Verstappen complete a strategy that was sub-optimal in total race time, with the Dutchman's strategy being calculated at 3.38 seconds slower than Piastri's (see the chart below).
While McLaren encountered traffic in earlier stints, Verstappen encountered a number of blue flag events at the end of his third stint, prompting him to complain to the team on the radio.
With the time lost to both teams through traffic approximately equal then, the stop lap selection accounts for most of the time that Norris gained on Verstappen throughout the race.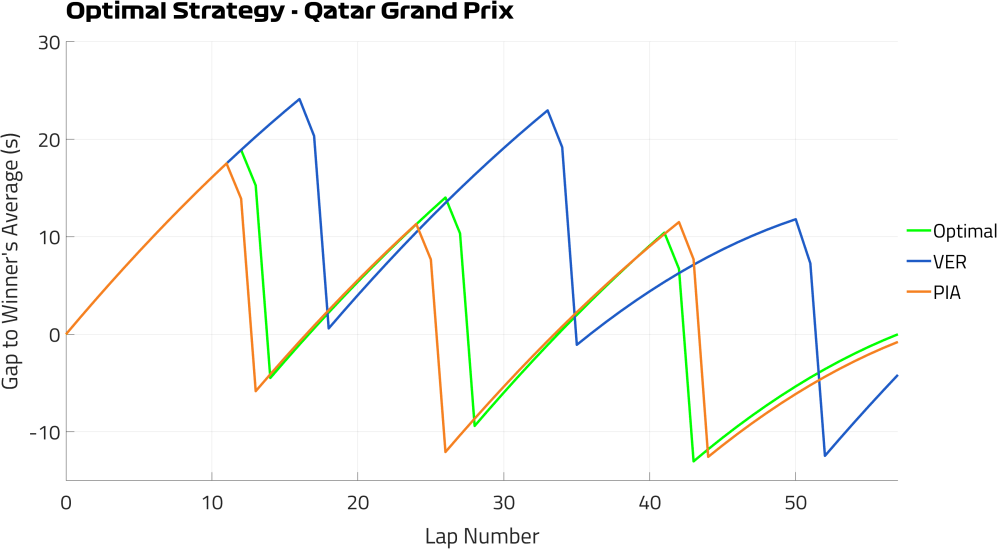 In the final stint, Norris ran around 1.5 seconds behind Piastri under team instruction not to challenge for position. Norris questioned the decision, feeling that he was the quicker driver and could progress, however the team responded that they were worried about attack later in the race from Russell.
In reality, the team were probably worried about track limit violations, with Piastri and Norris both already having been noted twice for going wide and thus risking a penalty.
READ MORE: 5 Winners and 5 Losers from Qatar – Who impressed under the lights in Lusail?
For the Qatar race, the small differences in stop lap flatters the McLaren pace, so although they were much closer to Verstappen than in previous Grands Prix, I fear they were not close enough to have won this time, even with a higher grid position.
And if Norris and Piastri had qualified higher and altered the grid, that may have resulted in no collision between both Mercedes drivers. So the 'what if' scenario is probably too complex to answer – but my best estimate is Verstappen still had the pace to win.
To read on, sign up to F1 Unlocked for free
You'll unlock this article and get access to:
Live leaderboard data
Epic experiences and rewards
Money-can't-buy competitions