'There are a lot of emotions' - Leclerc delighted with maiden F1 pole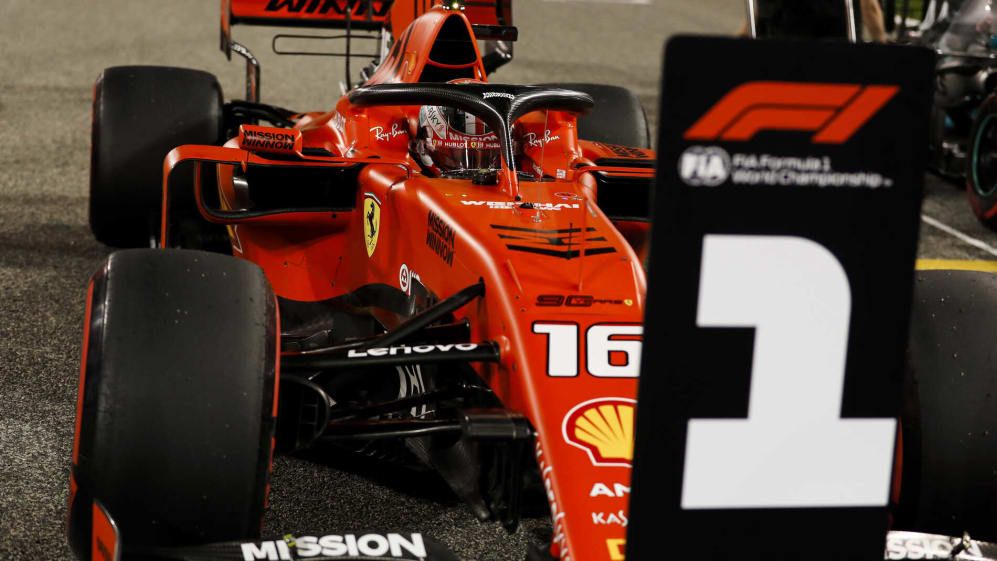 The second youngest pole-sitter in F1 history and the youngest for Ferrari – this was quite a day for Charles Leclerc. The Monegasque, in only his second race for the legendary Italian team, was in scintillating form throughout qualifying – it's no wonder he was "truly happy" with his efforts…
Leclerc made a solid but not spectacular start to life as a Ferrari driver in Australia, the 21-year-old admitting he hadn't got it right in qualifying and following that up with fifth in the race. But he hasn't put a foot wrong in Bahrain, topping the times in first and final practice and then setting the pace in all three segments of qualifying, finishing three tenths clear of four-time world champion team mate Sebastian Vettel.
"I'm truly happy," said Leclerc. "Obviously in the last race I was not very happy with my qualifying lap, especially in Q3. I tried really hard not to do the same mistakes here and it worked. I'm very satisfied, I put my best three sectors together, which is what I wanted – but of course you can always do better.
"There are a lot of emotions. I'm trying to stay as calm as possible as no points are awarded for pole. I will enjoy the moment, it's been a great day and a great weekend overall for us so far. I hope it continues. Now we focus on the race and try and do the best race possible.
"I didn't have an expectations [when he joined Ferrari]. I was completely aware of how much of a big step there is team-wise and competition-wise and of the drivers I'm now fighting with, the best. I am just happy it started like this but it's only qualifying. I hope we are strong tomorrow."
It was a remarkable turnaround of form for Ferrari who dominated pre-season testing but were no match for Mercedes in Australia. In Bahrain, they've been the team to beat, securing their 62nd front row lockout - a joint record with Williams and McLaren.
Ferrari Team Principal Mattia Binotto said both drivers would be free to fight for victory this season during his media session on Friday.
When asked about the strategy for the start and the run down to Turn 1, Leclerc said: "To be honest, we haven't done the pre-race meeting yet so at the moment I don't know. I'll do everything to keep my first place, but we are a team, we have to work together."
Vettel added: "It's clear, from team point of view, we have the front row today and we have a tough race ahead of us tomorrow. We have to work as a team and make sure we stay first and second. Charles starts ahead so he has advantage of pole position.
"Congratulations to him, it's his day. My day was not ideal [but] even with an ideal day, it would have been difficult to beat him today. My first pole was a while ago, but certainly it's a day you never forget."
In the last six Bahrain Grands Prix, the winner has come from second place three times and pole position twice.
F1's youngest polesitters
Sebastian Vettel - 21 years 72 days (Italy 2008)
Charles Leclerc - 21 years 166 days (Bahrain 2019)
Fernando Alonso - 21 years 236 days (Malaysia 2003)
Rubens Barrichello - 22 years 97 days (Belgium 1994
Lewis Hamilton - 22 years 153 days (Canada 2007)