'No doubt he deserves a place in F1' – Russell and Verstappen sing De Vries's praises after Monza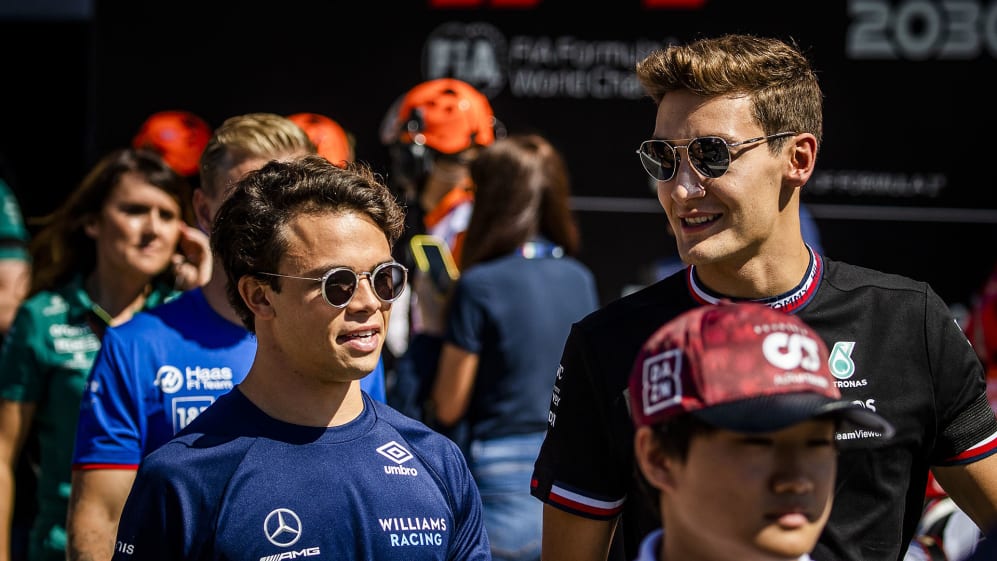 Nyck de Vries has been given the backing of fellow Formula 1 drivers following his impressive points-scoring debut at the Italian Grand Prix, with Max Verstappen and George Russell leading the praises.
De Vries stepped in at Williams from FP3 onwards at Monza after Alex Albon came down with appendicitis – the Dutchman quickly settling in to out-qualify and out-race regular driver Nicholas Latifi for an eventual ninth-place finish.
Having picked up the 'Driver of the Day' award, De Vries also received plenty of positive words from competitors up and down the pit lane, spearheaded by Russell declaring that he did "an excellent job" and deserves a spot on the grid.
READ MORE: 'I grabbed my opportunity with both hands!' – De Vries discusses 2023 prospects after stunning F1 debut
Speaking alongside Verstappen and Charles Leclerc in the post-race press conference, Russell said: "Throughout all of our karting careers, the three of us raced against him, knew him well, and he was always one of the very best.
"There's no doubt he's deserving of a place in Formula 1. That's just how the sport is sometimes; there's 20 drivers [and] not everybody gets an opportunity. But certainly now he's proved everything he has to."
Meanwhile, Verstappen – fresh from racking up an 11th win of the season – was delighted to see compatriot De Vries make the headlines and put himself firmly in the running for a full-time seat in 2023.
Verstappen started the Grand Prix by sharing an all-Dutch fourth row with De Vries (after taking an engine penalty), on which he commented: "A bit unexpected, right? We talked about it [before the race]. I know him very well [and] he's a great friend of mine."
WATCH: Williams mechanics help exhausted Nyck de Vries out of the car after his points-scoring F1 debut
As for how De Vries's race unfolded, Verstappen said: "I saw him battling in front of me when he was defending 10th at the time. For Nyck to jump in and deliver this performance is definitely… it's not easy at all.
"I think he did a great job from the things I saw, also in terms of defending. He just kept his cool and didn't make mistakes. I'm very happy for him to score the points; it's impressive, of course, in your first race."
Asked after the Italian Grand Prix about his chances of finding himself on the 2023 grid, meanwhile, De Vries said: "We live in a competitive industry, so you're as good as your last race, and you're always expected to perform. Luckily I did that this weekend and I grabbed this opportunity with both hands."