Opinion F1 Unlocked
TREMAYNE: After his superb Singapore win 'King Carlos' is finally looking like a team leader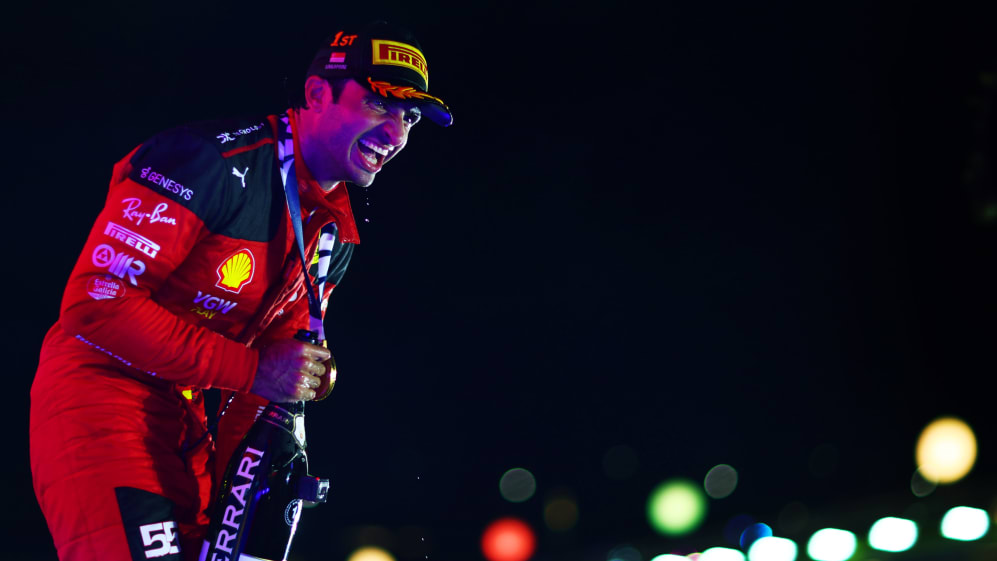 As far as I'm concerned the Singapore Grand Prix was easily the best race of the season, and not just because Red Bull's spectacular fall from grace in practice and qualifying gave us a rest from the all-too familiar end result.
No disrespect to the Milton Keynes team which will clearly crown Max Verstappen as a champion for the third time soon, and claim another constructors' title, but Ferrari's streak-busting win – and the manner in which it was achieved – came as a much-needed breath of fresh air for F1.
And Carlos Sainz was the man of the race.
READ MORE: Sainz holds off Norris and fast-charging Mercedes pair to take sensational Singapore Grand Prix victory
When he won the British Grand Prix at Silverstone last year he fought for it after that late Safety Car, but clearly it would have been team mate Charles Leclerc's race but for the utterly unfathomable decision to leave him out on used medium Pirellis while everyone else was pitting for softs which gifted the win to the Spaniard.
But there was no fortune on his side this time, unless you consider his perfect weekend a gift from the racing gods.
This was a very interesting development, and not because Ferrari's softly, softly approach to development of the SF-23 has been paying off so well of late that they have raised their game since feeble results in Canada, Britain and Hungary.
There have been signs of improvement since Belgium, and they came to Marina Bay off the back of that spectacular intra-team duel in Monza in the Red Bulls' wake. They were 45 points behind second-placed Mercedes after that, but left Singapore with the deficit virtually halved, to 24.
It was also notable for the rise of 'King Carlos'.
I tend to forget that he's been in F1 since joining Toro Rosso in 2015, where his best result in three years was a fourth in Singapore before he switched late-season to Renault, where his best was fifth in Azerbaijan in 2018.
His two-year tenure at McLaren yielded a second in Monza and a third in Interlagos, and that was sufficient to attract Ferrari. He joined the reds in 2021, but to me he's never really seemed comfortable there.
F1 NATION: A Carlos Sainz smooth operation and George Russell's heartbreak – it's our Singapore GP review
Prior to that win at Silverstone his best results were two seconds at Monaco and one in Canada, and five of his nine thirds, but he looked inconsistent as at times he struggled with his cars' balance and handling.
While he's always been fast, I've never quite considered him a team leader until this year. But in the SF-23 he seems to at last to have found his true metier. Like Didier Pironi against Gilles Villeneuve in 1982 he's begun to build serious momentum.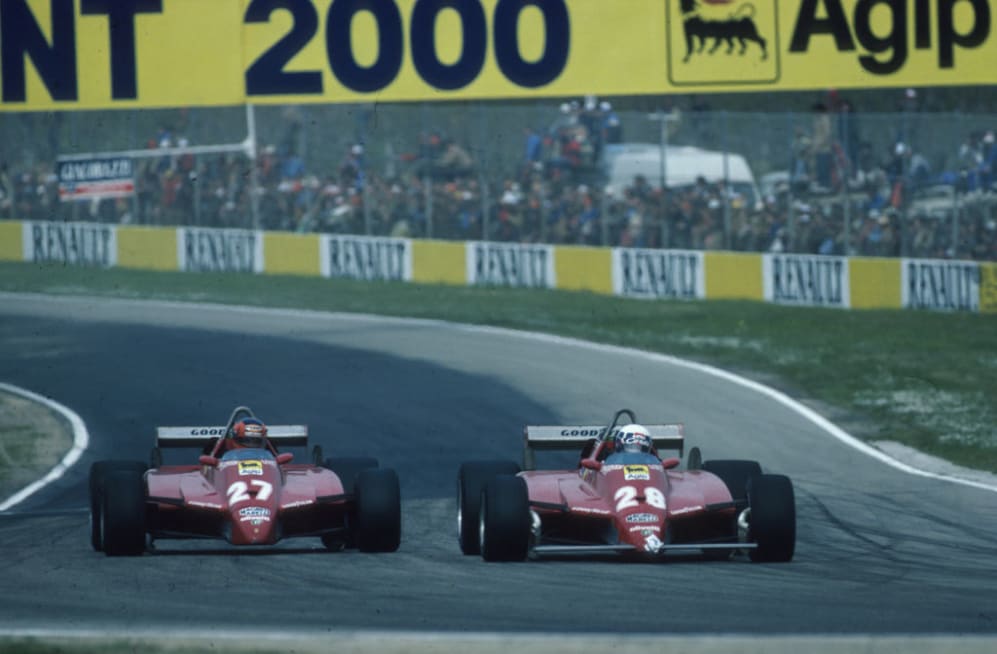 His qualifying performances have been strong against such a competitive team mate as Charles, whom I rate very highly, and he's out-qualified the Monegasque in the last three races and made him look the inconsistent one. In both Monza and Singapore, he looked totally unflustered taking pole positions ahead of a man believed to be as quick on his day as Lewis Hamilton and Max Verstappen.
What impressed me most in practice and qualifying in Singapore was his consistent speed; he looked as polished as Max usually does. But it was the race that really made the biggest statement.
READ MORE: Sainz voted Driver of the Day after scintillating Singapore win
This was never going to be an easy one, with Charles, Lando Norris's McLaren and the two Mercedes also being very quick. And only the unwise would have ruled out Red Bull altogether on race day. All of which meant that on a difficult and demanding street track, in very high temperatures and humidity, it was going to be a tactical race.
It was therefore far from a case of Carlos trying to clear off and leave Charles to cope with the hounds when they led away at the start.
With a high probability of a Safety Car intervention, Ferrari's plan from the get-go was instead to keep the pack bunched, so that none of the opposition, having fallen sufficiently far behind, could catch a break with a cleverly timed pit stop whenever Bernd Maylander was called from the pits.
As Ayrton Senna found to his cost at Monaco back in 1988, you can be at your most vulnerable as a driver when you aren't running at 10-tenths but ease off and lose concentration. Carlos was obliged to drive to a set delta lap time.
But he handled the first stage admirably and was still leading after that Safety Car intervention duly came on Lap 20 to deal with the aftermath of Logan Sargeant's meeting with a wall.
READ MORE: 5 Winners and 5 Losers from Singapore – Who impressed under the lights at Marina Bay?
Then came the Virtual Safety Car on lap 43 when Esteban Ocon's Alpine lost drive and stopped at Turn 2. This was the key moment, as Ferrari and McLaren elected to stay out on the hard tyres to which they had switched when Logan shunted.
Red Bull had finally pitted Perez on Lap 39 and Verstappen on 40 for mediums after being obliged to run long on the hards on which they'd elected to start, but the far bigger threat was Mercedes double-stacking second-placed George Russell and fifth-placed Lewis Hamilton on Lap 44 as they switched to the new mediums they'd cleverly held back in practice.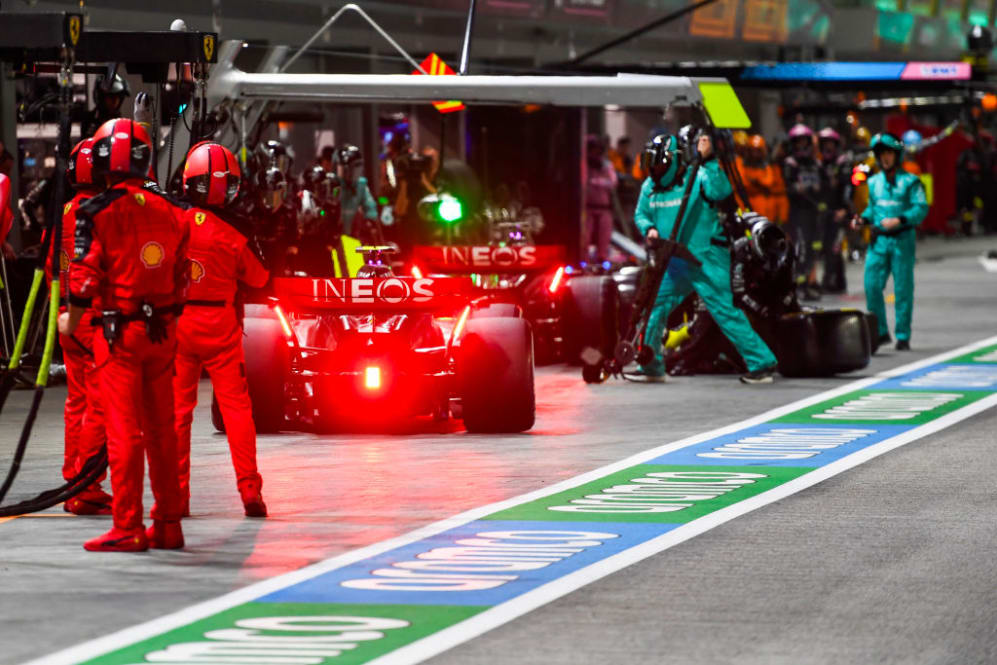 This was a very aggressive strategy that both drivers completely bought into because they're racers, and one that would thereafter depend on how quickly they could catch and pass third-placed Charles and second-placed Lando before attacking Carlos as his hard tyres were nearing their limit.
Thus, having followed his prescribed delta during the follow-my-leader stuff, Carlos now had to pick up the pace, and his fronts weren't liking it. By Lap 58 the black gangbusters had dispensed with Charles so the battle for victory became a four-horse race. Wow! When did we last see that?
READ MORE – THE STRATEGIST: Did one split second decision cost Ferrari a 1-2 in Singapore?
And this is where Carlos was peerless. Again the instinct must have been to push really hard and try to open a gap, which it was generally felt he could have done over Lando, leaving the McLaren driver without the benefit of DRS and thus super-vulnerable to the two fastest cars in the race.
But Carlos was not only driving a mistake-free race but a supremely intellectual one. Knowing that once the Mercs ate up the McLaren they would undoubtedly pounce on him on their softer and fresher rubber, he actually eased off. By lap 60 just 1.4s covered the duelling quartet.
But as George and Lewis had caught Lando using DRS, so he was close enough, within that one-second range, to pick up DRS himself from Carlos. Thus, Carlos, his old mate from their McLaren days, supplied him with the tools to keep himself inches clear of the two Mercedes.
This was a risky but brilliant strategy enacted superbly by the Spaniard, who knew that because Lando's tyres had to be in the same shape as his he had just enough in the tank to keep him at bay and frustrate any aspirations the McLaren driver had to make his own attempt for the win. And by giving him DRS, leave the Mercs in a debilitating DRS train.
READ MORE: Sainz credits key 'Carlando' moment for preventing him being 'dead meat' on his way to Singapore victory
And the strategy paid off. As George's unfortunate two-centimetre error on the last lap dropped him to an eventual 16th, and elevated Lewis to the podium, Carlos took the chequered flag and his second victory by eight tenths as the McLaren led the Mercedes home by four.
Besides Carlos, Team Principal Fred Vasseur deserves credit as the Scuderia took their first victory under his watch. Red Bull will most likely be back on form in Suzuka this weekend, but the battle for second overall is now between Mercedes and Ferrari. Their speed, and McLaren's, bodes well for the remaining races of 2023.
To read on, sign up to F1 Unlocked for free
You'll unlock this article and get access to:
Live leaderboard data
Epic experiences and rewards
Money-can't-buy competitions